2010 NFL Draft Grades: Recapping All 32 First-Round Selections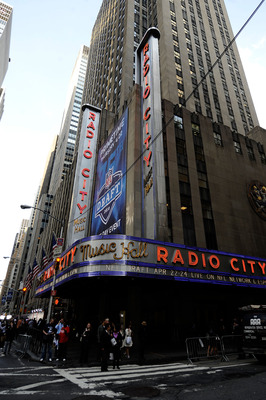 The first round of the NFL draft has come and gone like Christmas morning. This year was the most drama-filled since Eli Manning and Philip Rivers were traded in 2004.
The Broncos traded down, down further, then up, then up again! Tim Tebow in the first round, Clausen not in the first round. This has been really interesting. Jacksonville took a shocker at 10; you'd think Al Davis was running the team.
Some top-10 players fell to the late first round, and some of them didn't get picked at all. The Broncos, Lions, Seahawks, and 49ers all had two first-round picks. The 49ers actually drafted two offensive linemen.
Anyway, here's a look at the draft picks taken tonight.
1. St. Louis Rams Select Sam Bradford, QB, Oklahoma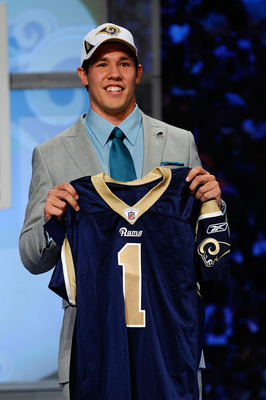 Grade: A
Yeah, Sam Bradford was a great quarterback at Oklahoma, but he could easily turn out to be a bust. Injury-prone and the fact that he didn't read defenses in college. He's not NFL ready, and going to the Rams could ruin his career.
2. Detroit Lions Select Ndamukong Suh, DT, Nebraska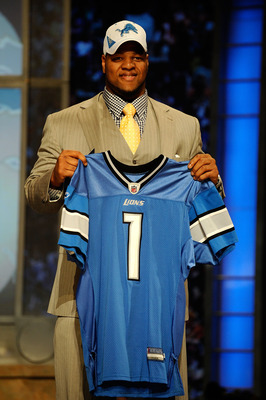 Grade: A+
This is the best player in the NFL draft, and the Lions got him at No. 2.
This pickup is going to allow Jim Schwartz to play the same defense he played in Tennessee. This was where they rushed their four defensive linemen and dropped everyone else in coverage. Suh and Kyle VandenBosch is going to be a great combo in Detroit.
I guess the Albert Haynesworth trade didn't work out for the Lions.
3. Tampa Bay Buccaneers Select Gerald McCoy, DT, Oklahoma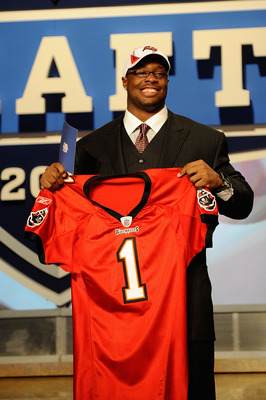 Grade: A
The Bucs have not had a dominant defensive tackle since Warren Sapp. That could all change now. This is exactly what they needed, and it just so happened that McCoy was available.
4. Washington Redskins Select Trent Williams, OT, Oklahoma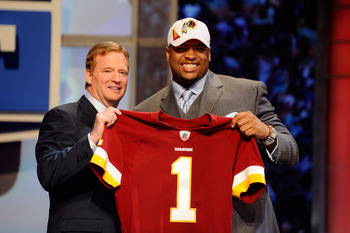 Grade: A
The Redskins ignored the buzz about Russell Okung and picked who they thought would fit into their team immediately. Not to mention Williams is one of the best in the nation.
5. Kansas City Chiefs Select Eric Berry, S, Tennessee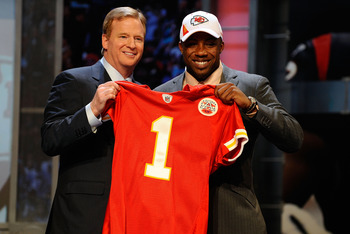 Grade: A+
They got the best defensive back in the draft. He's going to step right in and could potentially make the Pro Bowl his first year. This guy was on the NFL level while he was in college. Great pickup by the Chiefs.
6. Seattle Seahawks Select Russell Okung, OT, Oklahoma State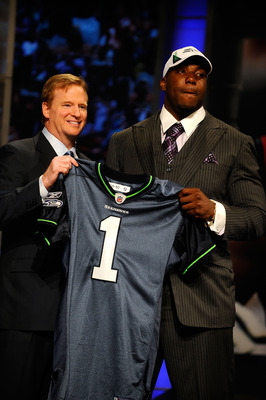 Grade: A
The Seahawks needed a tackle and they got one of the best. Okung didn't give up a sack his entire season. Matt Hasselbeck will be very happy to have some protection this year.
7. Cleveland Browns Select Joe Haden, CB, Florida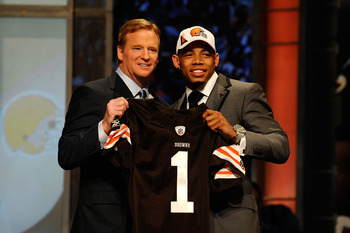 Grade: B+
His combine 40 time was deceptively slow. However, Haden plays at an NFL level. The reason this isn't an A for me is because I believe the pass rush was a bigger need for the Browns.
8. Oakland Raiders Select Rolando McClain, MLB, Alabama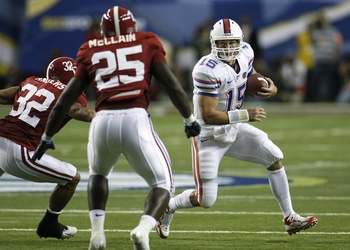 Grade: B+
The Raiders always surprise us, and this year is not any different. McClain will certainly help the Raiders this year and will in time add leadership to this defense.
9. Buffalo Bills Select C.J. Spiller, RB, Clemson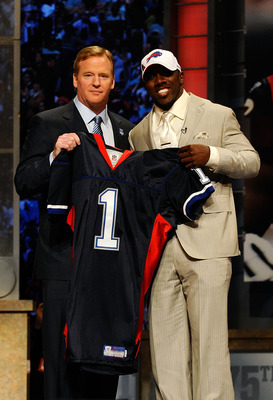 Grade: A
I love this pick. Clausen was still on the board, but the Bills decided they wanted a dynamic running game more. I think a lot of these lower teams are thinking they can still get a good quarterback in Round Two.
10. Jacksonville Jaguars Select Tyson Alualu, DT, Cal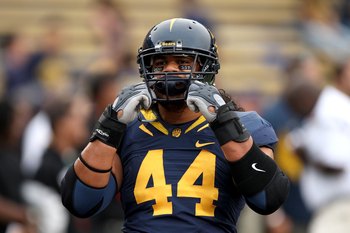 Grade: C
This was their guy and that is fine, but they should have traded back. Dan Williams, Derrick Morgan, Brandon Graham, Jason Pierre-Paul, and the list goes on of players that were still on the board who are arguably better defensive linemen than Alualu.
11. San Francisco 49ers Select Anthony Davis, OT, Rutgers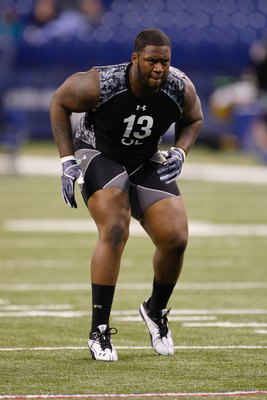 Grade: A
The 49ers seriously needed help on the offensive line and that is what they got. It is surprising that they traded up two slots to get him, but they got their guy, and that is important.
12. San Diego Chargers Select Ryan Matthews, RB, Fresno State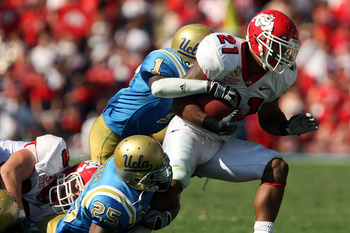 Grade: B+
The Chargers traded up to get this guy. Though I wasn't that high on him, he will fit into the Chargers' offense great. The one-two punch of Matthews and Sproles will be something to fear this year.
13. Philadelphia Eagles Select Brandon Graham, DE, Michigan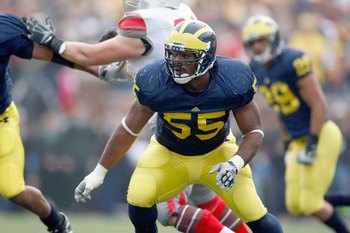 Grade: B+
The first DE goes to the Eagles. It is surprising that they didn't select Derrick Morgan or Earl Thomas, but it was still a good pick. What I really don't like is they gave up not one but two third-rounders for this guy.
14. Seattle Seahawks Select Earl Thomas, S, Texas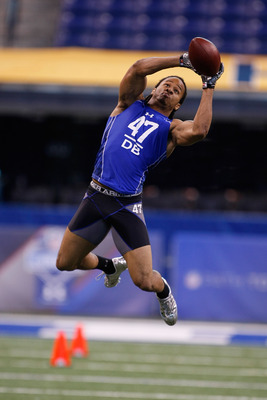 Grade: A
Earl Thomas is an incredible safety that will immediately add to the Seahawks' defensive backfield. They could have taken Clausen, but many people just didn't seem to like him.
15. New York Giants Select Jason Pierre-Paul, DE, USF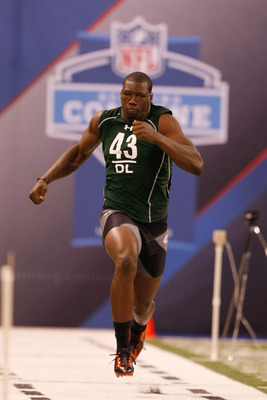 Grade: B+
The Giants needed help on the D-line and at Linebacker, since McClain was gone, they went Pierre-Paul. Pierre-Paul will be good but maybe not right away.
16. Tennessee Titans Select Derrick Morgan, DE, Georgia Tech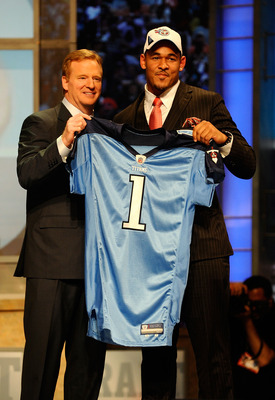 Grade: A+
For the 16th overall getting arguably the fourth-best defensive player in the draft and the sixth-best overall player in the draft. This guy is the most complete defensive end in the draft who will immediately help the Titans entire pass defense.
17. San Francisco 49ers Select Mike Iupati, G, Idaho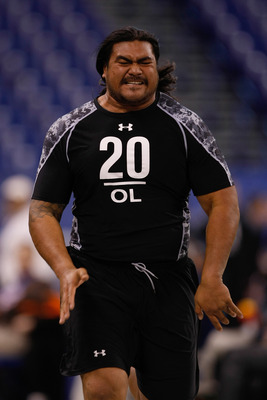 Grade: A
The 49ers will have an offensive line this year. Two offensive linemen in the first round and I love it. Maybe Alex Smith will be good when he has two to three seconds to throw the ball.
18. Pittsburgh Steelers Select Maurkice Pouncey, C/G, Florida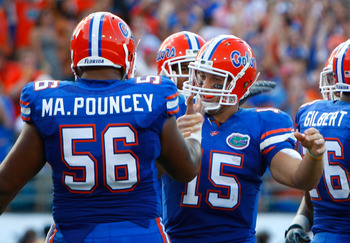 Grade: B+
The Steelers made a statement here. They are going back to the run game with or without Ben Roethlisberger. This also shows that they most likely will be keeping Roethlisberger in 2010.
19. Atlanta Falcons Select Sean Weatherspoon, LB, Missouri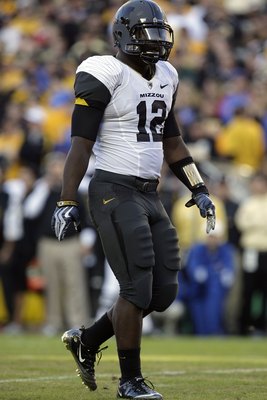 Grade: A
Mike Peterson only has a couple of years left, and Weatherspoon will make a great replacement. This is the best outside linebacker in the draft and the Falcons got him at 19.
20. Houston Texans Select Kareem Jackson, CB, Alabama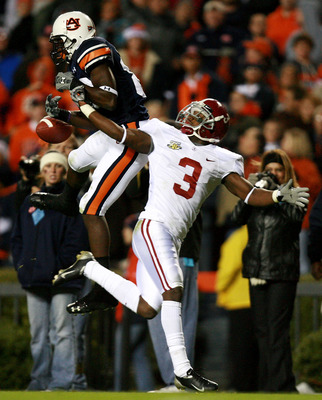 Grade: B
This definitely filled in a hole for the defense, but I feel like teams were more afraid of Arenas last year, which led to Jackson getting beat on a couple of big plays. He'll be good, but not fantastic, in my opinion.
21. Cincinnati Bengals Select Jermaine Gresham, TE, Oklahoma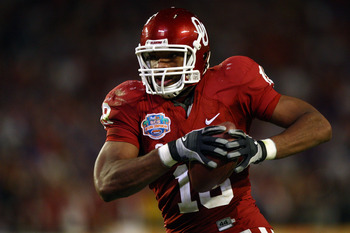 Grade: A+
This guy is the next Antonio Gates. He's going to add a huge target for Carson Palmer in the middle of the field. This will immediately add to their entire offense. Great pick!
22. Denver Broncos Select Demaryius Thomas, WR, Georgia Tech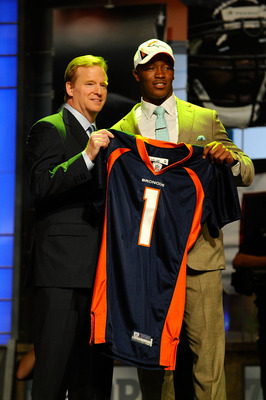 Grade: B
Say what you want, this guy didn't run routes in college. The NFL won't allow you to not run good routes. Dez Bryant is a better receiver, but the Broncos didn't want to get another diva wideout.
23. Green Bay Packers Select Brian Bulaga, OT, Iowa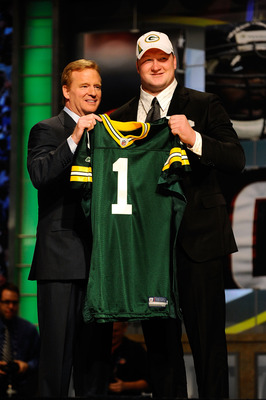 Grade: B
He's most likely going to be a right tackle because he's not good enough to play left tackle. In my opinion, right tackles don't deserve to be taken with a first-round pick.
24. Dallas Cowboys Select Dez Bryant, WR, Oklahoma State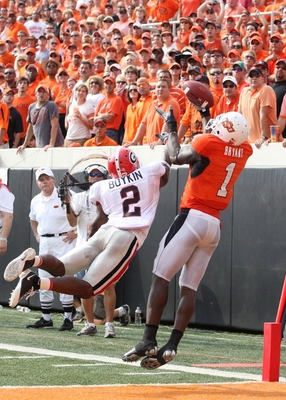 Grade: A+
Best wide receiver in the draft and the Cowboys get him at 24. This guy was supposed to go 11th overall and he fell 13 spots. Dez Bryant will be an amazing player in this league and will contribute immediately.
25. Denver Broncos Select Tim Tebow, QB, Florida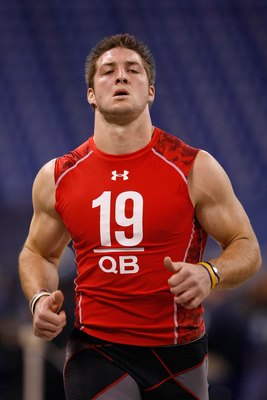 Grade: C
The Broncos traded all over the place to get this selection. Tim Tebow is a reach and is definitely not a sure thing. I like the guy and I really hope he succeeds in the NFL, but I wouldn't put money on it.
26. Arizona Cardinals Select Dan Williams, DT, Tennessee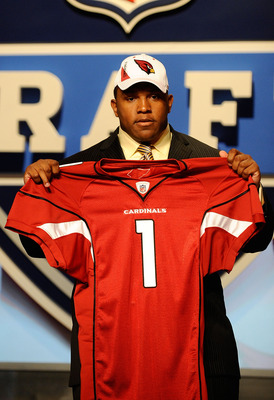 Grade: A
I'm really surprised they didn't try and start over at QB since Matt Leinart hasn't worked out so well. Dan Williams is still an amazing pick. He was the third-best DT in the draft and was passed on for Alualu in the 10th overall spot. Great pick for Arizona.
27. New England Patriots Select Devin McCourty, CB, Rutgers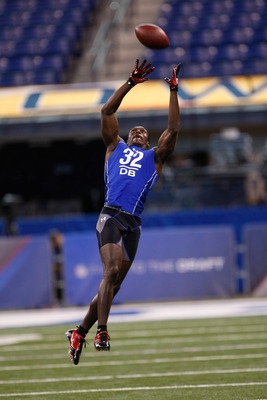 Grade: B+
I was surprised they didn't go with linebacker with so many good ones on the board; however, I've learned to never question New England's picks. McCourty will be a great cornerback in this league, but I felt like their pick could have been better used.
28. Miami Dolphins Jared Odrick, DT, Penn State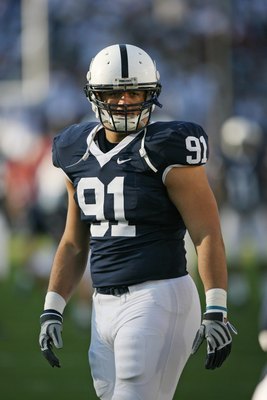 Grade: A
The reason I give the Dolphins an A here is because they traded down, picked up a couple more draft picks, and then got the guy I'm pretty sure they were targeting in the first place. Fantastic job by the Dolphins.
29. New York Jets Select Kyle Wilson, CB, Boise State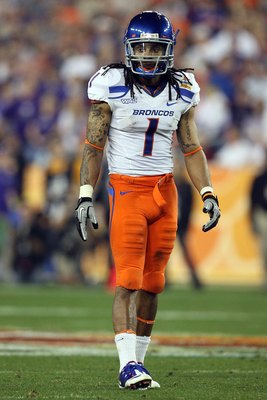 Grade: B+
I really like this pick for Rex Ryan. Wilson can play a lot of places on defense, including safety. This will allow Ryan to play him in unusual spots to create another advantage. This guy might be the future at cornerback for the Jets, but for now I feel like he will play safety.
30. Detroit Lions Select Jahvid Best, RB, Cal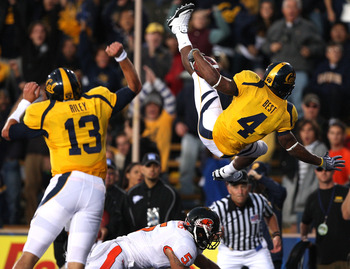 Grade: A
Best was the best running back coming into the season before he was injured. He's going to add the last dimension to the Lions that they need to be successful.
31. Indianapolis Colts Select Jerry Hughes, DE, TCU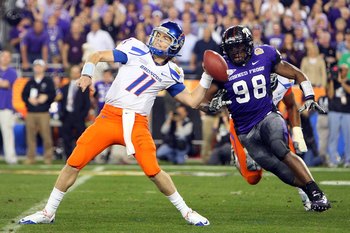 Grade: B
With Mathis and Freeney, I don't really know where this guy is going to fit into their defense. I guess they could try and put him at linebacker, but he's more of a 3-4 scheme guy. We'll see what they come up with.
32. New Orleans Saints Select Patrick Robinson, CB, Florida State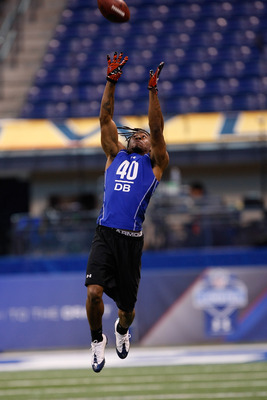 Grade: B
Cornerback was not really a need for the Saints, but Robinson will help their secondary. I was surprised they didn't go with one of the great OLBs left; Everson Griffen and Sergio Kindle were both still on the board.
Friday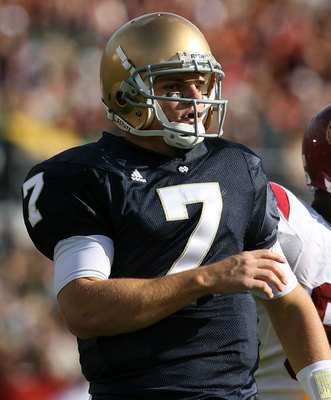 So when all was said and done there were still a lot of great players left on the board.
Everson Griffen, Sergio Kindle, Jimmy Clausen, Colt McCoy, Golden Tate, Brian Price, and Taylor Mays are just some of the names left on the board.
The draft starts back up at 7 p.m. Friday. Don't miss it.
Keep Reading