Pick-By-Pick Running Analysis of 2010 NFL Draft First Round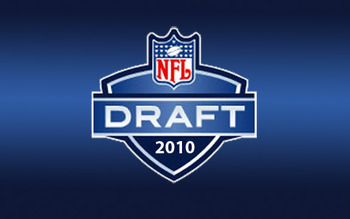 The draft is upon us!
This article is going to be edited after each pick tonight and will serve as a running pick-by-pick analysis of every selection made during tonight's first round.
In the few minutes before the draft, all slides will, of course, be blank. As picks are made, I will edit the article to fill in each pick and provide my analysis.
I won't be able to respond to comments very quickly, since all of my time during the draft will be spent updating picks.
Be sure to check back after each pick for constant updates!
1. St. Louis Rams - Sam Bradford, QB, Oklahoma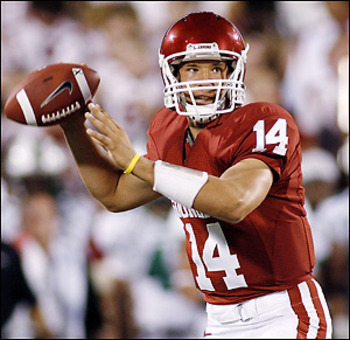 Analysis: No surprise here. Bradford has been the expected top pick for about the last month, and when you think about it the Rams really had no other option.
After passing on Matt Ryan and Mark Sanchez the past two years, St. Louis needed to secure its franchise quarterback here, and they did.
Bradford will have his bumps as a rookie with all the holes in the Rams' offense, but ultimately he was the right choice.
2. Detroit Lions - Ndamukong Suh, DT, Nebraska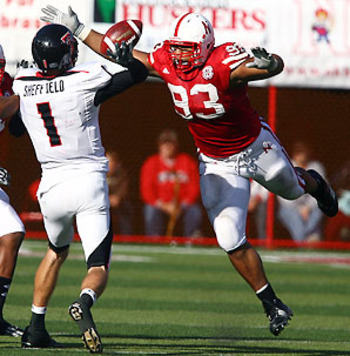 Analysis: Well, we really didn't expect any huge upsets in the top couple picks, so this one was pretty well wrapped up.
Suh is a dominant defensive tackle who will help to shore up Detroit's porous defense, giving them an anchor in the middle for the next decade to build around.
Arguably the best player in the entire draft, Suh was a good pick for the Lions.
3. Tampa Bay Bucs - Gerald McCoy, DT, Oklahoma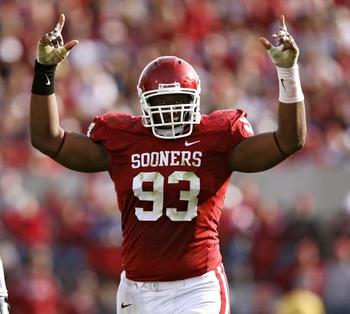 Analysis: The Bucs were expected to pick whichever defensive tackle did not end up in Detroit, so Gerald McCoy going to Tampa Bay was made almost a lock as soon as the Lions' pick was in.
McCoy brings some much-needed help to the middle of a Bucs defense that finished dead last against the run in 2009 and has sorely lacked a top-notch defensive since the Warren Sapp days.
Another selection, another smart pick. No upsets so far in this draft.
4. Washington Redskins - Trent Williams, OT, Oklahoma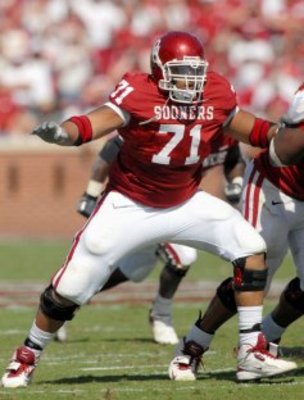 Analysis: This may seem like a bit of an upset, but in the days leading up to the draft, Williams' name was being mentioned more and more with the Redskins.
With Williams' athleticism, he is a better fit for Washington's new zone-blocking scheme than Russell Okung, who widely considered the top overall tackle prospect in this draft.
Ultimately, protecting Donovan McNabb's blind side was the top priority for the Redskins, and they got their stud left tackle with this pick.
5. Kansas City Chiefs - Eric Berry, S, Tennessee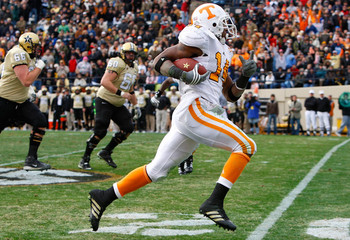 Analysis: This one is a bit of a surprise.
With Matt Cassel's blind side needing help, Bryan Bulaga and Russell Okung were popular predictions here.
However, adding a playmaker like Berry to their defensive backfield is going to really help their defense, and with the depth at tackle in this year's class, grabbing arguably the best player available is a good strategy.
6. Seattle Seahawks - Russell Okung, OT, Oklahoma State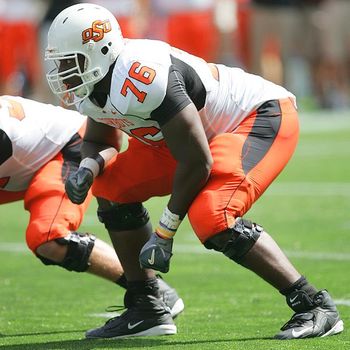 Analysis: Seattle front office personnel and fans should be absolutely thrilled with this pick.
Russell Okung, considered by some to be the top offensive tackle prospect in this draft, slips to the sixth overall pick and gives the Seahawks an immediate replacement for Walter Jones.
Okung will help protect Matt Hasselbeck (and possibly Charlie Whitehurst) this season, and will be able to lock down the blindside for the next decade for whoever Seattle decides to put under center.
7. Cleveland Browns - Joe Haden, CB, Florida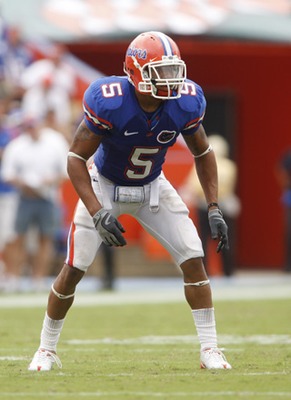 Analysis: The Browns have been expected to go defense with this pick for a while now, so that part is no surprise.
With Eric Berry coming off the board two picks earlier, Cleveland used this pick on the next best defensive back available, Joe Haden.
There were reports the past couple days about the Browns going back and forth between Kyle Wilson from Boise State and Haden from Florida, and ultimately they decided to go with Haden. Good pick here.
8. Oakland Raiders - Rolando McClain, LB, Alabama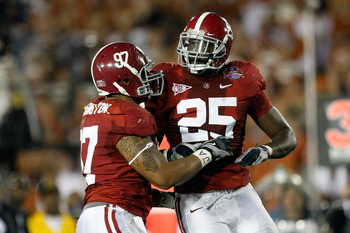 Analysis: Wow.
Were this anyone but the Raiders, I would be shocked. But with Oakland, every pick is a mystery, and you cannot be shocked if you have no idea what the pick could be in the first place.
With Kirk Morrison playing well in recent years, this pick is somewhat odd. However, the Raiders have been shopping Morrison for the past couple weeks.
The only problem is, unless McClain can play left tackle or quarterback, Oakland still has some very pressing needs to fill.
9. Buffalo Bills - C.J. Spiller, RB, Clemson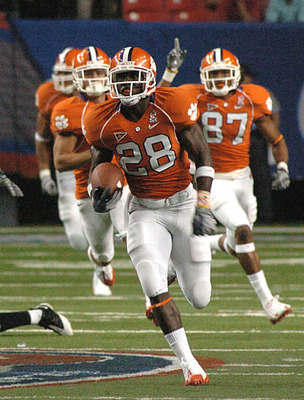 Analysis: Unbelievable.
This pick may rival Oakland's as making the least amount of sense.
With more pressing holes at left tackle, quarterback, and nose tackle, picking a running back with a thousand-yard rusher and former Pro-Bowler already on the roster is madness.
The Bills could not afford to use their first-rounder on a luxury pick, and that is exactly what they did.
I can hardly believe it.
10. Jacksonville Jaguars - Tyson Alualu, DT, California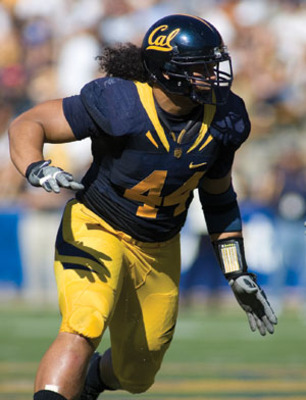 Analysis: Three shockers in a row.
Alualu is a good defensive tackle prospect, but his name had not been mentioned as a top-ten selection at all this offseason.
Being picked ahead of players like Dan Williams, Terrence Cody, and Brian Price is questionable at best, and Jacksonville's pick is certainly a surprise.
11. San Francisco 49ers - Anthony Davis, OT, Rutgers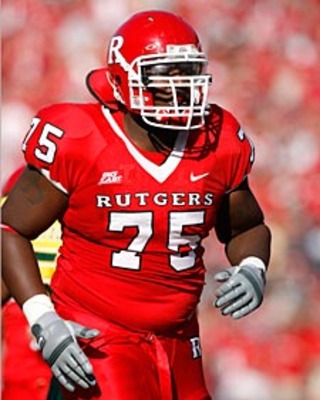 Analysis: TRADE!
The 49ers make the first trade of the day here, surrendering a fourth-round pick to move up two spots and Davis.
Davis is a guy who has massive potential at just 20-years-old, but his character concerns raised a couple red flags.
A little interesting given that Davis probably would have slipped to San Francisco's original pick at No. 13, but a solid pick for the 49ers none the less.
12. San Diego Chargers - Ryan Mathews, RB, Fresno State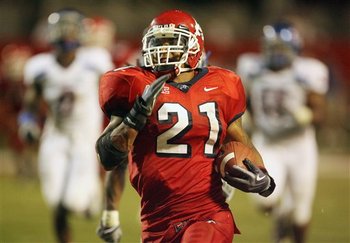 Analysis: Two trades in a row!
This one makes a lot more sense than the 49ers trade.
With LaDanian Tomlinson gone, the Chargers had a big hole at running back, and with teams like the Houston Texans also targeting Mathews, San Diego was able to move up and secure their guy.
Solid pick at this spot.
13. Philadelphia Eagles - Brandon Graham, DE, Michigan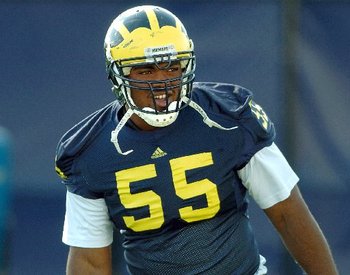 Analysis: Three trades in a row? Gotta love the action this year.
This one was a surprise. With Earl Thomas available, it was assumed this move was made to grab him.
However, Graham is a great pass-rusher who will help the Eagles get to the quarterback, which they have been having trouble doing.
Also, great job by Denver stockpiling picks, as they received two third-rounders for this selection.
14. Seattle Seahawks - Earl Thomas, S, Texas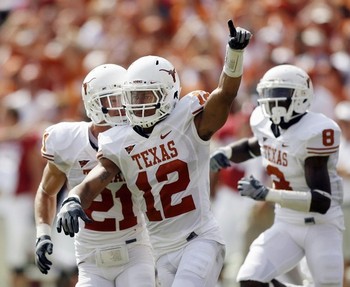 Analysis: No trade with this one.
After drafting a franchise left tackle at No. 6 overall in Russell Okung, Seattle fills a void in the defensive backfield with Thomas.
It is a little unclear whether the Seahawks view Thomas as a safety or corner, but either way Thomas will instantly upgrade that secondary with his speed, range and ball skills.
15. New York Giants - Jason Pierre-Paul, DE, South Florida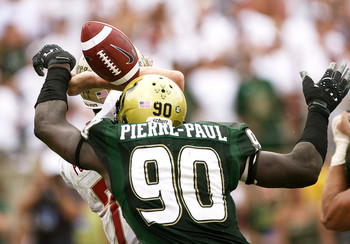 Analysis: Solid pick at this spot.
After Osi Umeryiora had a disappointing season in terms of getting to the quarterback, the Giants bring in some much-needed pass-rushing help with Pierre-Paul.
While he is still raw, "JPP" should be a good situational rusher as a rookie and eventually a mainstay along the defensive line in New York.
16. Tennessee Titans - Derrick Morgan, DE, Georgia Tech
Analysis: With Kyle Vanden Bosch now in Detroit, the Titans needed to add a defensive end to their roster, and Morgan is a great fit.
Morgan is a stout defender against the run, and has good pass-rushing ability with a non-stop motor. He will be a great addition to this Tennessee defense.
At pick No. 16, Morgan is also a bargain. Excellent selection by the Titans here.
17. San Francisco 49ers - Mike Iupati, G, Idaho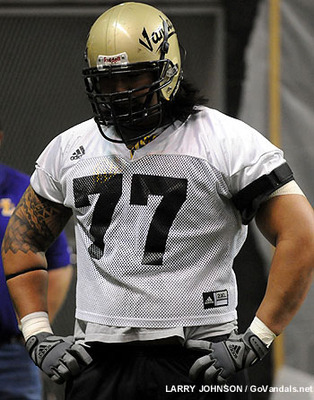 Analysis: This one is a little surprising, but makes sense.
The 49ers were not sold on David Baas as a starter at guard, and now with the additions of Anthony Davis and Iupati, San Francisco's line suddenly looks very solid.
Iupati and Davis will provide some great holes for Frank Gore and will help protect Alex Smith.
Good picks fortifying the front five on offense with the first couple picks by the 49ers.
These picks have also been a massive vote of confidence for Alex Smith, given that each of these picks were made with Jimmy Clausen on the board.
18. Pittsburgh Steelers - Maurkice Pouncey, C/G, Florida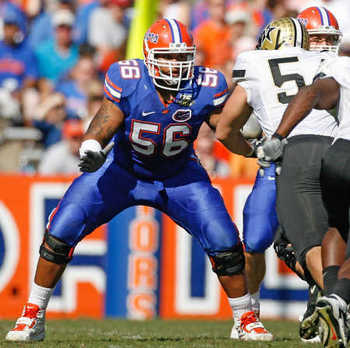 Analysis: Pouncey is a great pick at this point.
With questions on the inside of Pittsburgh's line, the Steelers draft a player who can play center or either guard spot right away.
This pick also absolutely silences every possible Ben Roethlisberger trade rumor still lingering around, with Jimmy Clausen being passed on at this selection.
Pouncey may not be the sexiest pick, but Steelers selections rarely are.
19. Atlanta Falcons - Sean Weatherspoon, LB, Missouri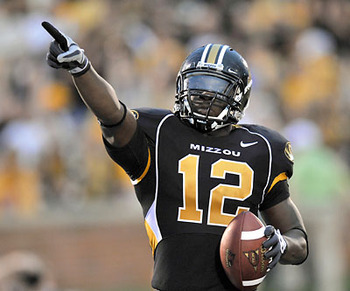 Analysis: With the Falcons needing help at linebacker next to Curtis Lofton, Weatherspoon makes all the sense in the world.
Weatherspoon, an ultra-productive collegiate who can play either outside linebacker position, offers great size, NFL readiness, and leadership for Atlanta's defense.
Weatherspoon will be an impact player right away, and will help improve the Falcons' defense from day one.
20. Houston Texans - Kareem Jackson, CB, Alabama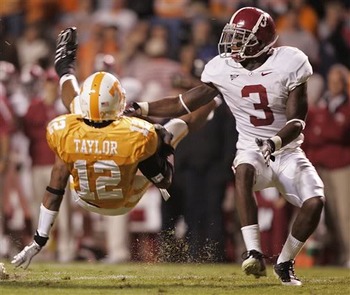 Analysis: After losing Dunta Robinson to free agency, the Texans needed to find a replacement for their top corner.
With Kyle Wilson still on the board, Jackson's selection is a bit of a surprise, but he is a solid played who will be an instant starter and good player for Houston right away.
Jackson instantly improves the Texans' defense and is a good fit here in terms of need.
21. Cincinnati Bengals - Jermaine Gresham, TE, Oklahoma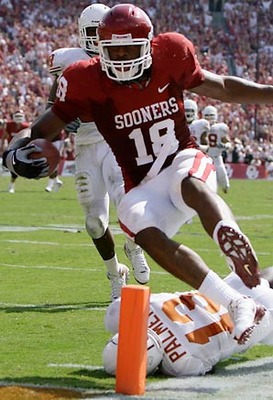 Analysis: Cincinnati was in need of a great receiving tight end, and that is exactly what Gresham brings to the table.
His blocking is a major concern, but he brings a huge threat to the receiving games.
With the addition of Gresham, as well as Antonio Bryant, the Bengals are giving Carson Palmer plenty of weapons to work with on offense.
22. Denver Broncos - Demaryius Thomas, WR, Georgia Tech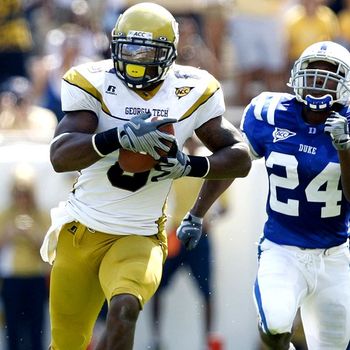 Analysis: Four trades so far tonight! This draft is definitely living up to its new prime-time expectations.
Denver fills the void left by Brandon Marshall's departure here, so the receiver pick is no surprise.
Thomas going before Dez Bryant, however, is definitely a bit of a surprise.
Josh McDaniels must have seen something in Thomas that he really liked - or maybe something in Bryant that he really didn't - to make this pick.
From a need standpoint, this is a solid pick. However, passing on Bryant may come back to bite them.
23. Green Bay Packers - Bryan Bulaga, OT, Iowa
Analysis: Excellent pick for the Packers here.
With tackle a major need for Green Bay, the drafted a player who was once considered a top-ten lock, and can play on either end of the line.
Bulaga will be an anchor of the Packers' line for years to come. Aaron Rodgers is smiling ear-to-ear after this pick.
24. Dallas Cowboys - Dez Bryant, WR, Oklahoma State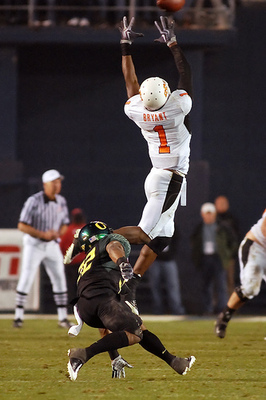 Analysis: Five trades tonight and counting.
Bryant's drafting dashes any thoughts of Roy Williams having a long-term future with the Cowboys, as Dallas now has its pairing with Miles Austin.
An Austin-Bryant combination is scary to think of, and Jerry Jones gets his high-profile draft pick that will make his offense even more explosive and frightening.
Great value pick here.
25. Denver Broncos - Tim Tebow, QB, Florida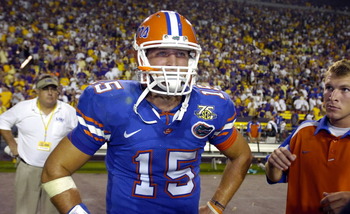 Analysis: Make that six trades.
Denver moves into this spot, with Baltimore moving out of the first round entirely.
Tim Tebow ends up going before Jimmy Clausen? This draft is full of surprises.
With Kyle Orton and Brady Quinn already on the Broncos roster, it remains unclear exactly what Josh McDaniels plans to do with Tebow, but making him a first-round selection, McDaneils must see big things for him.
26. Arizona Cardinals - Dan Williams, NT, Tennessee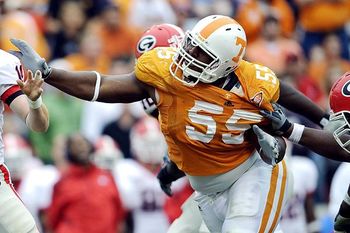 Analysis: This pick is nothing short of spectacular.
Arizona gets a great nose tackle to plug in between Calais Campbell and Darnell Dockett to solidify that defensive line.
Williams is a prototypical 3-4 nose tackle and will be a great fit for the Cardinals' defense.
This pick also shows how much faith Arizona has in Matt Leinart, passing on Jimmy Clausen here.
27. New England Patriots - Devin McCourty, CB, Rutgers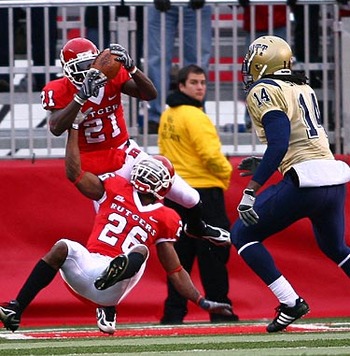 Analysis: Yet another corner comes off the board before Kyle Wilson. Interesting.
New England's pick here was expected to be a pass-rusher or a 3-4 defensive end to fill the gap left by Jarvis Green, but instead the Patriots went with a cover man and return man.
However, with plenty of picks stockpiled later in the draft - including three second-rounders - New England may feel like they can get some solid players at those positions later in the draft.
McCourty is a solid player, and will help to solidify the Patriots' shaky secondary with Leigh Bodden and Darius Butler, but with Jerry Hughes, Sergio Kindle, and Jared Odrick all still on the board, this pick goes down as a bit of a surprise.
28. Miami Dolphins - Jared Odrick, DT/DE, Penn State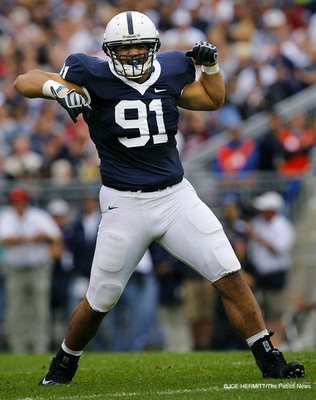 Analysis: Odrick gives Miami a solid defensive end in their 3-4, but this pick is also a bit of a shocker.
With Jason Ferguson aging and suspended for the first half of the 2010 season, a nose tackle was needed, and Terrence Cody was on the board.
After losing both Jason Taylor and Joey Porter at outside linebacker, pass-rushing help was needed, and Sergio Kindle and Jerry Hughes were still on the board. Cameron Wake is a good player, but he cannot play both outside linebacker spots by himself.
Odrick is a solid player and will be a good fit for the Dolphins, but this one leaves some questions to be answered by Miami.
29. New York Jets - Kyle Wilson, CB, Boise State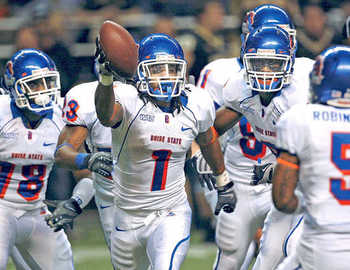 Analysis: Well, good luck completing a pass against the Jets this year.
With Wilson on the roster, in addition to Antonio Cromartie and Darrelle Revis, New York now has far and away the most intimidating secondary in the NFL.
With Sergio Kindle and Jerry Hughes still sitting on the board, this pick comes as somewhat of a surprise, but Wilson gives Rex Ryan another tool to use in his creative defensive scheme.
30. Detroit Lions - Jahvid Best, RB, California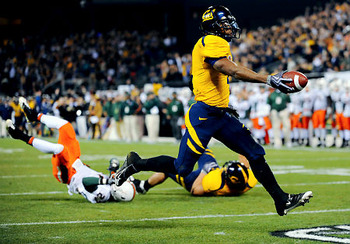 Analysis: Seven trades tonight, with two picks to go.
With Kevin Smith recovering from an ACL tear, Detroit moves up into the bottom of the first round to secure a running back to help shoulder the load on the ground and give Matthew Stafford a weapon in a passing game.
Best is an explosive runner and good receiver out of the backfield, and is a great fit for the Lions in terms of need and value here.
31. Indianapolis Colts - Jerry Hughes, DE, TCU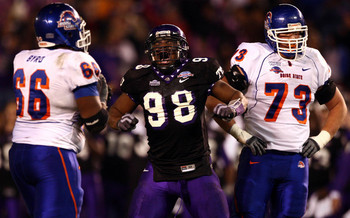 Analysis: This pick makes a lot of sense for the Colts.
Indianapolis loves undersized pass-rusher, and that is exactly what Hughes is. The Colts needed depth behind Dwight Freeney and Robert Mathis, and Hughes will help improve their pass-rush greatly after they lost Raheem Brock.
Perfect fit on both ends here.
32. New Orleans Saints - Patrick Robinson, CB, Florida State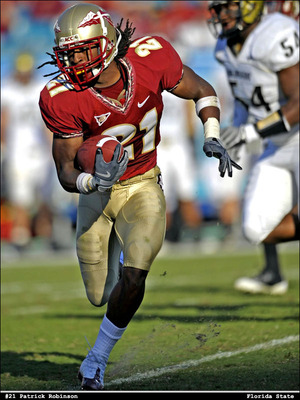 Analysis: Robinson will fit nicely as a blitzing corner in Gregg Williams' defensive scheme.
With Robinson, Tracy Porter and Jabari Greer all capable corners on the Saints' roster, Williams will have a field day with all the different pressure packages he can draw up bringing guys off the edge.
This is a good fit for the Saints.
Keep Reading