2010 NFL Mock Draft: Final Edition—Round 1
Here's my final first-round mock draft. This mock includes trades, and is my best predictions on who the various teams will pick.
My second-round mock will be available in the next few days, along with my picks for the San Francisco 49ers.
Comments are always appreciated, and hopefully your team picks up who you want them to.
1. St. Louis Rams—Sam Bradford, QB, Oklahoma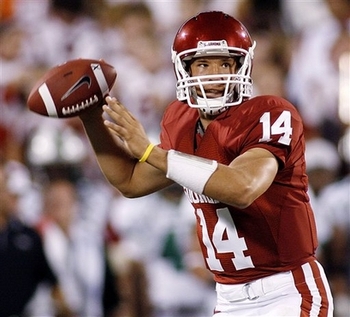 I would be shocked if the Rams don't pick Bradford. The only way they would not pick him, is if a team offered many picks in return.
I think Bradford has the most potential of any quarterback this year, but I think Notre Dame QB Jimmy Clausen will play better earlier in his career.
2. Detroit Lions—Russell Okung, OT, Oklahoma State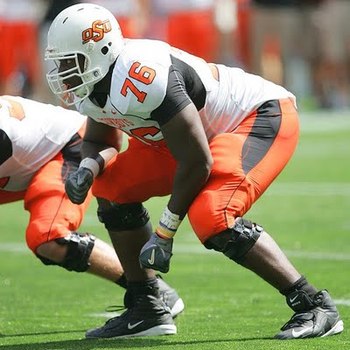 The Lions have to protect Matt Stafford, even though defensive tackle Ndamukong Suh, or Gerald McCoy could help their run defense.
The Lions could try and pick up a defensive tackle in the second round.
3. Tampa Bay Buccaneers—Ndamukong Suh, DT, Nebraska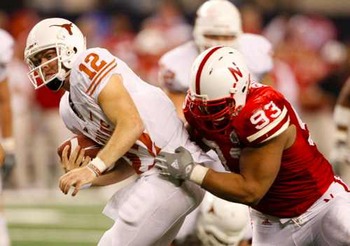 Experts say McCoy better fits Tampa's system. But Suh is a disruptive force, and his production speaks for itself.
4. Washington Redskins—Trent Williams, OT, Oklahoma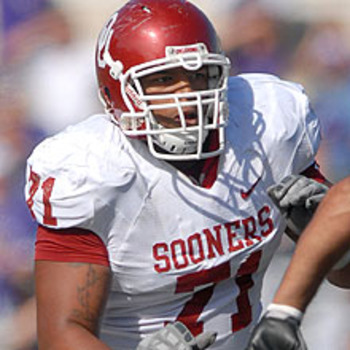 The Redskins pick up Williams to provide protection to the newly-acquired Donovan McNabb.
Williams can start right away at right tackle, and would have a chance to prove he could start this year at left tackle.
5. Buffalo Bills (Trade with Kansas City)—Jimmy Clausen, QB, Notre Dame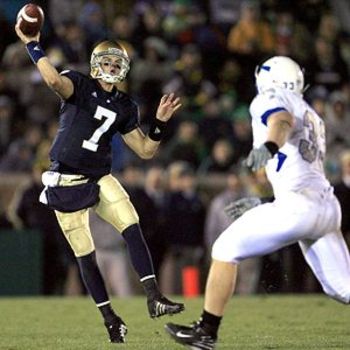 The Chiefs will try to trade out of this position for a team possibly looking to trade up for Clausen or McCoy.
Just like last year, it will be hard for them to do, and if a trade doesn't work out, the Chiefs will select a safe pick such as Iowa tackle Bryan Bulaga.
I could see the Bills trying to make a trade for Clausen. Mark Sanchez was picked fifth overall last year by the Jets, and I believe Clausen is a better prospect than Sanchez.
The Chiefs will also have new offensive coordinator Charlie Weis to help persuade a team to trade up. The Bills might have to trade their first-round choice, and third-round choice to move up to obtain Clausen.
6. Seattle Seahawks—Dez Bryant, WR, Oklahoma State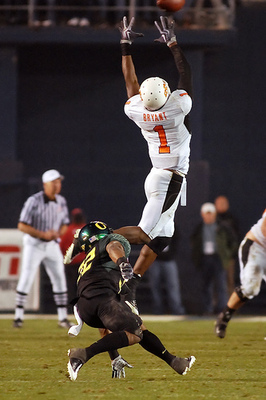 The Seahawks could select McCoy or a left tackle with this pick. A left tackle would be a reach at the sixth spot, with Williams and Okung off the board unless the Seahawks felt great about tackle Anthony Davis.
Plus Davis doesn't fit their zone blocking scheme. I believe the Seahawks will be looking for a No. 1 wide receiver, since they lost out on the Brandon Marshall sweepstakes.
If the Seahawks like Bryant, this is the pick because he might not be around at 14. Although, if McCoy fell this far it might be too tempting to pass up.
7. Cleveland Browns—Joe Haden, Flordia, CB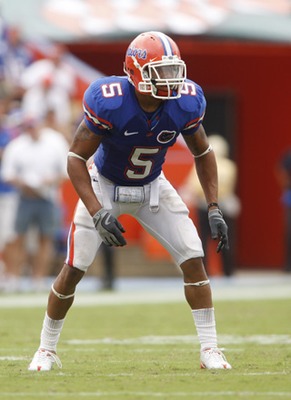 The Browns would also try to trade this pick hoping some team wants McCoy, however, I think this trade would be harder to pull off.
If the Browns decide to draft the best cornerback in the draft. Although safety Eric Berry would be tempting with this pick, if the Browns think Berry would only play safety it would be hard to pay him that much money. Safeties aren't valued as high as cornerbacks.
8. Oakland Raiders—Gerald McCoy, DT, Oklahoma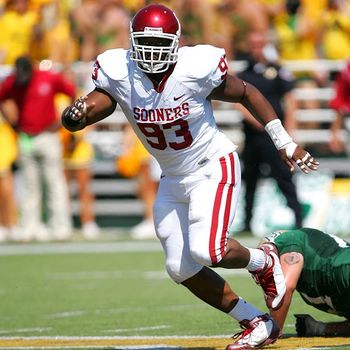 This is the wild card pick. If McCoy slips this far Oakland owner Al Davis pulls the trigger, even if he doesn't have all the "measurables," which Davis covets.
9. Kansas City Chiefs (Trade with Buffalo)—Bryan Bulaga, OT, Iowa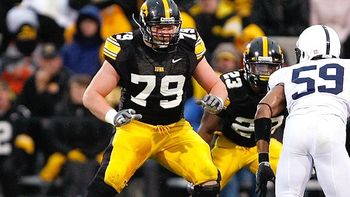 The Chiefs select the same player they would have at No. 5 if they hadn't completed a trade. Dan Williams might also be a possibility with this pick.
10. San Francisco (Trade with Jacksonville)—Eric Berry, S, Tennessee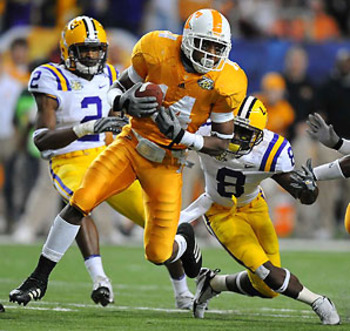 The 49ers trade their 17th overall pick, and 2011 second-round pick to move up to take Berry. At No. 17, the Jaguars would feel better about selecting QB Tim Tebow.
11. Denver Broncos—Rolando McClain, ILB, Alabama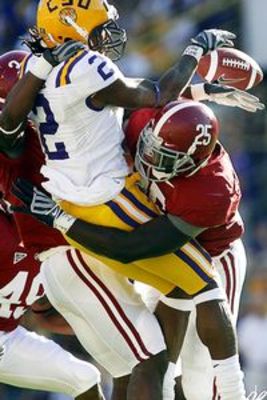 The Broncos find the tackling machine in their 3-4 defense. The Broncos might also think long and hard about a nose tackle, but they could use a second round pick on one.
12. Miami Dolphins—Dan Williams, DT, Tennessee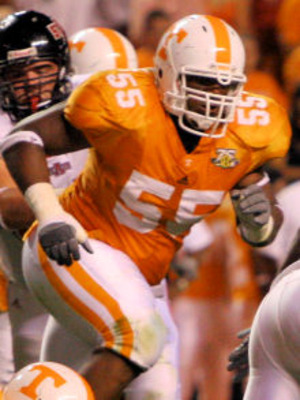 If Dan Williams, makes it to the Dolphins they could pick him. They will be looking for a nose tackle in their 3-4 defense or an pass rusher, such as Derrick Morgan, or Sergio Kindle.
13. San Francisco 49ers—Anthony Davis, OT, Rutgers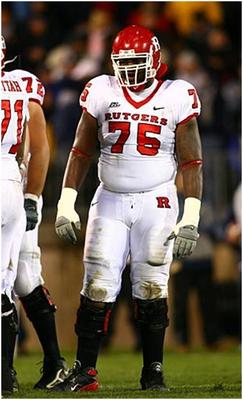 It would surprise me a little if the 49ers didn't select an offensive tackle with one of their first round picks.
Davis has all the tools to be an excellent starting left tackle but lacks the motivation. Motivation is where Mike Singletary comes in.
14. Seattle Seahawks—Derrick Morgan, DE, Georgia Tech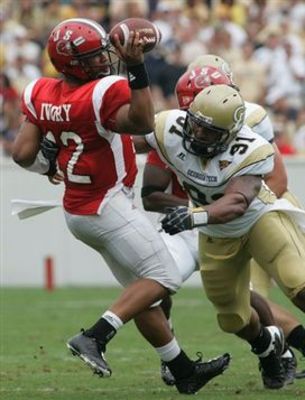 With the retirement of Patrick Kerney, and the fact that the Seahawks didn't generate much of a pass rush last year with Kerney, the Seahawks will look to boost their pass rush.
Offensive line would be another area the Seahawks might look to, but with the top four tackles off the board, No. 14 would be a reach.
15. New York Giants—Jason Pierre-Paul, DE, South Flordia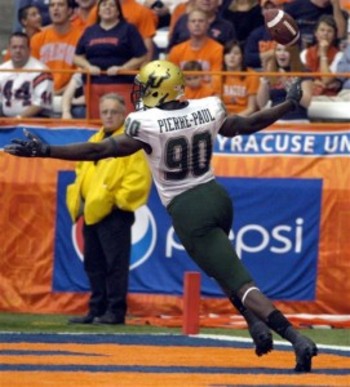 Injuries to the defensive line and secondary hurt the Giants last year. Pierre-Paul is a physical freak that would help defensive line depth, and put pressure on the quarterback.
16. Tennessee Titans—Everson Griffen, DE, USC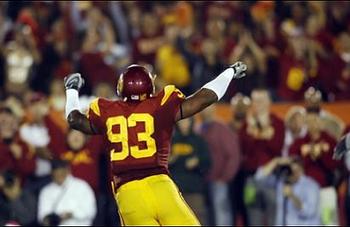 The Titans will look for an athletic defensive end early who has pass rushing potential.
17. Jacksonville Jaguars (Trade with 49ers)—Tim Tebow, QB, Flordia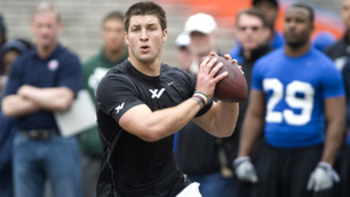 Tebow has the new throwing motion, although I keep wondering why did he just start to work on it this year, when people talked about it last year.
If he changed it last year, then he probably would've had a year in college to show that he has what it takes to be an NFL quarterback.
Anyway, Jacksonville needs to sell tickets, and Tebow would do just that. He could learn behind David Garrad and run the Power Gator (Jacksonville's version of the wildcat).
18. Pittsburgh Steelers—Golden Tate, WR, Notre Dame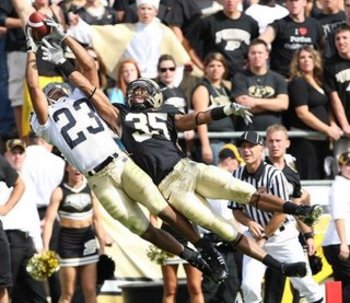 Tate is similar to Steve Smith from Carolina—he is an excellent receiver that runs the ball like a running back once he makes the catch, and he has return skills.
The Steelers will be looking for a receiver somewhere in this draft. Tate would be an excellent choice to replace Santonio Holmes.
19. Atlanta Falcons—Brandon Graham, DE, Michigan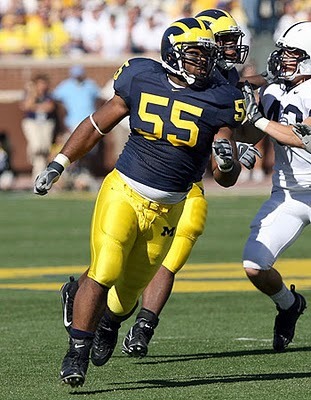 The Falcons were unable to sack opposing teams' quarterback in 2009. Adding Graham, who is a natural pass rusher similar to Elvis Dumervil in Denver, would certainly help.
20. Houston Texans—Earl Thomas, FS, Texas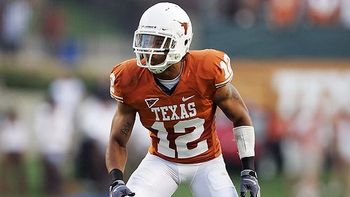 The secondary class is deep in this draft, as is the running back position. The Texans should be able to find an every down cornerback in the middle rounds.
Thomas has excellent ball-hawking skills, and can cover. With Peyton Manning in your division, the Texans need all the secondary help they can acquire.
21. Cincinnati Bengals—CJ Spiller, RB, Clemson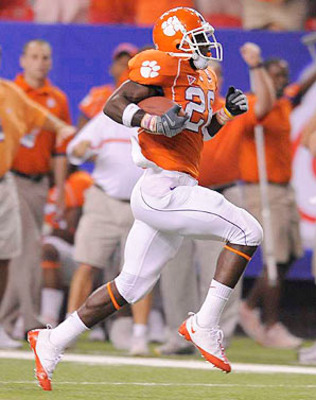 Surprisingly Spiller falls all the way down to Cincinnati. At this spot, he is to good to pass up.
Spiller gives Cincinnati a game-breaker that they needed in their running game last year to complement Cedric Benson.
22. New England Patriots—Sergio Kindle, OLB, Texas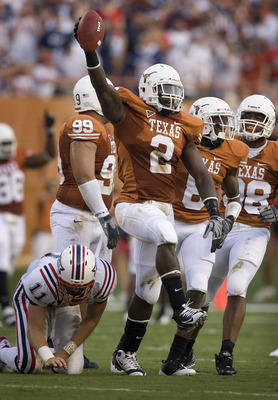 I could see Miami taking Kindle at No. 12, or San Francisco taking him with one of their picks.
If not, the Patriots would snatch him up to provide a boost to their ailing pass rush. Kindle may be better than Brian Orakpo, and we know how that turned out.
23. Green Bay Packers—Charles Brown, OT, USC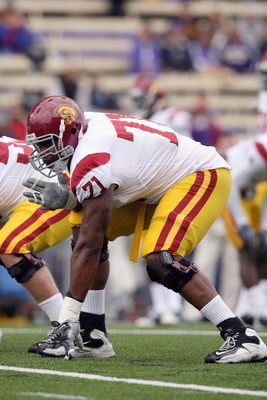 Brown is a player that probably won't start right away at left tackle, but he is a great athlete and will work his way to eventually become the starter for the Packers at left tackle.
24. Philadelphia Eagles—Kyle Wilson, CB, Boise State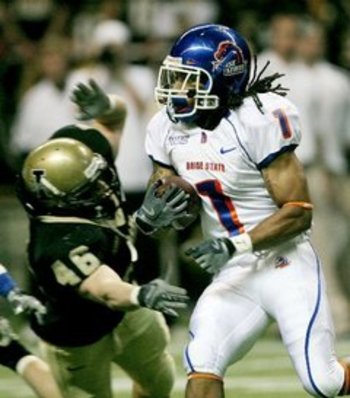 The Eagles may look for a cornerback to compliment Asante Samuel.
25. Baltimore Ravens—Carlos Dunlap, DE, Flordia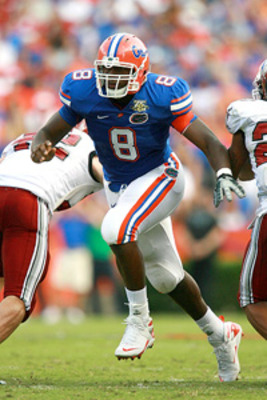 It's amazing that Dunlap would fall this far. If he does, the Ravens or another 3-4 team will snatch him up.
His physical talent is comparable to Mario Williams, but he lacks the effort. Baltimore would be an excellent team for him.
26. Arizona Cardinals—Sean Weatherspoon, ILB, Missouri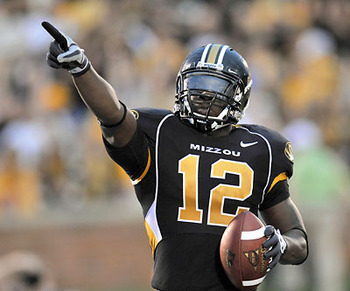 The Cardinals lost Karlos Dansby and Antrel Rolle to free agency. The Cardinals could look for a safety in this spot, but the third-rated safety, Taylor Mays, plays similar to Adrian Wilson.
Even though Weatherspoon is projected as a outside linebacker, he brings leadership skills, and would play inside linebacker for the Cardinals.
27. Dallas Cowboys—Terrence Cody, NT, Alabama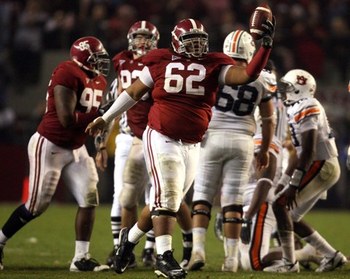 Acquiring Cody, Jay Ratliff could move over to DE in Dallas's 3-4.
28. San Diego Chargers—Ryan Matthews, RB, Fresno State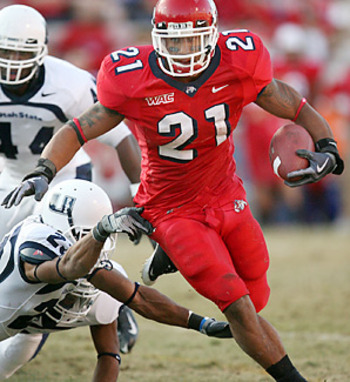 With Cody off the Board, the Chargers pick up and every down back Matthews.
29. New York Jets—Jared Olrick, DE, Penn State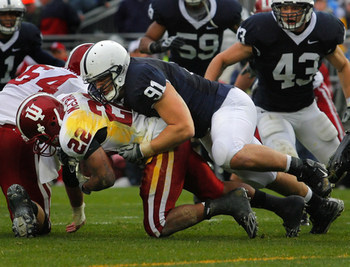 If Olrick slides to the Jets, they will select Olrick in a heartbeat. The Jets defensive line is aging. Adding some youth with Olrick's abilities would help.
30. Minnesota Vikings—Maurkice Pouncey, C/G, Florida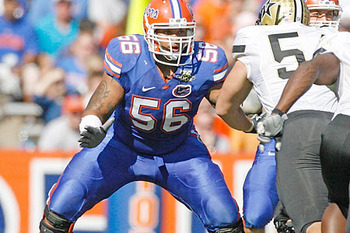 Pouncy gives the Vikings an upgrade in the middle of their offensive line. The defensive secondary is deep in this draft, and the Vikings can look for help in the second or middle rounds.
31. Indianapolis Colts— Rodger Saffold, OT, Indiana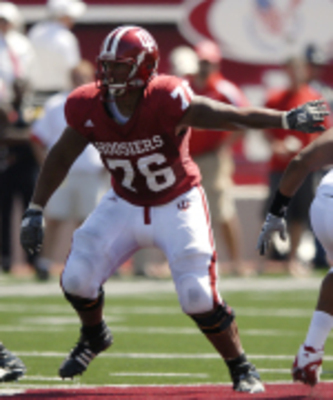 The Colts like to surround Peyton Manning with offensive players. Saffold would provide protection to his blind side, while first starting on the right side.
32. New Orleans Saints—Jerry Hughes, DE, TCU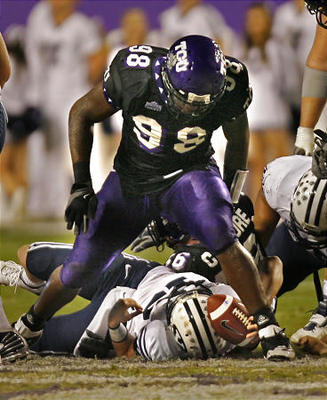 Jerry Hughes could play defensive end, or outside linebacker. These are positions the Saints would like to address and Hughes could be used at both.
Keep Reading