2010 NFL Mock Draft: Donovan McNabb Trade Means Eric Berry's Stock Moves Up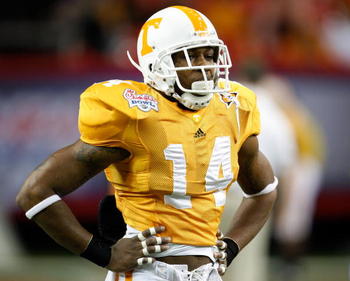 It is really amazing how one trade can change so many picks in a NFL mock draft.
Before the Philadelphia Eagles-Washington Redskins trade involving Donovan McNabb, I had my mock draft complete and ready to post on Monday morning, but instead I've had to spend just over an hour moving names and changing quite a few teams' picks.
Thanks Redskins and Eagles.
You cannot really blame either team for making that deal happen. Even though I do not try to predict trades in my mock, I will say that with the addition of another second rounder, I see the Eagles trading up in the first round to grab a player they really covet.
Anyway, here is my updated post-McNabb trade mock draft.
No. 1, St. Louis Rams: Sam Bradford, QB, Oklahoma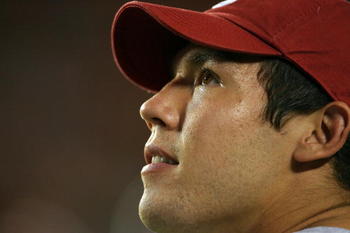 Even though the Rams are saying they have a private workout with Texas quarterback Colt McCoy, Bradford is really their guy of the future.
Previous: Bradford
No. 2, Detroit Lions: Russell Okung, OT, Oklahoma State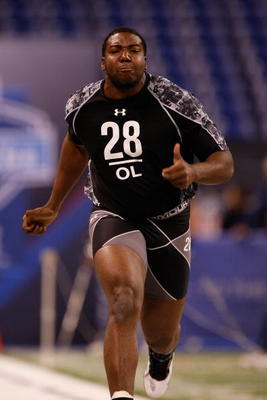 The Lions need to protect quarterback Matthew Stafford, and Okung will do that for at least the next decade.
Previous: Okung
No. 3, Tampa Bay Buccaneers: Gerald McCoy, DT, Oklahoma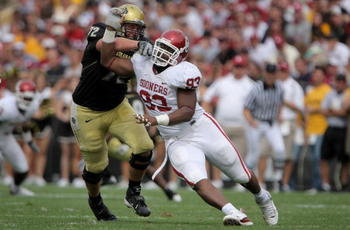 McCoy is who the Bucs have wanted all along, and he falls right into their lap.
Previous: Ndamukong Suh
No. 4, Washington Redskins: Eric Berry, S, Tennessee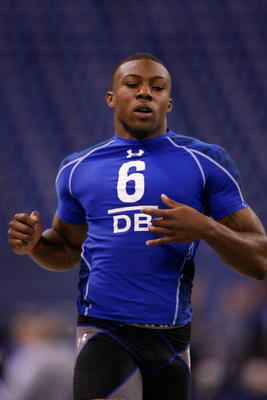 Even though the Redskins should be protecting their new investment in Donovan McNabb and picking an offensive lineman, they choose to pick Berry to add a playmaker in the back their secondary.
This pick may be a direct influence of owner Dan Synder's liking of highly talented players too.
Previous: Jimmy Clausen
No. 5, Kansas City Chiefs: Ndamukong Suh, DT, Nebraska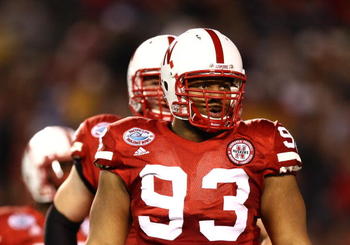 A tough choice between the rare defensive talents of Suh and Berry or picking a left tackle to protect quarterback Matt Cassel. The Chiefs go with the safest bet on the defensive line with Suh.
Previous: Berry
No. 6, Seattle Seahawks: Bryan Bulaga, OT, Iowa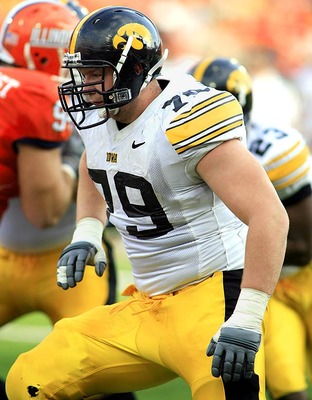 Bulaga has shot up the first round the past few weeks, and the Seahawks need to find a replacement at left tackle for the retired Walter Jones. Bulaga is their man.
Previous: G. McCoy
No. 7, Cleveland Browns: Earl Thomas, S, Texas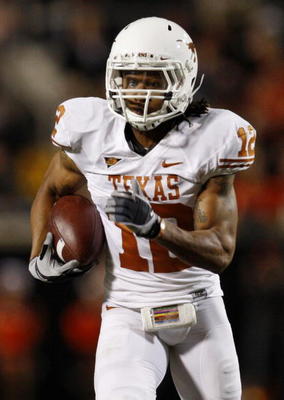 The Browns need a starting free safety, and with Berry off the board, many will say that this is a reach and the Browns can trade down to still get him, but this is no longer the case.
There are more and more experts who are beginning to rate Thomas above Berry (such as Mike Mayock), and Thomas is becoming a very hot commodity now.
Instead of picking a cocky quarterback like Jimmy Clausen, who most mocks will now predict as the Browns' pick, they fill an empty starter slot on defense, which is a better void to fill anyway.
Previous: E. Thomas
No. 8, Oakland Raiders: Bruce Campbell, OT, Maryland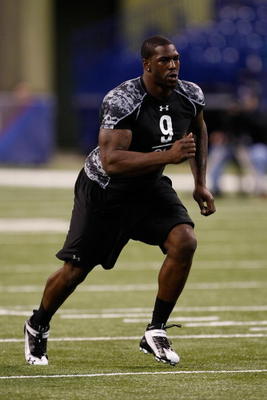 He has all the attributes that owner Al Davis loves in a football player. How do you go against those odds?
Previous: Campbell
No. 9, Buffalo Bills: Jimmy Clausen, QB, Notre Dame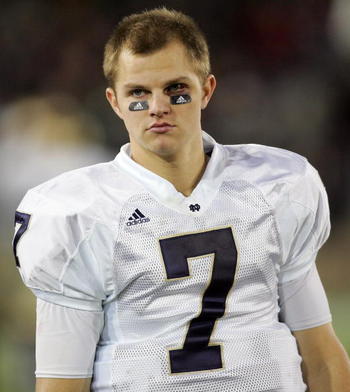 The McNabb trade will make the Bills' front office very happy since they are uncertain if Trent Edwards is the answer at quarterback, and they pick Clausen regardless.
Previous: Bulaga
No. 10, Jacksonville Jaguars: Dez Bryant, WR, Oklahoma State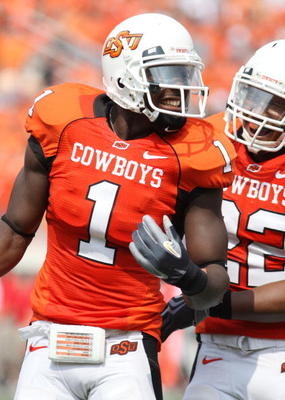 The Jags need to sell tickets, and offense sells seats. Bryant has the makings of a No. 1 threat in most NFL offenses, and he will be quarterback David Garrard's new and favorite weapon (sorry Maurice Jones-Drew and Mike Sims-Walker).
Previous: Bryant
No. 11, Denver Broncos: Rolando McClain, ILB, Alabama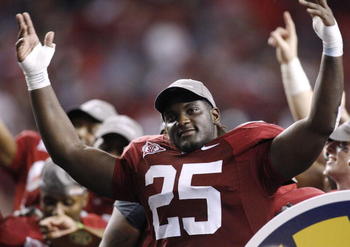 McClain will fill recently departed inside linebacker Andra Davis's shoes.
Previous: McClain
No. 12, Miami Dolphins: Jason Pierre-Paul, DE/LB, South Florida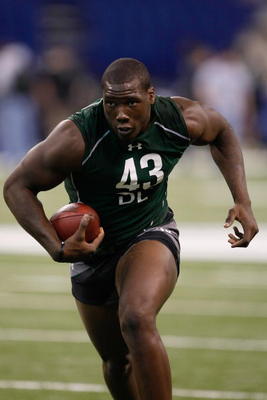 With both Williams and Bryant off the board, the Dolphins consider both C.J. Spiller and Pierre-Paul. In the end they go with Pierre-Paul, who Bill Parcells views as the second coming of DeMarcus Ware.
It's a tough choice, though; Dan Williams is still on the draft board, and the Dolphins do need a centerpiece on their defensive line, but Parcells sees something special in JPP.
Previous: Pierre-Paul
No. 13, San Francisco 49ers: Joe Haden, CB, Florida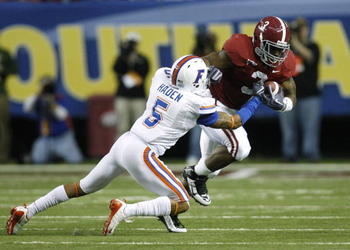 Haden drops out of the top 10, and since Thomas is off the board at safety, the 49ers fill another need in their secondary at cornerback.
Previous: Trent Williams
No. 14, Seattle Seahawks: C.J. Spiller, RB, Clemson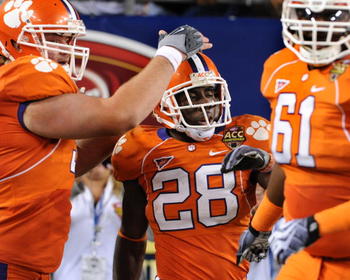 Head coach Pete Carroll needs a weapon on his offense, and Spiller is the logical choice since the Seahawks already filled their need at left tackle with their earlier pick.
Spiller will also help on special teams, which is needed as well.
Previous: Spiller
No. 15, New York Giants: Sean Weatherspoon, ILB, Missouri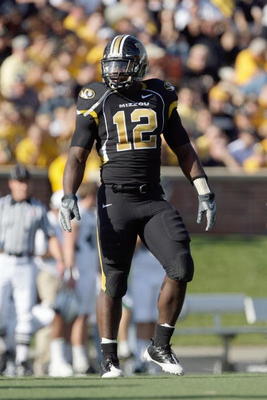 Weatherspoon will make the switch to inside linebacker and fill the shoes vacated by Antonio Pierce from day one.
Previous: Weatherspoon
No. 16, Tennessee Titans: Derrick Morgan, DE, Georgia Tech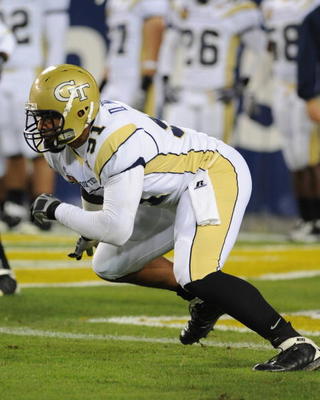 The Titans' defensive line has been torn apart this offseason, and Morgan continues the rebuilding of it.
Previous: Morgan
No. 17, San Francisco 49ers: Trent Williams, OT, Oklahoma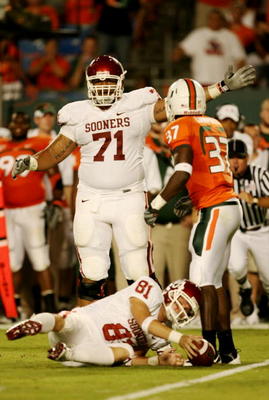 Williams is brought on to help protect quarterback Alex Smith's blind side.
Previous: Haden
No. 18, Pittsburgh Steelers: Dan Williams, DL, Tennessee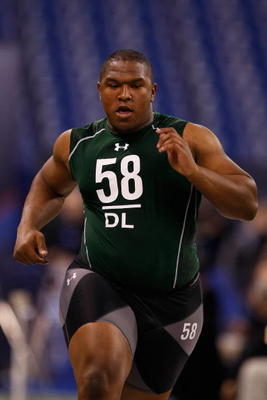 Once again the Steelers do not bring in a top-notch offensive lineman in the first round to protect their quarterback, but instead pick a lineman to bolster their defensive line.
Previous: Mike Iupati
No. 19, Atlanta Falcons: Everson Griffen, DE/LB, USC
The Falcons need to upgrade their pass rush, and Griffen will be able to help in that department with his athletic abilities.
Previous: Griffen
No. 20, Houston Texans: Kyle Wilson, CB, Boise State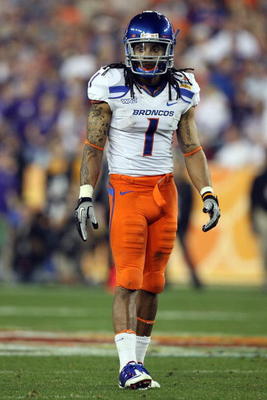 Wilson is Dunta Robinson's replacement. Easy enough.
Previous: Wilson
No. 21, Cincinnati Bengals: Golden Tate, WR, Notre Dame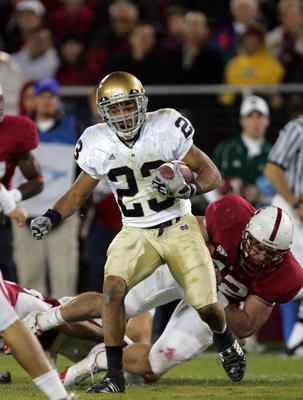 Even though the Bengals just signed Antonio Bryant to start opposite Chad Ochocinco at receiver, this pairing doesn't seem like it will last.
Tate can be a solid compliment to Ochocinco, and he gives quarterback Carson Palmer another weapon to get his arm back on track in 2010.
Previous: Tate
No. 22, New England Patriots: Brandon Graham, DE/LB, Michigan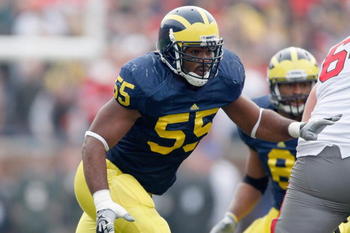 The Pats need a pass-rushing outside linebacker, and Graham fits that mold, but they also need a defensive end and could go with Jared Odrick instead.
Graham is a rare talent who can become a terrific pass rusher on Bill Belichick's defense.
Previous: Graham
No. 23, Green Bay Packers: Mike Iupati, G, Idaho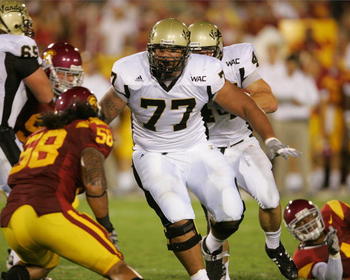 The Packers cannot believe that Iupati is still on the board when they pick. Iupati helps bring more depth to an offensive line that had its fair share of injury issues in 2009.
Previous: Charles Brown
No. 24, Philadelphia Eagles: Taylor Mays, S, USC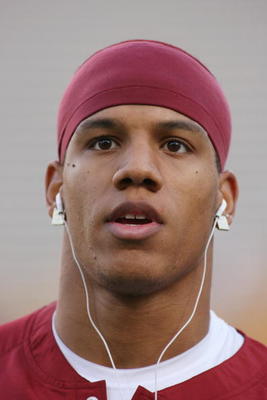 The Eagles lost Sean Jones, and now they just lost cornerback Sheldon Brown.
Since they are obviously rebuilding their secondary, there are whispers that safety Macho Harris may become a cornerback, which means there will be a need for a free safety. Enter Mays.
Previous: Mays
No. 25, Baltimore Ravens: Jermaine Gresham, TE, Oklahoma
General manager Ozzie Newsome is currently obsessed with getting quarterback Joe Flacco plenty of offensive weapons, and it will continue with Gresham since tight end Todd Heap cannot stay healthy for a full season.
Previous: Gresham
No. 26, Arizona Cardinals: Jerry Hughes, DE/LB, TCU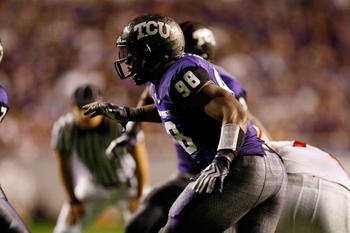 Hughes has been slowly creeping up into the first round, and with the need to add more pass-rushing talent on defense and the fact that new outside linebacker Joey Porter cannot stay out of trouble, Hughes is a good pick for talent and depth.
Previous: Carlos Dunlap
No. 27, Dallas Cowboys: Anthony Davis, OT, Rutgers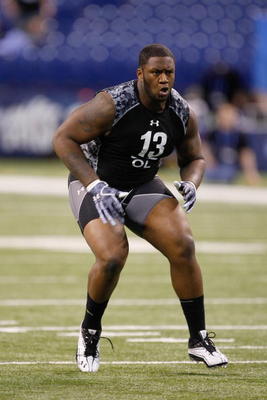 The Cowboys need to protect quarterback Tony Romo better, and despite Davis' character issues, owner Jerry Jones is confident he can straighten Davis out.
Previous: Davis
No. 28, San Diego Chargers: Ryan Mathews, RB, Fresno State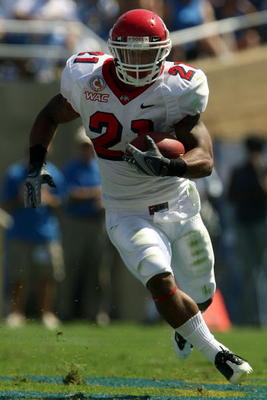 The Chargers luck out and get the running back they covet in Mathews, who will be a great change of pace pairing with the small and quick Darren Sproles.
Previous: Mathews
No. 29, New York Jets: Jared Odrick, DL, Penn State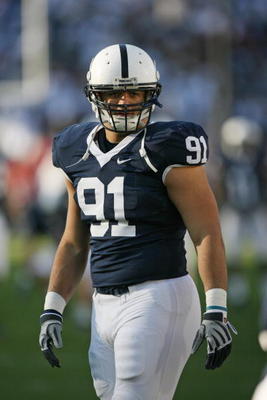 Odrick will fill a need at defensive end for the Jets. Even though they want to add another wide receiver to give quarterback Mark Sanchez another weapon, they hold off until a later round instead.
Previous: Demaryius Thomas
No. 30, Minnesota Vikings: Devin McCourty, CB, Rutgers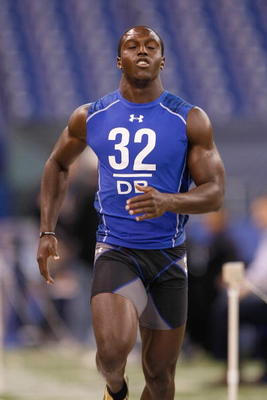 McCourty makes it into the bottom of the first round, and he will fit in nicely with the Vikings' Tampa 2 style of defense.
Previous: Kareem Jackson
No. 31, Indianapolis Colts: Maurkice Pouncey, G/C, Florida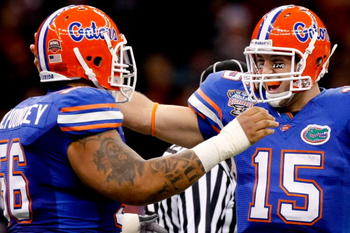 Quarterback Peyton Manning just fell to the ground to take sacks way too many times in 2009, and his offensive line gets some fresh blood with the addition of Pouncey.
Previous: Pouncey
No. 32, New Orleans Saints: Sergio Kindle, DE/LB, Texas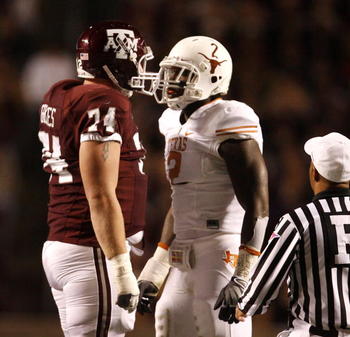 With Weatherspoon and Hughes off the board, the Saints fill a need at linebacker with Kindle, who is a tremendously gifted athlete. The transition to linebacker should not take him long at all.
Previous: Hughes
Keep Reading