2010 Malaysian GP: Victory Finally Arrives For Sebastian Vettel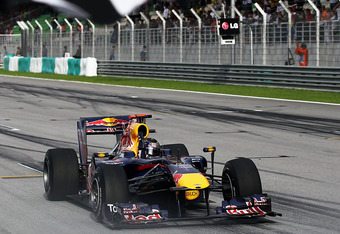 When it rains in Malaysia, it pours, and after last year's torrential downpour turned the track into a swimming pool and washed out the rest of the race, this year's was a stark contrast.
A Red Bull on pole, but this time, no reliability issues. Sebastian Vettel finally got the win he deserved by winning round three of the Formula One World Championship.
The young German brought his car home to a relatively comfortable win over teammate Mark Webber, who started on pole for Sunday's race. Vettel started third, but stormed past both Nico Rosberg and Webber at the first corner.
Although the Australian was on Vettel's tail for half of the race, he couldn't quite catch up. After three races and three pole positions for Christian Horner's outfit, Vettel should really be on 75 points, but reliability issues have hampered his first two races.
Now he is back on course in the championship, level with Fernando Alonso, and two points behind Felipe Massa .
The main talk of this weekend, however, was probably along the lines of what the weather had to offer at Sepang , with last year being a complete wash out. This time, however, there was not a single drop to be found, even after Bernie Ecclestone was so sure that the rain would arrive at 4:15 exactly.
With no rain, another question could finally be answered. Can the new regulations give more action on track and force drivers to actually overtake each other? If so, could they do it, since a primary concern surrounds the fact that these cars can't overtake after they pull up to the back of each other.
Qualifying formulated a method to answer that question.
The heavens opened, which meant that due to a bad call from both McLaren and Ferrari, both teams were at the very back of the grid. A perfect scenario to see whether the two biggest teams on the grid could silence the critics.
They didn't disappoint.
All four drivers charged through the field, laying down their might, with Lewis Hamilton impressing the most. Starting from 20th, he left Massa behind and dispatched Alonso with no problem, and easily made it past reigning world champion and teammate Jenson Button on the inside of turn one, putting the "F-duct" to proper use.
He then set his eyes on the rest of the field, dicing with every driver in his way, including Vitaly Petrov , who retired, but did not let the world champion through without a fight. After a hearty scrap and some excessive weaving from Hamilton, he finally got through.
The McLaren driver even guided his MP4-25 to second place, before having to pit, bringing him out behind Force India's Adrian Sutil , remaining there for the remainder of the race. A courageous effort from the 2008 champion.
Button on the other hand did not have such an enjoyable weekend, starting 17th on the grid and finishing eighth, after being hounded by Alonso for the latter part of the race before the Ferrari engine gave up on him with two laps to go.
Massa finished seventh behind Hamilton and now leads the world championship. Since it has already been a day since the race, he has already broken his record from the 2008 Brazilian Grand Prix when he won the race, was the championship leader, then lost it 20 seconds later when Hamilton crossed the line.
Maybe Felipe can hold it for much longer this time, and if Ferrari keeps delivering a good car for him, then he may hold off Vettel and Alonso and keep that lead until the end.
With all the action at the back of the pack, little acknowledgement was given to Nico Rosberg , who gave Mercedes Benz GP its first podium of the season, which many thought Michael Schumacher would deliver first, but instead retired after a wheel nut came loose.
That's all three races now that Rosberg has outperformed the seven-time world champion. Kubica also gave Renault another brilliant result, finishing fourth .
After an exciting race, the top 10 were as follows: Vettel , Webber, Rosberg , Kubica , Sutil , Hamilton, Massa , Button, Alguersuari , and Hulkenberg , the first of the rookies to score points.
This article is
What is the duplicate article?
Why is this article offensive?
Where is this article plagiarized from?
Why is this article poorly edited?