Arsenal Can't Win the Premier League with Arsene Wenger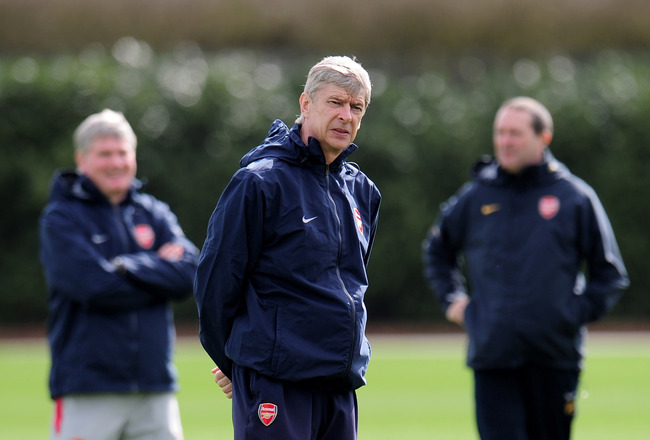 Shaun Botterill/Getty Images
Arsenal's last gasp win against an ordinary Wolves side showed yet again the deficiencies in Wenger's side.
When Nicklas Bendtner rose highest to nod home Bacary Sagna's cross, the Emirates erupted as it meant the Gunners were still with a shot at the Premier League crown. However, as performances go, this was a terrible one and the win was thoroughly undeserved particularly in light of Karl Henry's harsh sending off.
The Gunners have always played football in their own style, they know only one way of getting things done, and if it doesn't work, they fail. This has resulted in the side turning into one of the most pleasing teams to watch in recent times, but as results go, the disappointment amongst the supporters paints another picture.
This season is far from over and Arsenal's fate in England and in Europe is undecided but even the most loyal of Gunner's fans will be expecting another trophy-less season. The usual reasons will be sought again as Robin van Persie has missed the five months and Cesc Fabregas and William Gallas are ruled out for the crucial part of the season.
Arsene Wenger's men may have salvaged a brilliant comeback draw against Barcelona in midweek, but it engineered more through the Catalans' folly than the Frenchman's genius. Wenger looked like a man out of his depth as he saw his team get slaughtered in every area of the pitch.
There is no shame in going out to a side like Barcelona in the CL and it would be premature to write off the Gunners before the second leg is played. It is their league form which seems to be the bigger concern at the moment. It looks increasingly likely that the North London derby will spell the end of Arsenal's title hopes for another season.

Injuries and more injuries
Arsenal's injury list stretches well beyond the recommended length and the fatigue factor seems to be catching up with the players faster than ever. William Gallas, Andrei Arshavin, and Cesc Fabregas were all lost in the battle with the European champions and as such the Gunners's predicament is understandable.
However, this is not the first time the side has been plagued by injuries and it will most certainly not be the last. Wenger's insistence on buying young, light-footed players carries with it the inherent danger of injuries as these starlets lack the physical strength to sustain high-impact tackles.
The medical team has come under renewed investigation as Gallas was seemingly let on to the field while he was still in the recovery process. Apart from the barbs being exchanged between France coach Raymond Domenech and Wenger, it is questionable why Arsenal players seem to have common recurrence of injuries.
This season, more than ever, all the top teams faced an uphill battle of getting their Best XI on the field. Chelsea have lost Jose Bosingwa, Michael Essien, Ashley Cole, and Branislav Ivanovic.

Liverpool have had their fair share of trouble coping with injuries to Fernando Torres and Co. Manchester United's defence was decimated through December and January. So it has been a pretty level playing field in that respect.
The outstanding player for the Gunners this season has been Alexandre Song, a tough-as-nails tackler not afraid of going in hard on players. Wenger needs to buy more players like Song as they are capable of not only dispossessing the other team but also spreading the play all round the park.
Even traditionally nimble players like Cristiano Ronaldo and Lionel Messi have developed some much needed power play to shrug off the challenges of defenders. The art of holding up play and maintaining possession was showcased beautifully by Barca in that first half. There is no reason why the Gunners squad can't achieve the same.

Wenger: Change your ways
In his prematch press conference with Barcelona, Wenger stressed on the importance of playing to his own side's strengths. This is the factor which seems to be holding back the Frenchman from achieving the greatest success. His insistence on sticking to his team's strengths is also detrimental.
The victory against Wolves last afternoon showed that Arsenal can win even without beautiful football on display. This is a point which Wenger needs to stress to his team especially with the impending clash against Barcelona. It is the three points that matter the most, not the fair play points you collected.
And it is for this reason that Wenger's No. 1 target Marouane Chamakh needs to be tied in as soon as possible. Chamakh is a typical target man with passable close control but excellent positional sense. His dominance in the air makes him much better suited to partner van Persie than Bendtner.
At the same time, it may be wise to start looking for more players who fall in the Song category of players. A player like Rafael van der Vaart or a Jeremy Toulalan or Jean Makoun from Lyon would definitely come in handy. And finally, the need for a new goalkeeper cannot be stressed enough.
The combination of youth and experience may be overrated by some, but it seems like that is the only missing piece in the Gunners' puzzle. However, if Wenger does refuse to change his ways for the next season, one may well put their money yet again on Arsenal ending the season without any major honors.
This article is
What is the duplicate article?
Why is this article offensive?
Where is this article plagiarized from?
Why is this article poorly edited?

Arsenal: Like this team?