The Butler Way: What Other Mid-Major Programs Can Learn from the Bulldogs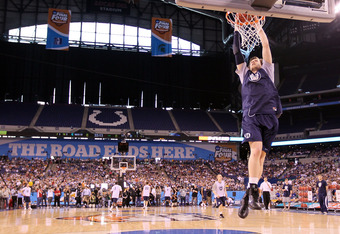 Andy Lyons/Getty Images
For years the gold standard for mid-majors was Gonzaga. Every team wanted to be the next Cinderella and build a national program out of a couple of deep March runs. The Butler Bulldogs have now done something Gonzaga has never done: break through to the final four. By doing so, they have become the new role model for all mid-majors.
So what can mid-majors learn from Butler and position themselves to be the next Cinderella story in the big dance?
It Is All About the Coach
In the college game players come and go every year, but coaching can stay consistent year after year. Before Brad Stevens took over the Bulldogs, it was recently-fired Iowa coach Todd Lickliter running the show.
Before that it was Xavier coach Thad Matta. Even when the team had to make a coaching change, they brought in another excellent young coach to run the show. The lesson here: even when a power conference school swoops in and takes your coach, the right hire can make all the difference.
The Conference Does Not Matter
The Horizon League is a good but not great mid-major conference. This season it finished as the 14th rated conference in RPI and only sent one other team to a postseason tournament.
Besides playing Siena in a Bracket-buster match up in February, Butler hadn't played a tournament team since December 19. Is the level of play in the Horizon any better than that of the MAC, or WAC, or CAA? The lesson here: If you are a good team it doesn't matter who you play, it is how you play.
It's All About the Team
This year's Butler team has some outstanding players in Gordon Hayword, Matt Howard, and Shelvin Mack among others, but Butler doesn't have any players that would be a superstar on any of the other three teams remaining.
They get by on teamwork, sharing the basketball, and excellent defense. These things can be found on any well coached team across the country regardless of level of play. The lesson here: You need great players, but above that you need great teamwork to advance in March.
You Have To Get Lucky
Murray State led against Butler in the second round of the tournament with under 30 seconds to go. Would the Bulldogs still be here had Murray State hit their last second attempt and sent the game to overtime?
Any good tournament run requires a bit of luck (Michigan State barely got by New Mexico State in Round 1, with the help of a late lane violation call) and Butler has been on the wrong side of it before (Remember Mike Miller in 2000?).
So many things have to line up for a deep run: a good draw, a couple of lucky bounces, the opponent having to play the occasional double OT game the round before. This is to take nothing away from Butler, but everyone needs a little luck to get far in the tournament. The lesson here: Sometimes it's up to fate.
This article is
What is the duplicate article?
Why is this article offensive?
Where is this article plagiarized from?
Why is this article poorly edited?