The 2010 NBA Draft and the New Jersey Nets' Free Agent Plans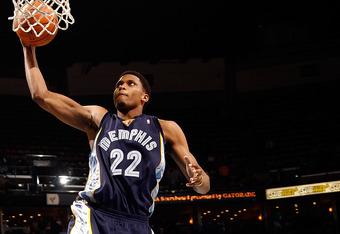 Chris Graythen/Getty Images
Break out the champagne: the Nets are not the worst team ever!!!
With their 10th win, the Nets have avoided infamy as the worst team in NBA history. Instead they will merely be known as one of the worst teams.
The good news is that the Nets have a lot of young players. The bad news is that only Brook Lopez was healthy and consistent this year.
Despite the horrible season, the Nets are actually in great shape for the future. They have a new owner in Russian billionaire Mikhail Prokhorov, who is a true lover of basketball and has a history of success as an owner of a professional basketball franchise.
Just ask any Knicks fan how much good or bad ownership matters. Virtually every Knicks fan that I know wishes that Prokhorov had bought the Knicks and not the Nets.
The Nets are moving to Newark. This is a very underrated move.
The Izod Center is a nice place to watch a game or a concert, but it is in the middle of nowhere as far as people go. As such, it was very hard to build a hardcore fan base that would give the Nets a home court advantage. Even when they were winning, they did not regularly sell out.
Newark, on the other hand, is a rising city. It just had its first month without a murder since 1966 . It is now a city of commerce with a lot of public transportation options. The Nets should be able to draw more fans, and the Prudential Center is a great place to watch a game. For the first time ever, the Nets might have a real home court advantage.
As a New Jersey native, it will be sad when the Nets move to Brooklyn, but that will only help the team itself. Brooklyn will love having its own team. The new arena will not only be built above a subway station, but also above a Long Island Railroad station, so the Nets will be able to tap into not only the Brooklyn market, but the Long Island one as well.
Financially, the Nets may finally be ready to compete, but what about the most important part: the players. The Nets will have about $23 million in cap space to spend this year. The real question is, how are they going to use it?
The Nets have a center who can score, rebound and block shots. No team has won a NBA title without an all-star caliber big man. Even the Jordan teams had Horace Grant and then Dennis Rodman. Having a quality player like Brook Lopez is a great place to start building a team.
It is the rest of the team that needs work. That is why the draft will control free agency. The Nets are guaranteed to have one of the top four picks in the draft. That means either John Wall, Evan Turner, Derrick Favors or DeMarcus Cousins will be in the Nets starting lineup next year.
So, based on the pick, here are possible free agent targets. I am going to assume that LeBron James is not going to sign with the Nets because the Nets would not be able to compete for a title next year.
John Wall strikes me as the next Jason Kidd. He can get anywhere on the court, has great vision, prefers to pass, plays defense, can score in the clutch and is creative.
However, he turns the ball over too much and he is not a good long range shooter, but both of these can be improved through game experience and practice. He is going to be a great player as long as he stays healthy.
So, if the Nets get Wall, then what happens?
The Nets should then target two players. First, they should try and sign Amare Stoudemire. Amare is healthy and can score in a variety of ways. He can play center but is best at the power forward position. He already plays well with Robin Lopez so there is no reason to think that he wouldn't fit nicely with Brook. A front line of Lopez and Stoudemire immediately becomes the best center and power forward combo in the Eastern Conference.
A quality fall back option would be Carlos Boozer. Boozer is not as good a scorer—although he is very good—but he is the superior rebounder. With Boozer, the Nets would win the battle of the boards on most nights. Plus, he is very good at running the pick and roll, a staple of NBA offenses.
However, with Wall the Nets would no longer need Devin Harris. Harris is a very good player but his style of play and body build has left him vulnerable to injury. The Nets could also try to sign Rudy Gay to a max contract and use Harris in a sign and trade.
Memphis has two quality post players and a perimeter scorer in OJ Mayo. What they lack is a top notch point guard. Acquiring Harris for Rudy Gay is a reasonable swap. Plus, Memphis' owner is looking to sell the team and is not likely looking to pay Rudy Gay a max contract.
Gay is a phenomenal scorer at the small forward position and has NBA size as well. Put Gay next to Stoudemire and Lopez and it would easily be the best front line in the East.
This would leave the Nets with a rotation of Lopez, Stoudemire, Gay, Courtney Lee, Wall, Terrence Williams, Keyon Dooling and Yi Jianlian. Terrence Williams and Courtney Lee would fight it out to start at the shooting guard position. Instead of scorers, they'd be asked to act as secondary players focused on defense and passing, which better suit their abilities.
Dooling remains the quality backup point guard and Yi gets his minutes as the primary big man off the bench. That team would be a top 4 or 5 team in the East next year.
That is the best case scenario and one that is possible.
The next scenario involves Evan Turner. Turner is a natural small forward in the Scottie Pippen mold. He can rebound, pass and score in the lane. His jump shot isn't smooth, but it will improve with practice. However, he does have great court vision that can't be taught. He is a bigger and better version of Terrence Williams.
With Turner on the roster, the Nets would keep Devin Harris as Turner starts at small forward. The Nets would still target Stoudemire or Boozer to turn a weak front court into a strength.
The Nets would still need a pure shooter, though.
The max contract for the new power forward will cost the Nets about $15 million. That leaves about $8 million for a shooter.
Their best option is Al Harrington of the Knicks. Harrington can score in bunches and is a New Jersey native. He could be a sixth-man scorer when the offense bogs down. While he is primarily a small forward, he can also play the power forward spot when necessary.
When Harrington plays, Turner would either sit or move to the shooting guard position. The Nets need more scoring and Harrington would be a great fit.
The final option is if the Nets draft a big man like Favors or Cousins. This would eliminate the need to sign Stoudemire or Boozer. Instead, the Nets would need to go for a perimeter scorer.
Rudy Gay is the best fit. The Nets can trade Memphis future draft picks, as the Nets would need to keep Harris in this scenario. If Memphis refused to trade Gay, or let him go as a free agent, the Nets will need a new target at small forward.
In that case, the best options are the aforementioned Harrington or Travis Outlaw. Outlaw might be willing, but he would probably require a contract that is more than he's worth. He is not a team-changing player.
But neither is Harrington.
Harrington is probably the better fit, as he would be less expensive and is a better scorer. Harrington would not make the Nets a contender, but he would help prevent a repeat of the disastrous 2009-10 season.
So, Nets fans, the best hope for the Nets is to get one of the first two picks in the draft because that would enable the team to become a contender as soon as next year.
This article is
What is the duplicate article?
Why is this article offensive?
Where is this article plagiarized from?
Why is this article poorly edited?

Brooklyn Nets: Like this team?