What Will Be Wenger's Plan Against Barcelona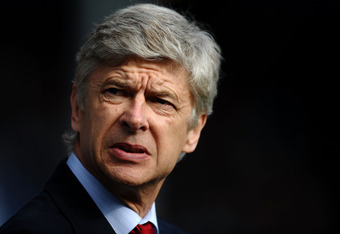 Laurence Griffiths/Getty Images
Arsenal going to face Barcelona in the much important game of the champions league 2009-10 match we all know what Barcelona can give to Arsenal.As we did not have Robin van Persie and William Gallas who are the important Players in the season and we have a inform Goalkeeper Manuel Almunia going to have a acid from the three forward's Lionel Messi,Zlatan Ibrahimović,Thierry Henry and from the midfielders Xavi Hernández,Yaya Touré what will be Arsenal's plan

BARCELONA: As we all know Barcelona will use 4-3-3 formation where Lionel Messi,Zlatan Ibrahimović,Thierry Henryin the and in the midfield Xavi Hernández,Yaya Touré,Pedro and in the defence Gerard Piqué,Carles Puyol,Dani Alves,Éric Abidal and i think they will not going to change there formation and there way of playing
ARSENAL: As all Arsenal fan know Robin van Persie and william Gallas will not avaliable and wenger know how to play the game.Wenger will use 4-2-3-1 formation.In the defence i think we are little bit worrying me because with Thomas Vermaelen,Sol Campbell,Gaël Clichy,Bacary Sagna are going to have a hard 90 minute as they are going to tackel with Lionel Messi,Zlatan Ibrahimović,Thierry Henry and quick passes from Xavi Hernández,Yaya Touré,Pedro and free kicks from Dani Alves and from Thierry Henry.Also in the midfield Samir Nasri,Cesc Fàbregas,Andrei Arshavin,Tomas Rosicky,Emmanuel Eboué,Alex Song,Denílson in which the only forward player is Nicklas Bendtner,in the holding midfielders we need to use Alex Song & Denílson but denilson is not a ideal player to start with a team like Barcelona in the midfield Samir Nasri,Cesc Fàbregas,Andrei Arshavin they need to give pass to Nicklas Bendtner and with substitute like Tomáš Rosický,Emmanuel Eboué,Theo Walcott,Abou Diaby are the options
4-5-1 formation in which in the right and left midfield Samir Nasri,Andrei Arshavin,Emmanuel Eboué and as a winger Theo Walcott can be use and Cesc Fàbregas with Alex Song and Rosicky and Nicklas Bendtner as a lone striker back to the defence clichy will need to mark Messi because his speed and he come back to form in the right back Sagna will do his duty as a best right back.Sol Campbell will play another important match of his life last time he give us the lead against Barcelona his experience is very important for the young Arsenal finally almunia what he is going to do against Barcelona just keep our fingers cross.all we need to do against Barcelona we need to play well again not to concede goal.we need to get revenge for the lose against them in the champions league final of 05-06.
This article is
What is the duplicate article?
Why is this article offensive?
Where is this article plagiarized from?
Why is this article poorly edited?