Rangers Rally and Capture a Much Needed Two Points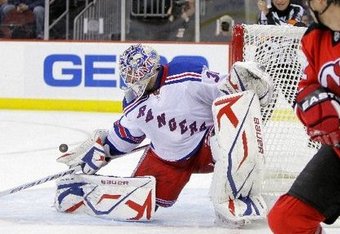 When the Rangers and Devils play each other, you can guarantee that its going to be an exciting game between two teams that hate each other. Last night was the perfect example of that. This game had it all. Fantastic goaltending, heavy hits, fighting, and late game heroics. That's exactly what you would expect from rival teams.

The Devils were able to get on the board first when Brian Rolston took a slapshot from the point which goaltender Henrik Lundqvist was able to save but left a juicy rebound for Ilya Kovalchuk who snapped it home, giving the Devils an early 1-0 advantage. This goal rests on Olli Jokinen's shoulders because he made a bad play in the offensive zone which lead to the goal, more on him later. The Rangers weren't able to sustain much of an attack in the 1st period. They only had four shots and were not able to get anything setup in the offensive zone.

The 2nd period was a different story for the Rangers. They were able to come out and pressure New Jersey. Brandon Dubinsky tied the game on the powerplay when his shot deflected off of two New Jersey players before it found its way behind Brodeur.
The 3rd period is where this game just got crazy and exciting. Patrik Elias was able to one time a shot past Henrik Lundqvist to give the Devils a 2-1 lead. The Rangers were able to respond when Artem Anisimov took a beautiful feed from Brandon Prust and showed great patience as he snapped it home to tie the game at 2. The Devils were able to re-gain the lead when the Rangers forgot how to count and had too many men on the ice, which meant Brandon Prust couldn't touch the puck or a penalty would have been called. So what happens? The puck is passed to Jamie Langenbrunner and he blisters a shot past Henrik Lundqvist to take a 3-2 lead. The Rangers fell asleep and they paid for it. As all hope seemed to be lost, the captain Chris Drury was able to step up and perhaps score the biggest goal of his Ranger career as he took Erik Christensen's behind the back pass and slammed it home to tie the game with 17.5seconds left.

At this point the Boston Bruins had lost and the Rangers picked up a much needed point. But they needed to win in overtime or the shootout to get that extra point. Enter Henrik Lundqvist, he was truly "the king" on this night. He played stellar in net and really kept the Rangers in the game. He was able to stop all three shots in the shootout to bring the Rangers within three points of the Boston Bruins who currently sit in 8th place in the Eastern Conference.

Now I personally am calling for John Tortorella to be fired. His benching of Olli Jokinen was a little harsh, especially with what this game meant for the Rangers. Granted they won anyway but he took one of their top offensive weapons off of the ice in one of their biggest games of the year. I understand that Jokinen hasn't exactly been stellar lately but I think he should have been playing. I really think this team has tuned him out and it may be time to find another coach.

The Rangers continue their six game road trip tomorrow night as they travel to Toronto to take on the Maple Leafs who have been hot lately. The Leafs wont make the playoffs but that doesn't mean that they will pass up the chance to mess up other teams playoff hopes.

With only eight games left the Rangers need to keep playing like they are right now to make the playoffs. The games are only going to get more exciting from here on out.
Check out my blog: http://atlanticdivisionhockey.blogspot.com/
This article is
What is the duplicate article?
Why is this article offensive?
Where is this article plagiarized from?
Why is this article poorly edited?

New York Rangers: Like this team?