Henrik and Daniel Sedin: The Epitome of Identical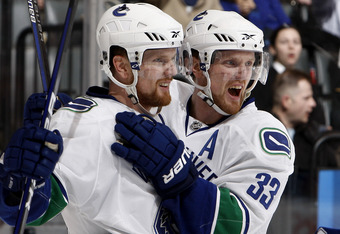 Abelimages/Getty Images
Henrik and Daniel Sedin—I put Henrik first not because he has more points than his brother this season, but because he is older by about six minutes—are identical to the fullest extent of the word.
Henrik is more of a play-maker, while Daniel is more of a goal-scorer—and this is one of the few differences you'll find between the two.
Henrik stands at 6'2" and weighs 192 pounds. Meanwhile, Daniel stands an inch shorter than his older brother and weighs 185 pounds—not exactly identical in size, but close.
Before entering the NHL together, the Sedins played for Modo Hockey in the Swedish Elite League.
In 1999, Henrik and Daniel were selected as co-recipients of the Golden Puck, which is awarded to the player of the year in the Swedish Elite League. Never before has the Golden Puck been awarded to two players in one season.
Following their dominant season in the Swedish League, the Sedin brothers went into the 1999 NHL Entry Draft with the possibility of being drafted by different teams.
However, Brian Burke, then the Vancouver Canucks GM, pulled off some last minute magic and managed to acquire the second overall pick in the draft to go along with the third pick the Canucks already had.
"I said [Friday night] that 'I've got [the No. 3 pick overall] and no one is leaving here with both of them—only I can'," Burke told the Associated Press after the draft.
Burke was a man of his word and after drafting Daniel with the second pick, he selected Henrik with the third.
"It's great for us," Henrik told the Associated Press after the draft. "We've played together for five, six years. Of course we wanted to play together."
Dinner at the Sedin house must have been real fun after the draft. I can just see it. "I was drafted first," Daniel would say.
"Yeah, well I was born first," Henrik would rebut.
Since being drafted Henrik has put up 554 points in 716 games—an average of .774 points per game.
Daniel has 531 points in 694 games—an average of .765 points per game. The overall point total might be identical if Daniel hadn't missed 18 games this season due to injury.
While it had almost happened several times throughout their careers, last season the Sedins both finished with an identical amount of points (82).
The Swedish duo has continued its eerily similar production this season. Henrik is averaging 1.34 points per game and Daniel is averaging 1.33 points per game—you just can't make this stuff up.
They are also both currently the alternate captains for Vancouver.
But the biggest similarity between the twins is that goatee they sport that makes it almost impossible to tell them apart. Do both of them really need the goatee? Or maybe one can shave his head—just a thought.
The Canucks currently sit in third in the Western Conference and are primed and ready to for a deep playoff run thanks to a strong effort from the Sedins.
You can bet that if they both continue this kind of production for the rest of their careers, then they will both be headed to the hall of fame together—probably in the same year.
This article is
What is the duplicate article?
Why is this article offensive?
Where is this article plagiarized from?
Why is this article poorly edited?

Vancouver Canucks: Like this team?