LeBron, Mets, and Other New York Sports Arguments to Avoid on St. Patrick's Day
March 17, 2010
Jim McIsaac/Getty Images
St. Patrick's Day in New York City is one of my favorite days of the year. You walk outside and the air seems fresher, spring feels like it is right around the bend, people act friendlier, and every bar looks like it is the greatest party you ever came across.
Drinking is the activity of the day. While St. Patrick's Day begins innocently enough with jubilation and celebration, the night often ends in debauchery and fisticuffs. It seems you can't avoid a good drink on St. Patrick's Day, or a good altercation for that matter. We celebrate the full spectrum of Irish culture, don't we?
Notre Dame's nickname isn't the cuddly Irish, is it now?
So when you are out celebrating at your favorite pub today, bantering endlessly with strangers about your favorite New York teams, please be mindful of what you say, or you could come home with a black eye, or even worse, a Jets fan (just kidding, Cowboys fans are way worse).
Since one word or phrase out of your beer-tinged mouth can transform your newfound best friend sitting next to you at the bar into an enemy more unfriendly and divisive than Skip Bayless, I offer these arguments to avoid with New York sports fans so you continue celebrating the night away.  
The Knicks Should Let David Lee Go in the Offseason
I personally have had this argument countless times sitting at bars and it always ends up angering Knicks fans to the point their blood boils. It would seem every Knicks fan loves David Lee.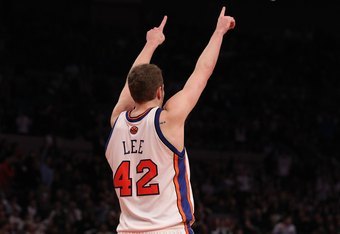 Nick Laham/Getty Images
"He's an all star!" they say.
"He's our best player!" they argue. 
"And he's white!" they exclaim (I think people keep that last one to their selves, no matter how many drinks they have had).
While all those things may be true, I contend "Avi" Lee will never be a starter on a championship team. He's just too small and not athletic enough to consistently guard NBA big men. Darko Milicic could probably go 20-10 on him.
In fact, Ben Wallace went 16 and 14 on him this year. Yeah, the same Ben Wallace who struggles to hit the rim on free throws and has more miles on his legs than Mikhail Prokorov's private jet does.
Darko might actually be able to go 30-15 on him. 
However, Lee has been the lone source of pride in an otherwise shameful decade for the Knicks and most fans are too proud and sentimental to let the guy go. No matter how insulting to your basketball intelligence it may be, don't argue with Knicks fans about their "Avi" Lee. 
The Mets are Cursed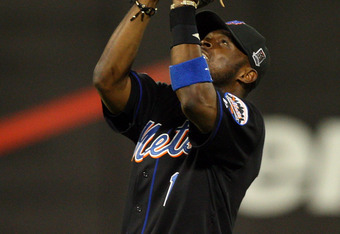 Jim McIsaac/Getty Images
It seemed everything was set up for a flashback to the mid 80s for the Mets when Endy Chavez robbed Scott Rolen of a homerun in Game Seven of the 2006 NLCS. In fact, Mets fans thought they were hopping into the Hot Tub Time Machine and going back to 1986.
Since then, everything has gone wrong: the Yadier Molina homerun later that game, then the September collapses of 2008 and 2009, then the Bubonic Plague that struck the Mets in 2009. It's been one slap in the face to Mets fans after another.
Mets fans are tired of being Yankee fans' punching bags and hope for a resurrection this year. Even the hopefulness of this year's Spring Training has been marred by Jose Reyes's hyperthyroidism and Carlos Beltran's knee surgery. Fransisco Rodriguez just recently started pitching this spring after a bout with…you guessed it, pink eye!
But don't say the Mets are cursed to any passionate Mets fan. Tug McGraw's 1973 motto still lives on and every fan still has to believe that something good will happen to the Mets eventually, even if it is just Jeff Francoeur ever taking a walk or Oliver Perez figuring what day it is today. 
NHL is Too Violent
Ok, I don't know much about Hockey. But chances are you probably don't either. I know enough to tell you that saying this will get the attention of any hockey fan sitting at the bar. The NHL is a league most known to the casual viewer for its violent nature, and its diehard fans seem to embody that spirit, even while trying to argue with you that characterization is untrue.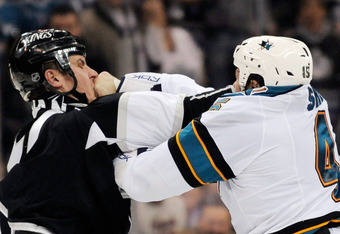 Kevork Djansezian/Getty Images
I know it's crazy, but that's NHL fans for you.
Say to a Rangers or Islanders fan on St. Patrick's Day that their league is too violent, and they'll show you some violence! Most people (sane, not NHL diehards) would agree with you about the NHL's rough play, but don't tell that to a Rangers nut.
If your only experience watching a hockey game in its entirety was the Gold Medal game at this year's Olympics, it's probably best to stay away from drinking with hockey fans at the pub, period. 
The Nets are Going to Steal LeBron James from the Knicks this Summer
This argument is another pet peeve for Knicks fans.
Having endured two lost seasons at MSG waiting for the 2010 free agent sweepstakes to begin, Knicks faithful will tell you you're an idiot (among other things) if you think James is playing anywhere else besides the Knicks or the Cavaliers next season.
But let's look at the facts for a moment. The Knicks' only three assets are its coach, its arena, and its passionate fans. Meanwhile, the Nets will have more cap room this summer, two All-Star caliber players in Brooke Lopez and Devin Harris, two up-and-coming players who could be solid rotational players on championship team in Courtney Lee and Terrence Williams, a likely top-five pick in the draft, a new arena in Brooklyn for 2012 (hopefully), and a Russian mobster billionaire for an owner who will probably pay James in cash.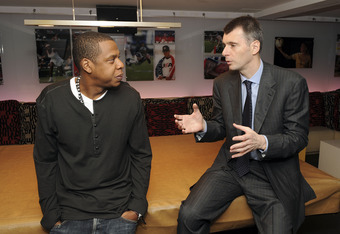 Larry Busacca/Getty Images
It will not be as easy a choice for potential free agents as it may seem, but don't suggest this to Knicks fans, though, as they cannot fathom why James would ever consider moving to the Nets when Madison Square Garden is only 15 minutes away.
Rex Ryan
His name is an argument in itself. Just saying Rex Ryan at a bar is enough to bring out the most divisive of emotions among fans. People either love this guy's thick-skinned, boisterous personality, or they think he's an overweight hack who will burn out with the team in two years.
Either way, it is impossible to ignore him.
Just don't start comparing him to Bill Parcells today, especially around Giants fans. And if you are lucky enough to run into Ryan at your pub, don't even think about bringing up the Dolphins to him. That would be the surest way to get your butt kicked on St. Patrick's Day.