Lehigh Mountain Hawk Fans Should Be Shouting "We Want Syracuse"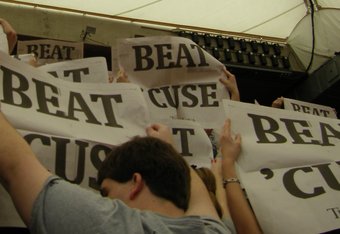 The dream of every player in Division I basketball is to participate in the NCAA Tournament. Players from small conferences dream of playing the game of their lives and pulling off an upset that will be forever remembered.
It is hope of every of every No. 16 seed to defeat a No. 1 seed.
Since the NCAA Tournament expanded to 64 teams in 1985, a one-seed has never beaten a 16. With the aid of the basketball gods and the NCAA Selection Committee, this could be the year this historic event can finally occur. The 22-10 Lehigh Mountain Hawks can defeat Syracuse, and there are several reasons why.
Le Moyne Defeated Syracuse
Back on Nov. 3, a Division II school defeated the Orange 82-79 in an exhibition game. The Dolphins shot 48 percent from the field and made seven three-pointers in the victory. Syracuse lost although star forward Wesley Johnson tallied 34 points.
It was a contest that didn't count in the standings, but it proves anything can happen on a given day. If Le Moyne can beat Syracuse, Lehigh can too.
Syracuse Has Injured Players
Syracuse is entering the NCAA Tournament banged-up. Forward Arinze Onuaku injured his right quadriceps in Syracuse's loss to Georgetown in the Big East Tournament. Onuaku is suppose to practice on Monday, but will probably feel the effects on the injury throughout the tournament.
Johnson is dealing with a right hand he injured on Feb. 10. In the seven games between the injury and the game against Georgetown, Johnson averaged 14.0 points per game and shot 32.2 percent from the field.
Kris Joseph hurt his left knee dunking in a layup drill during a practice before the Mar. 6 game versus Louisville. He has been able to play since the injury, but the knee has been stiffening during times of inactivity.
Lehigh Is On A Winning Streak, and Syracuse Is Not
Lehigh has won seven of its last games and revenged that one loss by defeating Lafayette 74-59 in the Patriot League Tournament final. The Orange has lost its last two games.
Syracuse Has a History Being Upset in the Opening Round
In 2006, Syracuse lost to Texas A&M 66-58 as a No. 5 seed. Back in 2005, Germain Mopa Njila and T.J. Sorrentine hit consecutive three-pointers in overtime to give the Vermont Catamounts a 60-57 victory against the fourth-seeded Orange.
Syracuse became the first two-seed to lose to the 15-seed when the Orange lost to the Richmond Spiders 73-69 in 1991. Due to that loss to Richmond, Syracuse could be preordained to become the first 16-seed to suffer a defeat.
C.J. McCollum Can Dominate a Game
McCollum is the first player in Patriot League history to be named Rookie of the Year and Player of the Year in the same season. For the Mountain Hawks, he has averaged 18.9 points and 4.9 rebounds per game.
McCollum shoots 42.9 percent from three-point range and 81.3 percent from the foul line. He leads all Division I freshmen in scoring and has broken team and conference records in scoring by a freshman.
Along with a sweet jumper, McCollum can score by driving to the basket. He led the Mountain Hawks in scoring 17 times and has tallied at least 20 points in 16 games this season.
Lehigh Has a Deeper Bench than Syracuse
Syracuse mainly uses just Joseph and Scoop Jardine off the bench, although DaShonte Riley and Mookie Jones may receive playing time during the tournament.
Junior Rob Keefer has lost playing time because of MCCullom's emergence, but he did average 8.8 points per game last season and was named the Patriot League Rookie of the Year in 2008.
Guard Michael Ojo is fifth in scoring for Lehigh at 7.0 points per game. Point guard Marquis Hall is backed-up ably by junior Prentice Small. John Adams, Holden Greiner, Justin Maneri, Jordan Hamilton, and David Safstrom can all help along the front line.
Chances of the Game Actually Happening
Because Jackson State lost in the first round of the SWAC Tournament, Arkansas-Pine Bluff is basically a lock for the play-in game. Although the Patriot League has a lower RPI than the Big South, Winthrop is more likely to play on Tuesday since Lehigh won a regular-season title and the Eagles finished third in the Big South.
Assuming the play-in winner will play Kentucky and Lehigh is a 16-seed, the Mountain Hawks will play Kansas, Duke, or Syracuse, assuming those are the other one-seeds. Since Syracuse and Lehigh are not that far apart from one another, this could be a pairing the selection committee will find appealing.
The Orange seems to be the perfect matchup for Lehigh given Syracuse's flaws. Kentucky is too fast for Lehigh and the Blue Devils appear to be too big. The Jayhawks are playing too well currently to even imagine a first-round defeat.
Led by McCollum and three senior starters in Hall, Zahir Carrington, and Dave Buchberger, Lehigh is poised to make a splash at the Big Dance. The Mountain Hawks just need the right paring to make history.
Photo Credit: GUHoyas.com
This article is
What is the duplicate article?
Why is this article offensive?
Where is this article plagiarized from?
Why is this article poorly edited?