New Jersey Devils Witnessing Post-Kovalchuk Trade Attendance Boost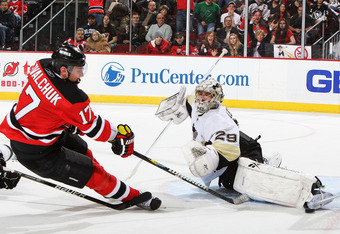 Al Bello/Getty Images
When the Devils traded for Ilya Kovalchuk last month, they were aiming to improve their hockey team, not necessarily their attendance marks.
While the results haven't come on the ice in results of wins and losses just yet, it certainly has in the attendance so far.
Flashback to February 5, one day after the Kovalchuk trade, and the day of Kovalchuk's New Jersey debut, thankfully scheduled at home against the Toronto Maple Leafs.
Certainly a must-see game in person. Only one problem: Weather. There were reports throughout the day of a snowstorm beginning at night and continuing throughout Saturday, with accumulation reaching and possibly eclipsing a foot. Not exactly ideal travel conditions.
I was really contemplating not going to Kovalchuk's debut, and just witnessing it from the comfort and safety of my home, but I decided that if it was really too bad to drive on the way home, I could pull over and stay in a hotel for the night.
One of the biggest Devils junkies I know (yours truly), barely willing to go to the Jersey debut of one of the best players in the NHL. I could only imagine the small and embarrassing crowd I was about to be a part of, considering the "blizzard" our state was about to get pounded with.
Obviously, our state (at least the Northwest part of the state) didn't get a single inch of snow that day or the following. But even with the threat of snow, the Rock still drew 15,204. Not a sellout, in fact it's about 2,400 people away from a sellout, but it was impressive considering the weather threat. And the lower bowl was much more filled than the normal "half empty" standard.
It was only a start. The next Friday, the Devils were hosting their final home game before the Olympic break. Understandably it would be a large crowd, considering it was the Devils final home game until March 10, and it was a Friday night. But considering the popularity (or lack thereof) of the opponent that night, Nashville, it was hard to fathom a sellout.
But a sellout they would receive. I was at this game as well, and I was shocked at the amount of people in the arena. The buzz of people talking about Kovalchuk, and the amount of people wearing Kovalchuk jerseys was amazing.

When he scored his first goal (eventually the game-winner) as a Devil, the place went absolutely bonkers. Can you remember the last time hats were thrown on the ice for a goal that didn't result in a hat trick?
That's the kind of impact this guy has had on this team, and this fan community.
March 10th against the Rangers was a sellout, as it always is, but it was more in demand than usual. For most Rangers-Devils games at Prudential Center, me and a few friends go down and wait in the $10 ticket line for seats. We would get there at 2 o'clock and be alright.
We got there at noon this time, and were the last ones to get tickets. I was in shock at how many people were in this line when I arrived.
The most recent home game was Friday night against division rival Pittsburgh, in arguably the most important game of the season. Even with the importance of the game, veteran Devils fans know that no matter the importance, unless it is against the Rangers, regular season games rarely sell out around here.
Friday's attendance: 17,625. Another sellout. A game that had more playoff intensity than some actual playoff games I've watched.
That's three straight sellouts, and four straight with over 15,000 attendance (not counting the blizzard game against Philadelphia). Is that a coincidence? I think not.
Hopefully it continues. I, for one, am tired of turning on a Devils broadcast or going to a game and seeing empty balcony seats, and a 40% full lower bowl. You can start here , by filling up our building for a nationally televised game.
We have one of the best players in hockey now. It's time for us to do the same things that Capitals fans do for Alex Ovechkin, and Penguins fans do for Sidney Crosby.
Fill the seats. They'll do the rest.
This article is
What is the duplicate article?
Why is this article offensive?
Where is this article plagiarized from?
Why is this article poorly edited?

New Jersey Devils: Like this team?