2010 NFL Mock Draft: 1st Round Post-Combine Version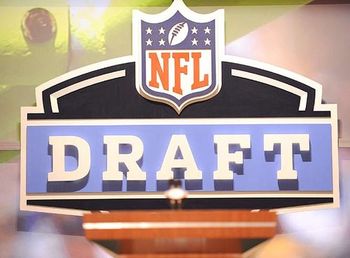 With the 2010 NFL combine winding down I figured it was a good time to piss some people off by posting a mock draft. As a Seahawks fan I pissed myself off too as this is not what I want to have happen, but it is what I predict will happen if the present order stands with no trades. Of course there will be trades soooo this is rather pointless. Anyways, without further interuption get ready to see red and most likely be sickened by what awaits you as I present to you...The Mock
1. St. Louis Rams - Sam Bradford (QB)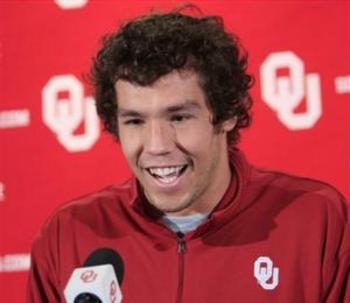 With the number one pick in this year's draft St. Louis will desperately seek out someone to trade with. When that doesn't happen St. Louis will select Sam Bradford. I know everyone's talking about Suh being the next Reggie White and then the same people a week later saying that Mccoy could be possibly even better than Suh (which I guess means that luckily enough in the same draft there will be one player who is as good as White and then another who is better?), but niether is Reggie White. Its predraft hype. They'll both be great in the NFL don't get me wrong, but with how much money is going to go into this pick the Rams will take a QB. Bradford vs. Clausen is the only question here. You got to go with wins if Bradford proves to be healthy. I know the Irish defense wasn't the best but they always kept the game close(never lost by more than a td this year) and you gotta go with the QB with the killer instinct. Bradford didn't even need a defense with how many TD's he was putting up every game when he was healthy. So if his shoulder gets the okay so does he.
2. Detroit Lions - Ndamukong Suh (DT)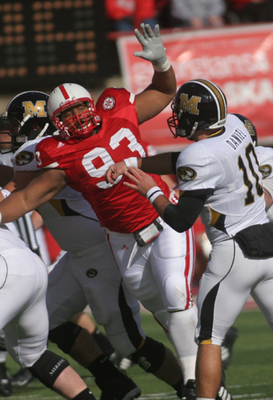 The money that goes into the #2 overall is still a ton but you can't draft a QB 2nd overall this year when you drafted one 1st overall last year. With the worst pass defense in the league you have to pick up someone who can get past the line and cause chaos in the backfield. Some people have Berry here because they see worst overall pass d and think that they just need better people in coverage, but with the lack of pressure Detroit is getting on QBs it doesn't matter who is in coverage. I was fighting over whether McCoy or Suh would go here. They're both neck and neck and some say that even though Suh had more sacks last year McCoy is still the better bet as a pass rusher. After the combine though and seeing Suh's jaw-dropping vertical I have to put him in Detroit because even though a vertical doesn't translate into a sack, if he can get a hand in the QB's face or swat balls their overall pass defense will be leaps and bounds better than this last year.
3. Tampa Bay Bucs - Gerald McCoy (DT)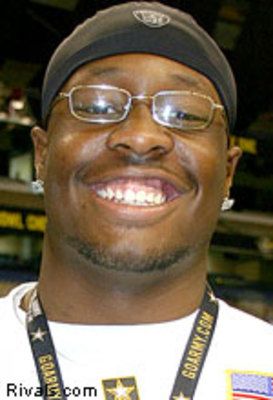 Worst rush D in the league last year. They will not draft Berry here especially with McCoy still on the board. If the Bucs were to draft a safety they'd need more of a Taylor Mays type safety and you can't draft him 3. Berry is a playmaker but he's been known to have some problems finishing tackles and missing people. If run d is your problem a safety that misses tackles is the LAST thing you need on your team. They'll be smart and grateful that McCoy fell to them at 3 and pick him up quickly.
4. Washington Redskins - Russell Okung (OT)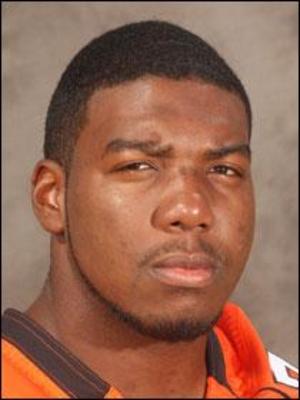 This is a tough one not because I don't know what Washington should do but because I don't know what Washington will do. They should draft LT here but with Shanahan (who loves to build QB's) coming in I'm tempted to put Jimmy Clausen here. I think it'd be a huge mistake. Campbell is not bad he just plays behind a terrible line. The best and safest bet would be to pick the best OT available who right now seems to be Okung. He had the injury at the combine but I don't think that's enough to hurt him. I think Washington takes Okung, builds him up this year, and then next year picks up their franchise QB to put behind a much more stable line.
5. Kansa City Chiefs - Anthony Davis (OT)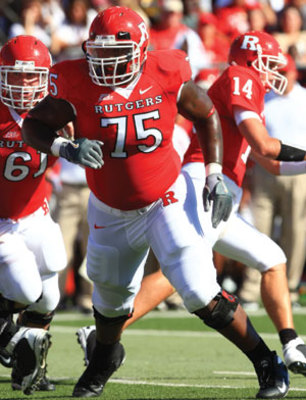 With the 31st ranked rush d in the NFL last year their best bet would be DT but with Suh and McCoy off the board they need to address better QB protection. They gave up 45 sacks last year. With Okung off the board the battle is between Bulaga and Davis. This is a toss up depending who you ask. Some people (especially after the combine) have Bulaga ahead of Davis while some people go as far as having Davis even ahead of Okung. Bulaga seems to be the initial answer as he's an elite pass-blocker, but I go with Davis as he's an elite run-blocker but also no slouch in pass protection. So I go with balance and pick Davis here.
6. Seattle Seahawks - Eric Berry (S)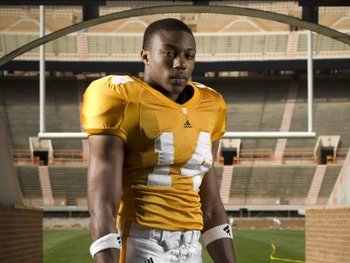 This year's draft feels an awful lot like last year's draft if this scenario plays out. Last year the Seahawks needed a LT, this year the Seahawks need a LT. Last year arguably the best overall player fell to them in the draft (Curry), this year arguably the best overall player falls to them in the draft. I hate this situation so much as a Seahawk fan. Not because I don't like Eric Berry. He's a playmaker and Seattle knows it needs playmakers on d but the most important issue to address is the awful o-line. I hope one of two things happens either the Seahawks trade back a few spots so not to be tempted when this scenario comes to fruition or they are strong enough to just grab Bulaga. But if Seattle doesn't trade and Berry falls to them it'd once again be very hard to pass him up. Safety is a very big concern right now and he is the best but do you pick the 1st best safety in the draft or the 2nd/3rd best ot. If he falls to them I can't see Seattle passing him up. The best situation for Seattle though would be OT with 6 and DL at 14 but they could address one DL in free agency. If that happens this situation could work out beautifully for Seattle.
7. Cleveland Browns - Joe Haden (CB)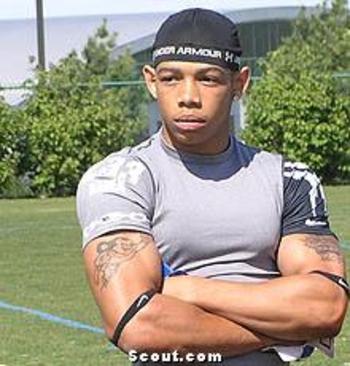 With so many issues to address they go best player left on the board. Joe Haden by far has the best value at this point at a position of need. That's all I have to say about that.
8. Oakland Raiders - Bruce Campbell (OT)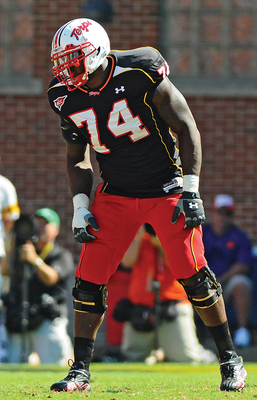 This makes no sense to anyone that doesn't know much about Al Davis. Most boards have him around the 20th best choice in this year's draft but Al Davis will make him a top 10 pick. The combine proved this guy was just as much a freak athlete and beast as everyone thought he was. He's a project, but he's probably got more room to grow than anyone in the draft. The other player I considered here was Jason Pierre-Paul but Campbell's combine has made up Al Davis' mind.
9. Buffalo Bills - Jimmy Clausen (QB)
I truly apologize for this. This was also a reason I failed to mention for why I chose Bradford to St Louis over Clausen. I'm sorry if this triggered a gag reflex but I'm a Seattle fan and there are far too many Seattle fans talking about picking up a QB with our 6th overall pick. I am very much so against that idea and just want all Seattle fans to see that this is what you're asking for if you keep talking like that. I just hope Carroll sees this in time. Go ahead Buffalo... he's all yours (thong not included).
10. Jacksonville Jaguars - Derrick Morgan (DE)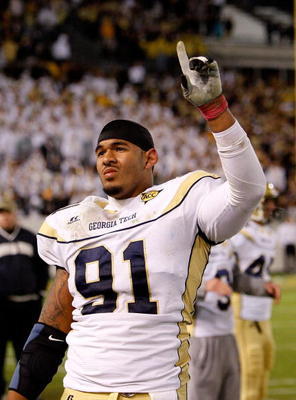 With averaging less than 1 sack a game the Jaguars NEED to address DE. Luckily their biggest need was not a big enough need for anyone of the previous teams to address so they get their pick of whatever DE they want. Everyone agrees that Jason Pierre-Paul's versatility and potential are incredible upsides but potential doesn't always pan out. The safest bet is Derrick Morgan who is the best Defensive End in this year's draft.
11. Denver Broncos - Dez Bryant (WR)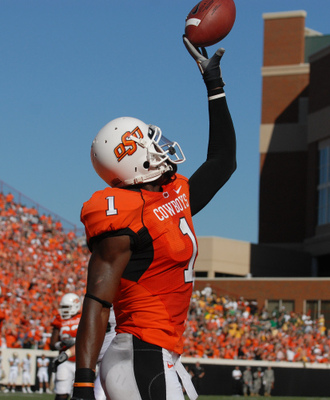 Brandon Marshall will be gone and even if he's not the Broncos can't afford to pass up on a weapon like Dez Bryant. He is going to be huge in the NFL so long as he stays out of trouble. The kid made one mistake and deserves a second chance. McDaniel's got one after that embaressing Cutler mishap and if he gives one to Bryant it will pay off. You may not agree with me but Im sold on this kid.
12. Miami Dolphins - Jason Pierre-Paul (DE/OLB)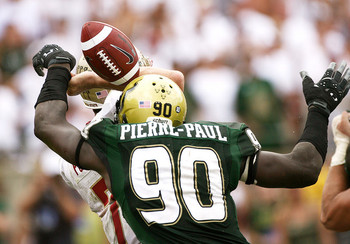 The Miami Dolphins are the team to take JPP. They can use him at DE or OLB and in a season or two he could dominate. Or he could be a bust but either way Miami takes him.
13. San Francisco 49'ers - C.J. Spiller (RB)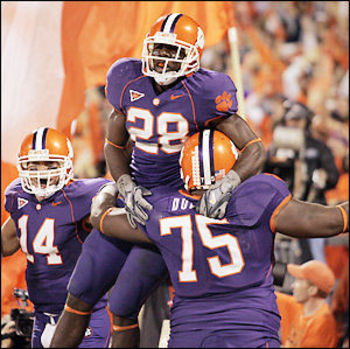 The 49'ers could take an OT here which would probably be the best decision because at this point they could still grab Bulaga over Williams, but I think a lot of people are assuming the Seahawks will pick Spiller if they don't first. Spiller is not the answer in Seattle but hopefully SanFran won't realize this and take Spiller. He's the elite back in this year's draft class and would be a great fit alongside Gore's power. I do think however they could get him at 17 but I don't think they'll take that chance.
14. Seattle Seahawks - Bryan Bulaga (OT)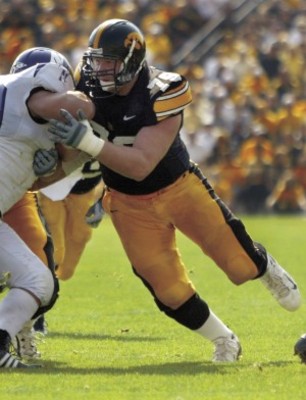 It would be the best case scenario for Seattle if Bulaga fell to the Seahawks at 14. Some people wouldn't consider it falling as some people have him going closer to 20. I think he'd be a steal at 14 especially for Seattle. Bulaga's an elite pass blocker and would fit Seattle's ZBS perfectly. Seattle needs an OT here especially if they go defense with #6 and pick up Berry.
15. New York Giants - Rolando McClain (ILB)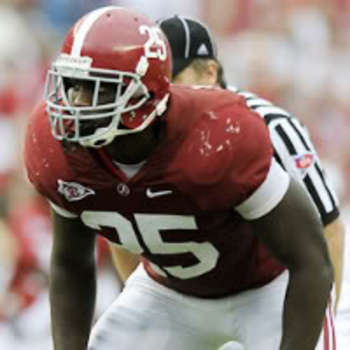 With the departure of Pierce, NY will look to replace him. With their pick of any linebacker in the draft the clear cut candidate is McClain. A very intelligent player who will provide leadership to New York's D.
16. Tennessee Titans - Carlos Dunlap (DE)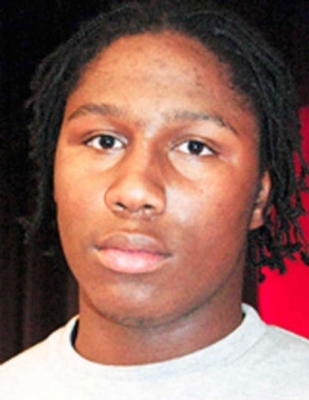 Despite his trouble with the law that knocked him down a few pegs someone will have to look past his mistake and take him in the first round. He was often projected as a top 10 pick before his drinking incident so 16 seems just about the right place for him to go. The Titans were 31st in the league in pass defense last year and if Dunlap can do what he does best and apply some pressure the Titans could be sitting pretty come the playoffs next year.
17. San Francisco 49'ers - Trent Williams (OT)
The 49'ers could use some help at OT. With three of the four offensive tackles that are worthy to go in the first round already off the board the decision is easy and is Trent Williams. I make it sound like he's left overs but he'd still be a great addition to SanFran's O-line.
18. Pittsburgh Steelers - Mike Iupati (OG)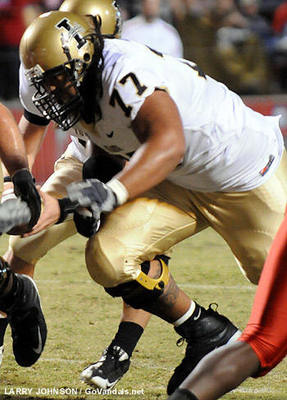 If Big Ben gets hit this year like he did last year he won't even be able to tell the time hahahahaha I crack myself up. Anyways like I said with pick 17 all the OT's are now off the board so I wouldn't be surprised to see them draft up a few spots to ensure their chance at grabbing an OT. If they stay at this spot however they will go with Iupati. He's no offensive tackle but protection anywhere on that line would be an upgrade. Just because he's not a tackle doesn't mean he's not deserving of this pick. I'm not saying he's the next Hutch but if he turns out to be even close to as good as Hutch we've all seen how important that position can be.
19. Atlanta Falcons - Kyle Wilson (CB)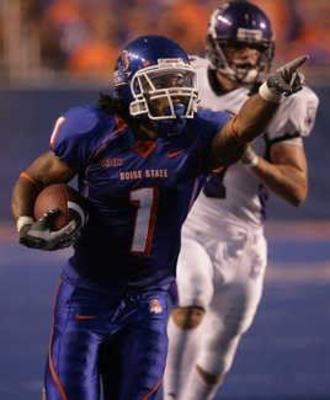 As we start getting up around the 20's we start looking at more teams with less to talk about when it comes to the draft. You start finding teams with one real need and then the rest is to kind of add depth. I think the clear need is CB so Wilson would be a good fit here. I've seen a lot of Atlanta fans demand Sean Weatherspoon here but this is my mock draft. Go make your own.
Houston Texans - Dan Williams (DT)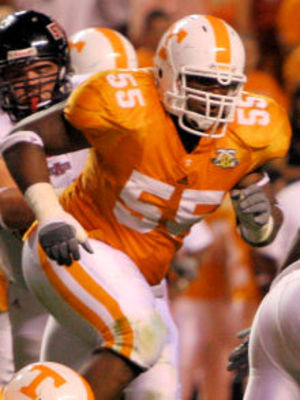 The Texans' coach in an interview said that they most likely will not draft position exclusively because when you do that you start to reach so more importantly to him is value. I'm going to surprise a few people and say I think Dan Williams goes before Brian Price and I say he goes to the Texans here.
21. Cincinatti Bengals - Jermaine Gresham (TE)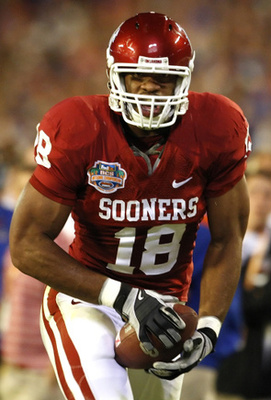 The Bengals have no good options at TE. Gresham is THE best TE in the draft so the Bengals will pick him up with this pick to help give Palmer a big target over the middle.
22. New England Patriots - Brian Price (DT)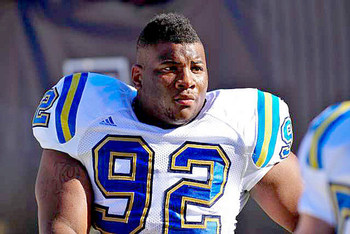 I just have this gut feeling that Price will go after Williams and not the other way around. In this scenario I have him going pretty much right after and with him on the board New England grabs Price. I think whichever player (Williams or Price) is left on the board here New England will grab.
23. Green Bay Packers - Brandon Graham (OLB/DE)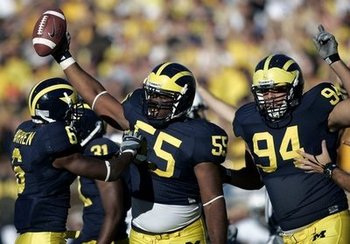 Goodbye Kampman hello Graham
24. Philadelphia Eagles - Sean Weatherspoon (OLB)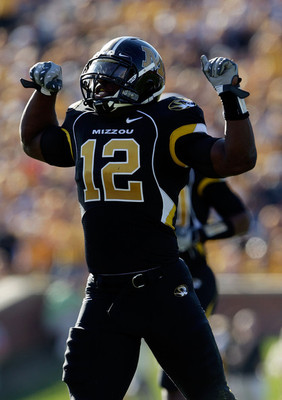 Here you go Amaan. The Eagles need to add some youth to their aging LB corps. This kid will be a good fit in Phili
25. Baltimore Ravens - Golden Tate (WR)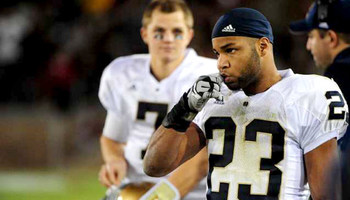 Unless the Ravens do something in Free Agency to address the WR issue in Baltimore this pick will be either Benn or Tate. I think Benn's a stud too and it could honestly go either way but Tate's the playmaker the Ravens are looking for to give some weapons to their young QB.
26. Arizona Cardinals - Earl Thomas (S)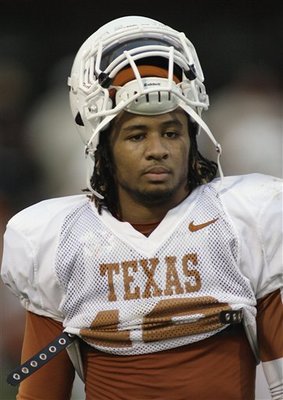 With the release of Rolle and Earl Thomas slipping this far past teams due to a lesser need at safety it just makes sense. The Cardinals could go Mays here but I highly doubt it. They already have the hard hitting safety in Wilson now they just need the playmaker they'd hoped Rolle would be.
27. Dallas Cowboys - Taylor Mays (S)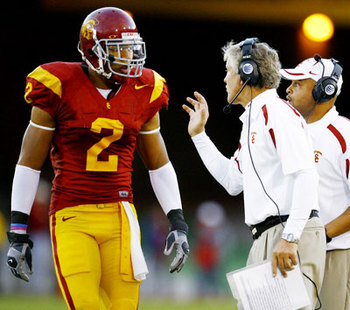 At the very least this guy will be fun to watch. I wish Seattle could somehow find a way to pick him up, but at this point it looks like Dallas is the most likely place for him to go. I don't expect him to have a year like this last one. I'm very confident he'll be back to his old form in the NFL.
28. San Diego Chargers - Jahvid Best (RB)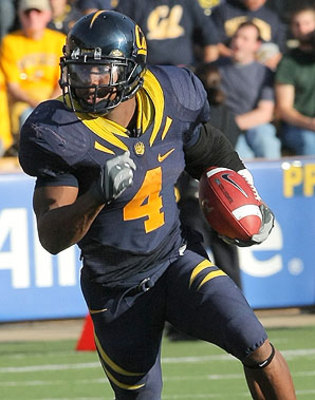 I wish I could be interesting and say Ryan Matthews but I gotta go with Best here. His injuries are a question especially with deeper concern with concussions in the NFL this year but if Best is healthy he's just downright better than Matthews and I think San Diego takes the risk that he will be healthy.
29. New York Jets - Aurrelious Benn (WR)
Jets got their franchise QB last year now its time to get him a big weapon. I think a lot of people will look at this as Benn falling past Baltimore and I think the Jets will look at it that way too.
30. Minnesota Vikings - Terrence Cody (DT)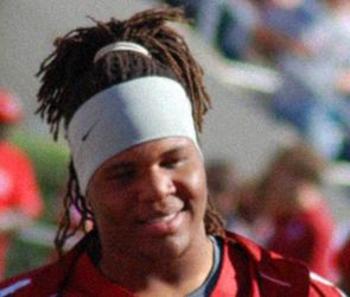 I'm taking a risk on the big guy but I believe in him and I think the Vikings will too. He's almost too big a monster for any team to want him in the first round but with the Williams brothers getting up there in age they need another big man to take over the reigns when one or both leave. Cody's about as big as both of them so that works out nicely. Cody lost a reported 16 lbs before the combine and I think he'll work hard to lose more before the draft. He'll be in good enough shape to barely make it into the first round and I think Minnesota's the team that takes the chance on him.
31. Indianapolis Colts - Jared Odrick (DT)
With Minnesota passing up on Odrick the Colts take him. The only side of the ball that could use some work is the defense and even the defense is good. But they could use some help on the d line and Odrick's a good fit.
32. New Orleans Saints - Maurkice Pouncey (C)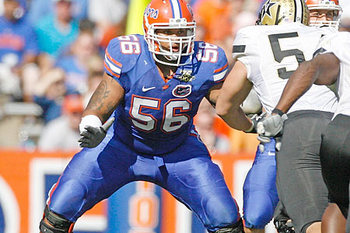 The Saints have no gaping holes on either side of the ball. However center is an easy position for them to address with this pick as Pouncey is the best center in this year's draft. He will make an instant upgrade to an already nearly unstoppable team.
Keep Reading