New York Mets: News and Notes From Port St. Lucie and Spring Training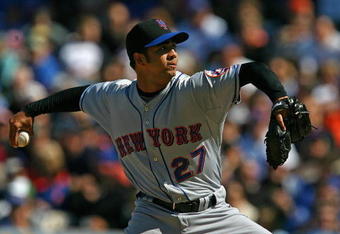 Jonathan Daniel/Getty Images
It's 33 days to Opening Day, and the New York Mets got Spring Training underway today in Port St. Lucie.
It was warm and windy on the Sunshine State's East Coast as the Mets beat the Atlanta Braves, 4-2. The likely regular season starters were absent from the Mets lineup because of rain earlier in the morning, which gave fans a chance to check out some of the younger guys who will be fighting for a spot on the big-league roster this season.
Jose Reyes, David Wright, Luis Castillo, Jason Bay, and Jeff Francoeur were all set to start the game, before the lineup was adjusted because of the inclement weather.
Instead, Jerry Manuel went with non-roster invitees Jesus Feliciano, Ruben Tejada, Mike Jacobs, Mike Hessman, Ike Davis, and Luis Hernandez, as well as players on the active roster such as outfielders Jason Pridie and Gary Matthews.
Here are a few notes from the first look at the Mets.
Figueroa Strong in Debut
Nelson Figueroa's breaking ball looked sharp and he struck out three Atlanta hitters in a row in the second inning with runners on second and third and no outs. Figgy is a middle-of-the-bullpen type reliever and he'll likely play a key role in 2010 with Pedro Feliciano and Shaun Green ahead of Kelvin Escobar or even Bobby Parnell in that set-up role.
Escobar won't be ready for Opening Day, so you could also add Igarashi to the mix. A lot of it will depend on who you're facing and which relievers you have used earlier on in the game to keep things close.
Reyes Ready To Go
Jose Reyes spoke about excitement about being back and healthy, and he said he won't necessarily have to change his approach at the plate or on the bases if he bats in the three hole instead of leadoff.
With Beltran set to miss time at the start of the year, Reyes could see a lot of at bats in front of David Wright and Jason Bay. The only question is who will fill that leadoff role if the shortstop does bat in front of the cleanup spot. Angel Pagan is a front-runner right now, but I'd rather keep Reyes batting at the top of the order and then just move the power bats down one spot.
His hamstring certainly looked fine when he legged out a triple in his first at bat of a split-squad game yesterday.
Could Ike Davis Figure in Mets' Plans?
The fortunes of Ike Davis', the Mets top draft pick in 2008, may depends on how first baseman Daniel Murphy performs in the early part of the year.
Davis hit 20 home runs and 31 doubles in the minor leagues last season after struggling with his power swing at single-A Brooklyn.
He is a left-handed batter with good hands in the field. And he had a good first day of scrimmages today. He laced a two-hopper to right-center field on a pitch inside and he also took a fastball on the outer half of the plate the other way to left. If he gets the chances, he good be playing at Citi Field some time this season.
Rough Start for Dessens
39-year-old Elmer Dessens, one of 10 non-roster pitchers invited to Spring Training, did not get off to the best start today. Dessens got hit on the right thigh just above the knee on a comebacker off the bat of the Braves Brian McCann. He left the game and lasted just 1/3 of an inning. He allowed two hits and a run.
He has a legitimate shot at making the 40-man roster, but a lot will now depend on the injury. He was able to walk off the field on his own, and I doubt it will be anything worse than a bruise, but keep an eye on it.
Prevention Is Better Than the Cure
The theme of the Mets season is "prevention and recovery." They are hoping to cut back on the ridiculous amounts of injuries they faced last year, while finding new ways to help rehab.
The players are cutting back on weight training, and they're not running a lot of the first-week drills they have in the past. They are putting baseball activities first, and work in the weight room second. That sounds like a really good idea to me.
You don't need players running 40-yard sprint drills at the start of the spring, and you don't need your infielders bench-pressing 500 pounds before an inter-squad game.
Let's see if the new philosophy turns into wins.
Reliever Making the Most of Opportunity
Bobby Livingston had a solid day on the mound. After coming in for Dessens, Livingston gave up two walks and no hits in 2 2/3 innings. The 6'3" lefty made the most of his opportunity on the mound, and I'm convinced he has done enough to warrant the coaching staff taking another look at him. He has a few hurdles to get past to make the club for the start of the season, but this was a good debut for the 27-year-old.
Other Notes from Port St. Lucie
• The Mets had little in the way of offense today—just four runs on seven hits—but three of the runs came on four hits, a walk, and a sac fly in the fifth inning.
• The latest Mets catcher Rod Barajas talked about Johan Santana already being in mid-season form locating his fastball, changeup, and slider.
He said he has been getting to know individual pitchers, their strengths, and their weaknesses, and he said he wanted to come to a winning club and be successful. With a predominantly healthy team to start 2010, there's no reason to think the Mets can't challenge for the top spot in the NL East this time around.
• Russ Adams hit the Mets first home run of the spring. He took Resop's pitch right down Broadway to right-center field. He isn't known for his awesome power, but he caught all of that one. It gave the Mets a 4-2 eighth-inning lead.
• Eric Hinske has the biggest tattoo I've seen on a ballplayer. It took two offseasons, 45 hours of work, and $5,000 to complete. You can see a picture of it here.
This article is
What is the duplicate article?
Why is this article offensive?
Where is this article plagiarized from?
Why is this article poorly edited?

New York Mets: Like this team?