Does Arsenal Have Supporters, or Are They Customers?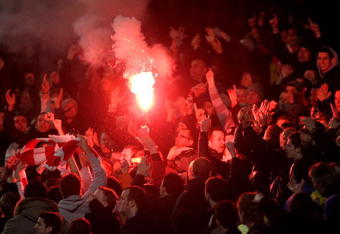 Paul Gilham/Getty Images
I always have a healthy exchange with my Liverpool supporting friend Dean about all matters football and about our respective clubs. The fact that Arsenal play Liverpool tomorrow prompted a customary chat about the state of the football union.
He posed the question as to whether I'd been following the hysteria about Arsenal, quipping, "Dude, you guys want to do a Benitez on Wenger."
He, of course, was talking about the treatment Rapha Benitez got from everybody under the sun when Liverpool's season was capitulating.
To his surprise, I told him that I switched on the TV at 4.00 PM on Sunday and turned the volume down, before switching to something else after the game was over. Since then, I really haven't gone out of my way to read, listen, or watch anything said about Arsenal.
Actually, I tell a lie—I re-watched the game on Arsenal TV and also watched Wenger's press conference. I'm not into that kamikaze type nonsense right now of absorbing overly negative vibes to self inflict pain.
Both of us agreed that we expect nothing but drama from the media—for they have bills to pay. We were comparing notes on our actual fans and how the fans reacted in adverse situations.
It was then that I made the comment that perhaps Arsenal has customers rather than supporters. And in a media savvy world—let's face it, the customer is king.
We were joking about it, but seriously speaking—are we getting to the age where fans are treated by the club like commodities where the expectation is that they will buy match day tickets, stadium hospitality, and merchandize.
There's also the small fact that the billions of pounds pumped into football come from the sale of broadcasting rights around the world for leagues like the English Premiership and the UEFA Champions league. The rights owners recoup their money by selling subscriptions.
Wenger has caused somewhat of a micro-storm in the footballing establishment in this past week by suggesting that he'd rather be third in the Premier league than win the Carling Cup or the FA cup. The establishment's translation of this is "Frenchman doesn't care and doesn't give a damn about the historic FA cup or domestic cups – the arrogant fool. That's why he hasn't won diddly squat."
But let's face it: The FA cup and the Carling cup don't actually pay the bills, do they? In the grand scheme of things, any romance they provide was firmly drop kicked into the long grass with the advent of mega bucks TV money.
We can sit and debate until the cows come back home and still conclude that the domestic FA and Carling cups are actually a distraction when it comes to clubs who need to draw in the mega bucks to keep afloat.
"Arsenal hasn't won anything in five years," is a tiresome refrain that is already echoing the streets of Holloway and the alleys of Ashburton Grove. Mind you, such refrains are the pre-amble to the Post hoc ergo propta hoc (Latin for After it therefore because of it) pronouncements that Fabregas is now on his way to Barcelona .
The truth doesn't always follow the idea that a second event always comes because of the first. Fabregas or any other player for that matter wouldn't leave in the summer because Arsenal hasn't won anything for five years. Far from that: If a time ever came for him to leave, it'll be because the club agree to sell him or any other player.
What is more of an issue here is that the chain of stories and events following what's now dubbed as "yet another season without a trophy" is the classic shit stirring scenario.
For me, it's part of the problem that makes me think Arsenal has customers. It's these customers who have taken the view that they want a return for their money here and now and enough is enough. They are convinced that unless Arsenal win a trophy, the club is an equivalent of a failed banana republic that is headed to the dogs.
I guess in the last five years, Wenger could have fielded full strength teams in the domestic competitions, but I doubt that for the 'Arsenal hasn't won a trophy in five years' brigade, a Carling cup or two will count.
I admitted to Dean that if there's something I admire about the Liverpool fans, it's the fact that they know when and where to remonstrate, and when and where to fully get behind their team and support the players like mad.
I sometimes feel we have customers who are more interested in getting a good return for their buck than they are in supporting the club through difficult patches.
Dean always reminds me of the Arsenal fan who committed suicide straight after the second leg of the 2009 champions league semi-final against Man United when Arsenal lost 1-3 at the Emirates.
He jokes that if Liverpool had such supporters they'd all have committed suicide by now if they had to wait 20 years to win the league.
This article is
What is the duplicate article?
Why is this article offensive?
Where is this article plagiarized from?
Why is this article poorly edited?

Arsenal: Like this team?