Legend, Kurt Warner Retires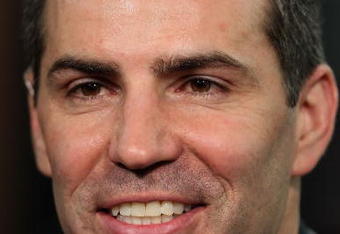 Christian Petersen/Getty Images
KURT Warner!
In a day where the NFL, is surrounded with the Terrell Owens, Chad Ocho Cincos, and Pac Man Jones type players. Where the news involves negative issues such as guns, violence and degrading teammates. It's very pleasant to get a story, of glory and honor. Kurt Warner has both served the NFL as a great player and as an ambassador of the game. He is a great player for a team and serves as a great role model. As a Christian man with strong character, he is a great leader. Everywhere he has been he has handled the glamor position of Quarterback in good grace. He is not a fifteen year veteran, who has Dan Marino or John Elway type stats. His legacy is built pretty much the way Montana, and Brady have made theirs. He is a great playoff player. If you remember Montana or Brady, it's not for anything they accomplished in the regular season. Montana was a good quarterback under a great system with a great team. Yet his legend is from what he accomplished in the playoffs as the QB. Brady is in that same level. They were not know for the air show of Dan Fouts, or the all around play of the Great John Elway. Yet for whatever mind boggling reason, people cherish more what you do in the playoffs, rather than what your numbers are. Football is still a team sport. Yet, why is there a debate about Kurt Warner then? He has better numbers than Montana or Brady in the playoffs and the big one, Superbowls! He did not have a great defense through out his career. Yet he resurrected a franchise that was not in contention for much except the top pick in the draft for years. He reads defenses like nobody else and plays better under pressure than most. Even Manning, Brady, Montana, and some others mentioned as great, couldn't play well when heavily blitzed. That is where Kurt Warner thrives. He played with intelligence, and with passion. respected by his teammates because of what he meant as a mentor and his off the field lifestyle. A father, a man, and an athlete. I would of love to see him try for a year or two more, but this is why Warner was also great. Bowing out gracefully, and achieving what he could. God Bless Kurt, and happy trails to one of the best! Hopefully people realize that he is a solid Hall of Fame player.
This article is
What is the duplicate article?
Why is this article offensive?
Where is this article plagiarized from?
Why is this article poorly edited?

Arizona Cardinals: Like this team?