NBA Enhancement: Old School Ball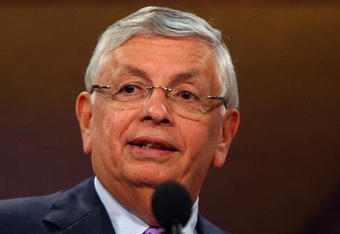 Jim McIsaac/Getty Images
In an idea recently suggested by hall of famer Jerry West, West said something along the lines off "the NBA would be better with fewer teams". This got me thinking, would the NBA be better with fewer teams? Back in the days of Wilt and Bill, there were fewer teams in the NBA, allowing more all-stars to one team. Would this work today and what teams would be eliminated?
Here are 10 teams to consider: Memphis Grizzlies, Toronto Raptors,(sorry Canadian Fans) Los Angeles Clippers, Minnesota Timberwolves, Orlando Magic, New Orleans Hornets, Miami Heat, Dallas Mavericks, Cleveland Cavaliers and New Jersey Nets.(the 10 are the bottom ten in playoff appearances)
A good portion of these teams are young franchises, but taking young franchises would be easier than taking franchises with long histories in cities. A few of these teams such as, Cleveland, Dallas and Orlando have seen recent success, but none of these teams have ever won a title and none have Hall of Fame players.
The only teams on this list with Hall of Fame players are the Clippers with Adrian Dantley, Bob McAdoo and Bill Walton. New Orleans with Pistol Pete and the nets with Dr. J. The Miami Heat are the only team out of the 10 with a title to their name.
As we move to the point were teams are eliminated, the Heat, Clippers, Hornets and Nets are safe. Memphis has only three playoff appearances in their brief history and Memphis area fans are attached to college basketball, so the Grizzlies are gone.
Toronto has the second least amount of playoff appearances and will be eliminated. Sorry David Stern the Canadian movement was proved unsuccessful.
With the T-Wolves leaving the Northern part of the country wont have a team, but nobody will be disappointed when the team leaves.
Orlando has seen great success recently with Dwight Howard, but southern fans still have the Heat and Hornets to root for in the Future.
The Dallas Mavericks have 14 playoff appearances to their name, but no titles and 2 other teams in the state the Mavericks have to go.
How many playoff appearances do the Charlotte Bobcats have? A big whopping ZERO. In college basketball's greatest state of all time, pro basketball has not been able to compete with UNC and Duke. So the Bobcats will exit as quietly as they came in to the league.
With five teams leaving the NBA where will the players go? If David Stern wants to attract interest to his league,( Bud Selig take notes) he will do this at the end of the season. The result of this would be the greatest free agency period of all time in any sport.
A class featuring LeBron, Wade, Chris Bosh, Dwight Howard and Dirk, the NBA would be relevant all year. The 2010-2011 season would be the best in recent history because teams that are already good and have money to spend will thrive and the playoffs will be better than ever. First round series' will feature 16 title contenders going at it with each other.
If David Stern wants a better league featuring multiple all-stars on one team, this is the best solution he will encounter.
This article is
What is the duplicate article?
Why is this article offensive?
Where is this article plagiarized from?
Why is this article poorly edited?