A Monster Decision: As Leafs' Season Winds Down, Gustavsson Should Get Starts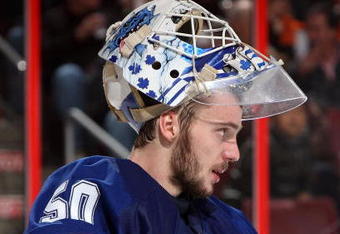 Jim McIsaac/Getty Images
Decisions, decisions.
With the Toronto Maple Leafs' chance at a playoff spot all but gone, currently sitting 11 points out of eighth place in the East, the decision remains as to which goaltender should garner the majority of the starts for the remainder of the season, Jonas Gustavsson or Vesa Toskala.
Gustavsson has started in 26 games, while Toskala has started in 22, and both have current contracts making them free agents at season's end. There are 29 games remaining for the Leafs, and unless they go on a miracle run while getting some help, there is a slim chance they'll be playing anymore than that.
So with that said, and both goalies free agents shortly, it's time for the team to look towards their future and give the goalie they plan on seeing there more playing time. With all the trouble the Brian Burke and the team went to this summer to get Gustavsson, it would be surprising if they simply let him go after just one season in Toronto.
No doubt if the contract extension talks haven't already started, they will be starting shortly so that the Monster is locked up as the Leafs goalie for years to come.
Thus, since the rookie netminder is looking to gain the trust of his coach and respect of the city, he needs to play most of the games left on the schedule to gain that much needed experience between the pipes.
Sure, it would be nice to showcase Toskala a little bit before the trade deadline in hopes that a team might have enough interest in the Finn to trade for him, but playing him in a few more games before then most likely won't change anyone's mind either way.
One thing is for sure, Toskala's time in Toronto will be done come the end of this season. And there won't be many sad to see him go, as he continued the dreadful luck in net the Leafs have had in recent years, with guys like Andrew Raycroft and Justin Pogge not turning out to be the stars they hoped.
They certainly are a long way from the days of Curtis Joseph and Ed Belfour back-stopping them to multiple playoff runs.
Gustavsson has a 2.94 GAA and a .902 SV% so far this season, and though he has dealt with heart issues and a few minor injuries, his time on the Swedish Olympic team as well as being allowed to play in a substantial string of consecutive games would go a long way in preparing him for the seasons to come.
He has a respectable record of 9-11-8, the only real blemish being his inability to win a game in overtime, going 0-8 in the extra-frame so far this season.
Coach Ron Wilson has been cautious of over-playing the rookie due to the heart complications he has had combined with him not being used to such a rigorous schedule, but if his health stands up, he needs all the playing time he can get.
There is plenty to look forward to in the coming years for Leaf fans as yet another disappointing season comes closer and closer to the end, and much of that anticipation should be directed to the budding star between the pipes.
He's had his ups and downs but has certainly shown the promise that he can be the number one man for the Leafs in the years to come, and should get significant time in net to solidify that spot with just two months to go.
The "goalie of the future" tag has been placed on many goal tenders recently in Toronto and have failed miserably, but Gustavsson looks as if he can change the pattern that is starting with the masked men on the Leafs and give this team some stability in net.
Only time will tell, of course, but if it's time that is needed to find out if the Monster is the guy they hope he is, then he should get plenty of the playing variety as the season winds down.
<ref> width="380%" height="580%" id="embed" classid="clsid:d27cdb6e-ae6d-11cf-96b8-444553540000"><param name="movie" value="http://video.nhl.com/videocenter/embed.swf" /><param name="quality" value="high" /><param name="allowFullScreen" value="true" /><param name="allowScriptAccess" value="always" /><param name="flashVars" value="catid=0&id=20157&server=http://video.nhl.com/videocenter/&pageurl=http://video.nhl.com/videocenter/&nlwa=http://app2.neulion.com/videocenter/nhl/" /><embed name="embed" pluginspage="http://www.adobe.com/go/getflashplayer" src="http://video.nhl.com/videocenter/embed.swf" type="application/x-shockwave-flash" width="100%" height="100%" quality="high" allowFullScreen="true" allowScriptAccess="always" flashVars="catid=0&id=20157&server=http://video.nhl.com/videocenter/&pageurl=http://video.nhl.com/videocenter/&nlwa=http://app2.neulion.com/videocenter/nhl/"></embed></red>
This article is
What is the duplicate article?
Why is this article offensive?
Where is this article plagiarized from?
Why is this article poorly edited?

Toronto Maple Leafs: Like this team?