All Star Game Is Dead: How the Voting Process Killed the All Star Game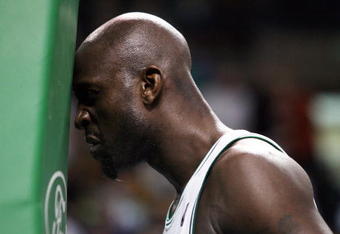 Elsa/Getty Images
The 2010 All Star voting results proved that the All Star Game is dead. It once again confirmed that starting in the All Star game is not about who plays the best basketball - it is about who has the most fans.
It started with the voting itself. The whole voting procedure allows the fans to choose their starters from only about 30% of all NBA players. This automatically excluded some of the best and most entertaining players from the competition for the starting five. On the other hand - guys who rarely played in the first half of the season - were able to compete (and even win) a starting spot for what should be the most entertaining game in basketball.
I know I am not saying anything new but I cannot accept the fact that the voting system allow guys like Tracy McGrady to compete for a starting spot while guys like Tyreke Evans where not even included in the ballot. Tracy who used to be the scoring champ back in the days - almost won the starting spot for the West with his monster stat line of 3ppg, 0.8 rpg and 1 apg on 36% from the field and 67% from the line. Tyreke has a very good chance of becoming only the forth Rookie in the NBA history (Lebron, Mike and Oscar Robertson being the other 3) to average 20-5-5 but - unfortunately - according to the NBA - it is not even good enough to be included in the voting.
All we can say here is - thank God that Steve Nash did the impossible over the last days of the voting to pass TMac for the starting gig. I really hope this had something to do with the monster season he is having averaging 18.3 ppg (on 53% FG and 94%FT) to come with 11.1 assist per.
With all my respect to what he did over his career with the Spurs - I do believe that Tim Duncan's place this year is also on the bench of the West team. He is having a rock solid season and he surely belongs to the West All Star team - but it is really pity to see Kevin Durant out of the Starting five for the West. KD is among the top MVP candidates with guys like Lebron and Kobe. Oklahoma City Thunder are having their best season since the franchise moved to Oklahoma and Kevin Durant is the main reason. He is currently top 3 in points per game with 29.2. He is also having career high's in almost every category - shooting 48.3% FG, 87.4% FT, averaging 1.4 3pts, 7.2 rpg and 1.3 stg. He led the OKC to 24-19 record and they are a legit playoff candidate.
Pretty much the same is the situation in the East All Star starting lineup. The East would have had a "fantastic" lineup five it was year 2006. Unfortunately - it is 2010 and I cannot point any good reason (sorry AI and KG fans) to have Kevin Garnett and Allen Iverson starting for the East.
Fighting with injuries the whole last season and the majority of this one - KG managed 14.9 ppg, 7.5 rbg (both - second worst in his career after his Rookie campaign), 0.9 stg and 0.9 bpg - both career lows. The Big Ticket seems not to be that big any more - being his team's third option offensively and not leading Boston in any statistical category this season.
Obviously - KG's performance on the court does not influence his fans who chose him over guys like Chris Bosh. CB4 can only dream of being a starter for the East - averaging the "quite" 24.1 ppg, 11.1 rpg (both career highes) - while being the leader of the Raptors and not missing a single game this season.
When it comes to AI - he surely deserves credit for what he did over the years and how he changed the game. He will remain forever one of the best players in the NBA history and we are glad that the Sixers brought him back from retirement - no doubt in that. I can also agree that it was ridiculous how he missed the All Star game in his Rookie season - but c'mon - it is 2010 and Allen Iverson is having his worst season ever. When we mention retirement - just remember how Michael Jordan himself came back for the second time and was not able to make the starting five.
Not AI. He posted carreer low in almost every single category - 14.2 ppg, 2.7 rbg, 4.2 apg, 0.7 spg. In the 20 games he played this season - he looked like a shadow of his former self and - although we all hope to see him playing as he did all his carreer - Allen Iverson does not deserve to be an All Star starter this year.
It is just not fair to have him instead of Rajon Rondo for example. The Boston PG led his team to the first place in the Atlantic division despite injuries of Garnett, Paul Pierce and Rasheed Wallace. He averaged 14.1 ppg, 4.2 rpg, 9.6 apg and 2.5 spg. Even his triple double against Toronto on Jan 10th was not enough to convince the fans that he should start.
I know that there are a lot of other players deserving to start and that there are only 10 starters - and this is why I believe it is so unfair to see AI, KG and Timmy there instead of Durant, Rondo, Bosh, Chris Paul, Deron, ZBo and Dirk.
I appreciate the fact that it is the fans who choose the starters and it should be like it. I also understand that some fans will vote for their favorites regardless from what they do on the court. Still - the league wants to resurrect the NBA ALL STAR GAME and make it the most entertaining game in basketball - some measures should be taken. What I would recommend are two thing:
- Introduce a minimum number of games in which a players should participate in order to start
- Allow fans to vote for every player they want - don't limit their choice to only 30% of the players who were chosen at the beginning of the season
Still - I will be watching the All Star game and will be hoping that AI, KG and Timmy will prove me wrong. Otherwise - we will all see Bosh, KD and Rondo coming of the bench to steal the show.
This article is
What is the duplicate article?
Why is this article offensive?
Where is this article plagiarized from?
Why is this article poorly edited?

Boston Celtics: Like this team?