WSU Basketball: Trojans Look to Defend Homecourt Against Cougars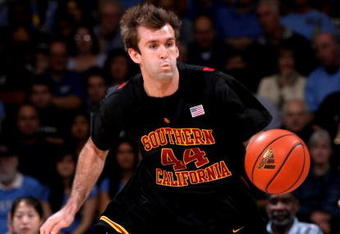 Stephen Dunn/Getty Images
Los Angeles, CA –The Washington State (13-5, 3-3) men's basketball squad will travel south to Los Angeles this week for a pair of Pac-10 road games. First up for the Cougs will be the USC Trojans on (11-6, 3-2) Thursday night at 7:30pm PST at the Galen Center.
Trojans' first year coach Kevin O'Neill is no stranger to the Pac-10. He is a coach who puts defense first and the style of play he prefers has become the standard of the conference.
Though the Trojans have won nine of their last 11 games, USC put up more than 70 points in just one of them.The men of Troy are playing smothering defense this season and it's translating into wins.
A look at what USC has done in conference play is impressive. They have held Arizona, ASU, Stanford, UCLA, and high-powered Cal to just 50, 37, 54, 46, and 67 points respectively. Their two losses came at the hands of Stanford and Cal on the road and could have easily been logged in the win column with just a break or two.
Coach O'Neill is doing a brilliant job leading USC, especially taking into consideration that the school voluntarily imposed sanctions on themselves, including no postseason play.
As much as the sanctions may have hurt his ability to motivate the team, O'Neill has benefited from the play of senior transfer Mike Gerrity. The senior point guard wasn't eligible at the beginning of the season, but Gerrity has been a steadying force in the backcourt and plays with confidence and is under control.
The only hint of pressure on the Trojans on Thursday night will be defending their home court. It's simply a matter of pride, something USC has an abundance of.
USC will start a lineup similar to WSU, as neither team plays a conventional center. Comparing their front lines, the Trojans may have an edge with size and experience. Coach O'Neill will start 6'10" sophomore Nikola Vucevic, 6'9" junior Alex Stephenson, and 6'6" senior Marcus Johnson at forwards, with Gerrity and senior Dwight Lewis at guard positions. Other than Stephenson, the starters will be on the court most of the game unless they get into foul trouble.
WSU coach Ken Bone suggested that there might be a change in his starting lineup, but even if that's the case he probably won't change the amount of time players spend on the court.
There are a couple of keys to Washington State earning a victory over USC.
First, it will be important for the Cougs to handle the ball well. The Trojans will pressure the ball constantly trying to create turnovers. Since USC will try to keep the pace of the game slow and deliberate, every possession will be valuable. Sound familiar? It should. WSU played that style under both coach Dick and Tony Bennett with success.
The other key for WSU will be the play of Klay Thompson and Reggie Moore. Both are very capable scorers as they drive to the basket to create opportunities for either themselves or a teammate. They can put pressure on the Trojans by either getting layups or picking up fouls on USC defenders. The most effective group for coach O'Neill is his starting five. If the Cougs can cause the Trojan starters to watch from the bench then they will be in a great position to pick up a conference win on the road.
The game Thursday night will not be televised. As usual, you can listen in at 7:00pm on the Cougar Basketball Radio Network with Bud Nameck calling the game. Tip-off is scheduled for 7:30pm PST.
Originally published in Lew Wright's WSU Sports column on Examiner.com
This article is
What is the duplicate article?
Why is this article offensive?
Where is this article plagiarized from?
Why is this article poorly edited?