Bracketeering No. 4: Uprising From The Non-BCS Schools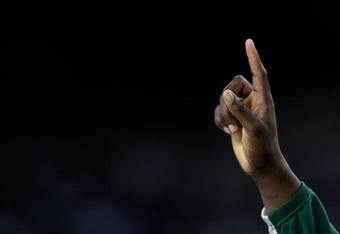 Andy Lyons/Getty Images
Dare I say it, but will the NCAA selection committee actually be forced to give credence to schools that deserve to be in the Dance regardless of their conference affiliation?  Say it ain't so, Billy Packer!
Even though big-name schools are dominating the top two seeds in this week's bracket projection it has become increasingly obvious that the conferences not given much of a shot in the BCS bowls are coming to play.  Look at the breakdown of conferences receiving multiple bids in this week's bracket.
Big East (7), Big 12 (7), Big 10 (6), ACC (6), SEC (5), A-10 (5), Mountain West (2), Colonial (2), Conference USA (2), West Coast (2)
Not only has the Atlantic-10 reached new heights with five teams on the Dance card (which would be a record for a non-BCS conference if it came to fruition) but there as many non-BCS conferences with more than one team as BCS conferences.  The Pac-10 can be partially to credit (blame?) for this sea change but the powers that be are finally recognizing that there is good basketball played all over the country.
Last Four To Sneak In: Illinois(2nd in Big Ten, four quality wins), Richmond (2nd in A-10, strong RPI, three quality wins), Old Dominion (tied for the CAA lead, won five of their last six, top 40 RPI) and Marshall (no bad losses, 15-2 overall, Conference USA leaders).
Last Four To Get Caught By Security:  UNLV(the Mountain West might get three in but the Rebels have been in a recent slump), Arizona State(yes, the Pac-10 may actually get two teams in but not today), Virginia(conference record good, 101 RPI and four bad losses not so much) and Marquette(not a strong enough profile to make a case for an eighth Big East team).
East Region (Syracuse)
1  Villanova (Big East) v. 16 Lafayette (Patriot)
2  Duke (ACC) v. 15 Oakland (Summit)
3  Tennessee (SEC) v. 14 Vermont (America East)
4  Temple (A-10) v. 13 Siena (MAAC)
5  Baylor (Big 12) v. 12 Old Dominion (Colonial)
6  Ohio State (Big 10) v. 11 UConn (Big East)
7  UAB (C-USA) v. 10 Missouri (Big 12)
8  Florida State (ACC) v. 9 Cornell (Ivy)
South Region (Houston)
1  Texas (Big 12) v. 16 Morgan State (MEAC)
2  Michigan State (Big 10) v. 15 Coastal Carolina (Big South)
3  Pittsburgh (Big East) v. 14 Buffalo (MAC)
4  Gonzaga (WCC) v. 13 Murray State (OVC)
5  Clemson (ACC) v. 12 Illinois (Big 10)
6  Butler (Horizon) v. 11 Oklahoma State (Big 12)
7  Vanderbilt (SEC) v. 10 North Carolina (ACC)
8  William & Mary (Colonial) v. 9 Xavier (A-10)
Midwest Region (St. Louis)
1  Kentucky (SEC) v. 16  Play-In
2  Kansas State (Big 12) v. 15 UTSA (Southland)
3  West Virginia (Big East) v. 14 Northern Colorado (Big Sky)
4  Purdue (Big 10) v. 13 Western Carolina (Southern)
5  Northern Iowa (MVC) v. 12 Marshall (C-USA)
6  New Mexico (MWC) v. 11 Dayton (A-10)
7  Wake Forest (ACC) v. 10 Ole Miss (SEC)
8  Texas A&M (Big 12) v. 9 Cincinnati (Big East)
West Region (Salt Lake City)
1  Kansas (Big 12) v. 16 Campbell (Atlantic Sun)
2  Syracuse (Big East) v. 15 Western Kentucky (Sun Belt)
3  Brigham Young (MWC) v. 14 Pacific (Big West)
4  Georgetown (Big East) v. 13 Louisiana Tech (WAC)
5  Wisconsin (Big 10) v. 12 Richmond (A-10)
6  Georgia Tech (ACC) v. 11 Northwestern (Big 10)
7  Rhode Island (A-10) v. 10 California (Pac-10)
8  Mississippi State (SEC) v. 9 St. Mary's (WCC)
Play-In Game: Quinnipiac (NEC) v. Jackson State (SWAC)
This article is
What is the duplicate article?
Why is this article offensive?
Where is this article plagiarized from?
Why is this article poorly edited?

Kentucky Wildcats Basketball: Like this team?