Who Should Face The Undertaker at Wrestlemania 26?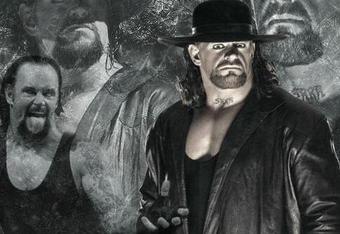 A few weeks ago Shawn Michaels threw down the gauntlet and challenged the Undertaker to a rematch at Wrestlemania.
He again made his demand to Vince McMahon himself and given their history the signs are pointing to the match becoming a reality.
With the Undertaker's streak a thing of legend, it seems likely that the only reason HBK would make the challenge is that there may be plans for him to be the chosen one who ends the streak.
I personally don't see the match happening as the Undertaker hasn't had any interaction with Michaels since he made the request and the fact that a DX breakup seems to be looming.
Signs point more towards a Shawn Michaels vs. Triple H at Wrestlemania following what could be a great build up should HBK be the one who turns heel and breaks up DX.
This could be the main event even without a title on the line should it get the build up and story it deserves. But should that happen it leaves us without an opponent for the Undertaker, so lets take a look at three options I would like to see.
Option 1. The Undertaker vs. Vince McMahon (Last Man Standing match)
Now that Bret Hart is on tap for a story line heading into 'Mania this isn't out of the realm of becoming a match. Vince already drew a line in the sand on Bret's return night and given Hart's health it is very unlikely he would be able to get in the ring and live up to his own expectations let alone the fans.
So what could happen is similar to the "Hair" match a few years back with Donald Trump. Vince challenges Bret to a match but Bret's health prevents him from doing so and he turns to none other than the Undertaker to take Vince down once and for all.
Now the only real downside is that the Undertaker wouldn't get much out of this match seeing as Vince is in his 60's and it makes the Undertaker more of a pawn and may not provide a "Mania type of performance that the fans would expect.
Given the focus on the undefeated streak this match wouldn't be seen as a he could lose match, unless Vince truly wants to show his power and plans to screw the Undertaker and Bret Hart at the same time.
Such as having HBK get involved. But seeing the Undertaker and Bret Hart standing over Vince McMahon would make for a unique ending, until the Undertaker tombstoned Bret Hart too. It would need a lot of build up but it can be done.
Option 2. The Undertaker vs. Batista vs. Rey Mysterio vs John Morrison (Fatal Fourway match)
Given the current storyline it seems likely that Mysterio, Batista, and the Undertaker will have a triple threat match at the Royal Rumble and this will probably be when 'Taker loses his title. I think Mysterio will come out with the title following the Rumble.
This would make for a rematch possibility at 'Mania and allow Batista and the Undertaker time to fight for the right to challenge Mysterio.
Morrison would enter the match by winning the Royal Rumble match and challenging Mysterio at Wrestlemania.
Batista and the Undertaker already have plenty of history, Mysterio is always the essential underdog and Morrison is ready for his big push into the title picture. A Fatal Fourway match with these four superstars would make for a great match.
It would allow Morrison to really show he has what it takes to be a main eventer, keep the fuel burning on Batista and Mysterio's feud and of course make for a challenging matchup for the Undertaker to keep his streak alive.
This would be a long match with a lot of highlights, but in the end the Deadman would come out on top.
Option 3. The Undertaker vs. Christian (ECW Survival match)
This match is one the fans would love to see and would be a perfect spot to either rebrand ECW or eliminate it and do so in a manner that at least gives ECW some credibility before it's gone.
Having Christian challenge the Undertaker for his title at Wrestlemania would finally allow him to get back into the spotlight where he so rightly belongs.
Christian would seek to become the first man to hold the ECW and World Heavyweight Championships at the same time and save ECW from extinction. The con side is that should Christian lose the ECW brand would be no more.
Both of these superstars are more than capable of putting on a high quality 'Mania match and in the end Christian losing his ECW title would put him back in the main title picture and give the WWE a storyline to use when they either rebrand or eliminate the ECW show.
I know that all three of these match setups would need a lot of work to make them happen, but I think they are all at least plausible. Please let me know what you think. Thanks for reading.
This article is
What is the duplicate article?
Why is this article offensive?
Where is this article plagiarized from?
Why is this article poorly edited?