Crimson Celebration: Ingram and Tide Roll the Longhorns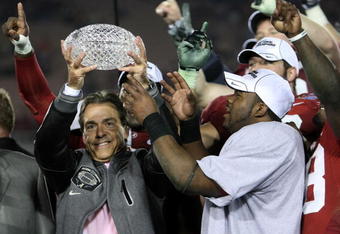 Stephen Dunn/Getty Images
What a dandy in Pasadena.
The stage was set for a great game. Two of college football's most historic teams, The University of Texas vs. The University of Alabama.
The two teams would face off in what turned out to be a thriller.
Texas, the underdog in most people's mind, came in riding on the back of Senior quarterback Colt McCoy. McCoy had been outstanding throughout the season, but was under tons of criticism for a close call in the Big 12 championship game. He was out for blood and to prove he had what it took.
Alabama was led by their high-powered Heisman running back, Mark Ingram.
Both teams were equally deserving of a National Championship because of their defenses.
Alabama came out flat, as they went three-and-out on their first possession. After an interception on the fake punt, Texas went on to kick an 18 yard field goal by Senior kicker Hunter Lawrence on their first drive. After some confusion on the following kickoff, Texas picked up the ball and started once again with their offense.
What would happen next would change everything in the game.
On a 1st-and-10 play from the Alabama 11 yard line, Colt McCoy was running to the left on an option play when he was drilled by Marcell Dareus and would be knocked out for the game with a sprained right shoulder.
Texas was forced to bring in Freshman quarterback Garrett Gilbert, who had only 26 attempts coming into the game. Texas would be stuffed the following two plays and have to settle for another field goal by Lawrence.
Then it was time for the Tide to Roll, as they got on the back of Heisman Trophy winner, Mark Ingram. The Tide stormed down the field and capped the drive with a two yard run by the Sophomore running back from Flint, MI.
The Crimson Tide would go on to score again in the quarter with a Trent Richardson draw play that he took 49 yards to the house. Leigh Tiffin went on to knock in the extra point and give Alabama a 14-6 lead with 7:59 left in the first half.
Tiffin wasn't done though, as he added a 26 yard field goal to his stats. Alabama would kick off to Texas, and the Longhorns would try to put together one final drive before the half. That would quickly come to a stop, as Gilbert would attempt a shovel pass that would be intercepted by defensive lineman Marcell Dareus. Tiffin with the extra point gave the Tide a 24-6 lead going into the half.
Once the second half started, Gilbert seemed to have calmed down and become a quality quarterback. Texas was driving down the field, when all of a sudden the Freshman let a pass go down the middle of the field. Senior Jordan Shipley was on the other end of the connection, and the Longhorns were back in business via a 44 yard touchdown pass. After the extra point by Hunter Lawrence, the momentum was turning Orange. Unfortunately for the them, it was the only score they could get in the third quarter, and they went into the fourth trailing Alabama 24-13.
Just over midway through the fourth, Gilbert and Shipley connected again for a huge 28 yard touchdown pass. While the Longhorns were down by five with just 6:15 left in the game, they needed a two point conversion. Gilbert answered by connecting to Sophomore wide- receiver, Dan Buckner, in the back of the end zone.
I think I speak for all of the Bama fans when I say that this was when they game got really interesting.
We were witnessing a young man in Garrett Gilbert growing up in front of our very eyes.
Alabama knew there was still work to be done after they were only up a field goal. Unfortunately, their offense couldn't get rolling again, and they were forced to punt. This gave the Longhorns plenty of time to start a game winning drive.
However, the drive was stopped short. On first down Gilbert dropped back to pass and had his world rocked by linebacker Eryk Anders. The ball popped loose, and the Crimson Tide would recover.
Just a few plays later, they would make it a two possession game with a one yard Mark Ingram touchdown and a Tiffin extra point. Alabama now led 31-21, with 2:01 still left on the clock. The Longhorn faithful still knew a comeback was possible, but an interception by Javier Arenas would seal the deal. The Crimson Tide would go on to put one more touchdown on the board with a two yard Trent Richardson touchdown. The extra point was failed by Tiffin, as it pounded of the left upright.
Ingram finished the game with 22 carries for 116 yards and two touchdowns. Greg McElroy was one of the least talked about Crimson Tide players on the night. He attempted just 11 passes with five completions for 58 yards. He may not have led his team by stats, but he was vocal all night.
The most impressive story of the night was Garrett Gilbert. Here's a kid who just started college football a few months ago. He is playing behind one of, if not the nations best college quarterbacks. I mean he couldn't have thought when he woke up this morning he was going to play a single down. Bottom line is that the kid stepped up in the second half and led the Longhorns on a great comeback. Gilbert finished 15 of 40 for 186 yards, two touchdowns, and four interceptions. I would look out for this kid in the future.
Jordan Shipley ended his college career with 10 receptions for 122 yards and two touchdowns.
This article is
What is the duplicate article?
Why is this article offensive?
Where is this article plagiarized from?
Why is this article poorly edited?