Why Are The Cardnials Crying?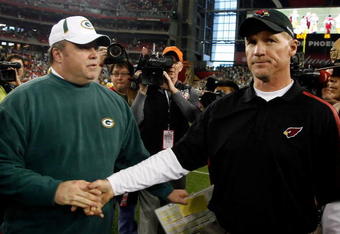 Christian Petersen/Getty Images
This past Sunday the Green Bay Packers locked up the #5 seed in the NFC after a 33-7 victory over the Arizona Cardinals in the final week of the NFL season. The Packers play the Cardinals this week in the first round of the NFC playoffs, for the third and final time this season.
But to Cardinals and their head coach Ken Whisenhunt have an issue with the Packers. Whisenhunt thinks the Packers rubbed it in week 17 during, as Whisenhunt called it, "a meaningless game".
Whisenhunt pulled starting quarterback Kurt Warner early in the game and expected the Packers to do the same with Aaron Rodgers. But Packers head coach Mike McCarthy left Rodgers in until the Packers went up 26-0.
During the game the Cardinals had injuries occur to some of their key players. Wide Receiver Anquan Boldin (knee, ankle), cornerback Dominique Rodgers-Cromartie (knee) and defensive lineman Calais Campbell (thumb) are were injured in the game. Campbell is likely out after having thumb surgery Monday, while "DRC" is looking like he will play. Boldin is a game time decision (although ESPN's Adam Schefter is reporting it looks like he will miss the game).
The Packers on the other hand took a gamble by playing most of their starters and came away with only a scare to Charles Woodson (shoulder sprain). He will be starting at cornerback on Sunday and if the game was close, said he would have been back in the game Sunday.
But the contrasting styles of the two coaches may have led to some bad blood between the two men and their teams. It started in the pre season when Whisenhunt took exception the McCarthy "game planning" for the Cardinals in week 3 of the pre-season when the two team s played. At halftime the Packers had a 38-10 lead.
This time, Whisenhunt seemed perturbed that McCarthy left Rodgers and the rest of the Packers starters in even though it was a "meaningless game" to both teams in his eyes since both team were in the playoffs and playing each other this week.
"They had their plan," Whisenhunt said. "I guess they felt good about what they were doing."
But Whisenhunt left his best player All-Pro wide receiver Larry Fitzgerald in for the entire game or until he scored a touchdown. Fitzgerald said he didn't know why he was even in the game after other starters were pulled. Let's not forget about Boldin who didn't seem to be leaving the game until he got injured.
So why is he so upset that McCarthy left his guys in to reach certain statistical marks?
"It's something you would feel sick about had (Fitzgerald) gotten injured at the end, but I have no doubt in my mind that's what Green Bay was trying to do with Aaron Rodgers (on Sunday) as far as the passing statistics, trying to get those things," Whisenhunt said. "That's part of it."
Isn't that a little hypocritical?
It's ok for Whisenhunt to leave his guys in, but not McCarthy, whose team was still playing for the #5 seed in the NFC since Dallas was throttling the Eagles who also ended up with an 11-5 record?
So how was it meaningless to the Packers? They finished the season 7-1 in their final eight games after a 4-4 start and are one of the hottest teams in the NFL. McCarthy wanted to keep his teams momentum heading into the post season and more importantly knows his team better than anyone else.
"I'm in charge of their pulse and make sure when they need to get kicked in the ass, that happens, and when they need to be picked up, that happens too," said McCarthy. "We had some tough lessons that we encountered in the first eight weeks. We learned from them and we were able to put together eight weeks of good, quality football. I think the greatest strength of this football team is overcoming adversity."
As McCarthy said, they kept both the offense and defense basic.
"We didn't roll out everything we had, either," said McCarthy. "Our principles are still the same, our base concepts are still the same. We've established who we are, the way we want to play, that will not change. Now, what you do, change the face of it, those types of things, that's all part of the game planning."
So it seems that the Packers just played harder than a Cardinals team that thought, like their head coach, the Packers would just go through the motions and mail in week 17.
But now the Cardinals are trying to use last weeks loss to the Packers as motivation. Cardinals DT Darnell Dockett said "At the end of the day, if they want to celebrate it, then they can go ahead. It's a tough team, and I'm pretty sure everybody is going to pick them to win. They played good. We were impressed, and hopefully we keep up with them this weekend."
McCarthy also pointed out something that may be getting over looked. "They've won their division two years in a row," said McCarthy. "They have experience. They're coming off of a Super Bowl run. They have playoff experience, pretty much their whole football team. Those are the things that play to their strengths.
". . . . We'll be totally in tune with the fact that playoff football is different. We have a group of men that experienced this two years ago. We have a group of men that have not experienced it."
Mike McCarthy is in charge of the Green Bay Packers. He controls the Packers and only the Packers. He cannot be worried about what the Cardinals reaction is to the Packers playing hard for the entire game. He had no idea that Whisenhunt was not planning to play the game to win. That is not his concern, the Green Bay Packers are.
In fact, Dan Brickley of the The Arizona Republic said this of Whisenhunt's game plan "The game plan was murky, illogical. It was built for safety and yet fraught with danger."
So why is there any uproar over the Packers and Mike McCarthy doing what is best for them? They knew there was an injury risk if a starter, let's say Aaron Rodgers went down with a serious injury. But it didn't happen. The took a risk and they were not harmed by it.
If Ken Whisenhunt wants to be upset about anything he should be upset at the effort (or lack there of) from his own team or the game plan he (failed) to execute.
This could be the start of a new rivalry if both the Packers and Cardinals continue to make the playoffs. Both teams are young and explosive on offense. The NFL schedule makers may have been onto something when they placed the Packers in Arizona in August and in January.
Time will tell if that happens, but one thing is for sure, come Sunday afternoon in Glendale, Arizona both these teams will settle the score for the third, and final time on the field. But this time the losers come home crying for the good and there will be no fourth game.
This article is
What is the duplicate article?
Why is this article offensive?
Where is this article plagiarized from?
Why is this article poorly edited?

Arizona Cardinals: Like this team?