8-8 VS. 7-9: How Much Better Were 49ers In 2k9?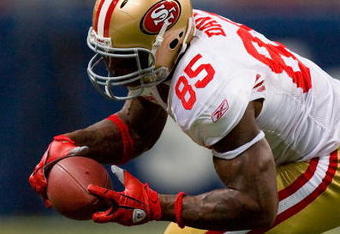 Dilip Vishwanat/Getty Images
What's the difference between this year's 49ers and last year's 49ers?
In the win/loss column, the difference is 1. In terms of the teams culture, attitude, and identity, the difference is immeasurable.
Somehow, the 49ers were closer to the playoffs and a NFC West title last year. One play on a Monday night - a failed Frank Gore run at the goal line - could have propelled the team to an 8-8 record, and a tie-breaker over a would be 8-8 Arizona.
That didn't happen. And as we know the 9-7 Cardinals went on to win the NFC West, and more.
This year, San Francisco beat Arizona twice, but failed to win other close contests, resulting in a mediocre 8-8 record. Only after cruising the end of the season with wins over the ultra-pathetic Lions and Rams did SF accomplish this too-little-too-late fact. Arizona clinched a week prior, with the 49ers loss to Philadelphia.
But I would take the 2009 49ers team over the 2008 49ers any day. Here's why:
The 2008 49ers were a hapless bunch of bums. Stumbling around a J.T. O'Sullivan-led offense and a confused defense that tried to run a complex and ineffective 3-4/4-3 hybrid defense, they couldn't execute simple blocking and tackling fundamentals.It wasn't until the regime change at Head Coach that they started playing like a team, as a team, and for their team. O'Sullivan got the hook as Shawn Hill proved to be an adequate QB for a run oriented offense. Singletary's 3-4 defense eliminated much of the confusion, and allowed the talented D to focus on execution - instead of X's and O's.
Vs.
The 2009 49ers were a team in training. A team with purpose and direction. They had a plan to make the play-offs. They didn't.  They did, however, try very hard early on. They fought well against tough teams, losing to the Brett-Favre Vikings; they played great against the Adrian-Peterson-Jared-Allen Vikings, who beat up on most teams this year.  And they did this without Frank Gore.
There was no regime change for the 2009 49ers; there was only philosophical adaptation.  When left tackle Joe Staley went down with injury, and defenses began packing 8 men in the box, the 49ers went to a stronger armed Alex Smith. Enter Michael Crabtree. Smith found a target in the long awaited, and finally signed rookie. His skill was immediately clear for all to see, emerging as the teams best WR.
Smith, having not participated in the first five games, and never performing well under center, took the reigns and he offense sputtered as Smith and company lost 4 of his first 5 appearances. Again, it became necessary for a change.
Turning point:
Several players, including Crabtree and Vernon Davis, approached the coaching staff with a request. They wanted to spread out the offense and open up the passing game. In 2008, the coach's door might not have been open to players suggestions. In 2008, players might not have cared. In 2009, the coaches responded, instituting shotgun formations and passing routes to utilize top players. Although the new offense is far (very far) from perfectly executed, it uses the teams most skilled offensive weapons with a greater degree of success
The real victory in this move was the opening of the lines of communication between the coaches and players. The development of what will eventually be a winning formula.
The season took it's final slide against a feisty Seattle team playing the spoiler. In a game marred by lackluster play, poor coaching calls and a game plan not even fit for Pop- Warner-style play. It ended in a disgusting 20-17 heartbreak.
The next week, however, showed the teams true colors. Demolishing reigning division champ Arizona on Monday night, 24-9, and the sad Rams in the season finally, the 2009 49ers ended with a 5-1 division record.
The 2008 team went 3-3 in the division.
2008 Vernon Davis was a mouthy draft bust who's attitude was poisoning the team.
2009 Vernon Davis was a team leader. He was a captain and an outspoken leader of an offense in flux and peril. He was the teams leading receiver and showed hall-of-fame-like potential on the road to matching the NFL record for TD receptions by a Tight End.
The 2008 49ers gave up almost 23 points per game.
The 2009 49ers allowed just over 17.5 per game.
So how much better is 8-8 over 7-9? Not that much better. At the same time - way, way better.
I'd take the 2009 49ers over the 2008 49ers any day of that week. And give me the 2010 49ers over 2009 - all season long.
This article is
What is the duplicate article?
Why is this article offensive?
Where is this article plagiarized from?
Why is this article poorly edited?

San Francisco 49ers: Like this team?