A Week Later, Colts' Decision Suddenly Makes Sense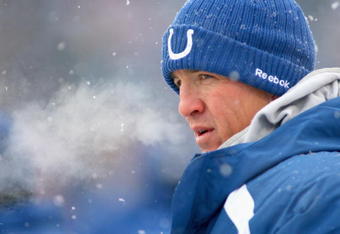 Rick Stewart/Getty Images
I think it's time I issued an apology, and I'm really hoping a vast majority of Colts fans join me.
The Colts did the right thing last week.
Like many fans, I was disappointed the Colts didn't pursue perfection against the Jets. I was particularly worried about how badly the Colts played once Peyton Manning was pulled.
But my initial reaction was based mostly on emotion.
Isn't that usually how a fan reacts? A week later facts trump emotion, not to mention particular events of Week 17.
Wes Welker's Injury
There's nothing like a major injury to a key player to sober you up. Sure, the Patriots had something to play for today. A win and they would clinch the third seed in the playoffs, but the game really wasn't a must-win situation.
Welker's injury was a fluke. Welker was simply making a cut to get past the Texans' Bernard Pollard (I hear a Massachusetts representative is presenting a bill to have that name outlawed in his state).
How would the Colts feel had Reggie Wayne, Dwight Freeney, or Manning gone down with a freak injury?
Sure, the Colts' starters essentially rested about five quarters out of the last two games, but that's five quarters they were out of harm's way.
Buffalo's Winter Storm
If you are a Colts fan, you have to admit, the more you saw the snow fall in Buffalo, the more you were relieved that the Colts were resting key players.
Now, I've already seen some fans question why the Colts were forcing balls to Dallas Clark and Wayne to get them to 100 receptions.
Watch the plays.
They were mostly screens and short passes. Sure, they could have gotten hurt, but these are pretty low-impact types of plays.
Quick screens don't cause the same hits as a crossing pattern.
It's not a strange decision, and as soon as the milestone was reached, all the key guys were gone.
Now about That Meltdown...
Last week, I was concerned about how badly the Colts looked after Manning was pulled.
But Manning wasn't the only player pulled.
Clark, Wayne, and Addai were out. Most of the key defensive players were out too.
I felt bad for Curtis Painter, forced into a gunfight without bullets and wearing a bright red target on his back.
Feel bad for Painter, but don't worry about the poor performances in the last two games.
The Jets are a decent team. Against backups, you would expect them to perform well.
The Bills are terrible, but they got to play in their elements.
Snow always favors the ground offense, and the Bills are a decent running team. Even with the starters, that game had the makings of repeating the Dolphins' game from earlier in the season.
If the Colts go into the divisional round game without their starting tackles and defensive ends, then worry.
Otherwise relax, because...
Maybe This Team Does Have a Switch
After Manning's interception early in the Buffalo game, the Colts came out with a very transparent game plan.
Wayne and Clark were going to get the ball a lot.
The Bills still couldn't stop them.
Yet again, the Colts followed a bad drive with a good one. They've done this all year long.
How many times have they been world-beaters and beaten down in the same game?
I don't think you worry if this team shows up flat in the playoff opener, but if this team has more highs than lows.
At any rate, this team seems to respond well to adversity, and that can only be a positive as the second season begins.
Another writer said the Colts were in a no-win situation.
Go for 16-0 and lose in the playoffs and people would question your decision not to rest.
Lose and win the Super Bowl, people would wonder if they could have had a perfect season.
Rest and lose in the playoffs, well...that's a whole other story.
There was no perfect decision, but there was a decision that gives the Colts a chance to put their best team on the field for the second weekend of the playoffs.
The Colts made that decision, so, win or lose, their opponent will get the best the Colts can give.
This article is
What is the duplicate article?
Why is this article offensive?
Where is this article plagiarized from?
Why is this article poorly edited?

Indianapolis Colts: Like this team?