BCS Bowl Predictions: Final Week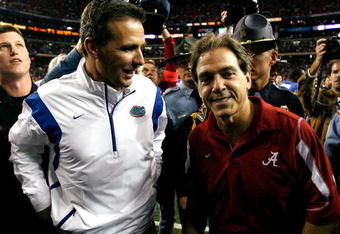 Kevin C. Cox/Getty Images
This week featured some of the most compelling and meaningful games of the season.
Oklahoma State's buckling at the Bedlam game had by far the most significant impact on final BCS destinations. The Cowboys lost 27-0 to the 6-5 Sooners. It's amazing this team was just one win away from the "exclusive" BCS.
Just like the Big 12 itself, OSU was vastly overrated.
Perhaps, the nation should have paid more attention to what last year's bowl results were telling us. The Pac-10, the SEC and the MWC are for real and the Big 12 seemed mediocre.
The big winners this week were Boise State and the SEC.
Boise State seemed to be on the outside looking in until Oklahoma State fell.
The SEC manhandled the ACC over the weekend. Florida was too much for the Seminole defense and two mid-tier SEC teams whipped both ACC division champions.
Alabama survived another close call. This week pulling it out at the last minute against Auburn in the Iron Bowl. Props to the Tide and to Greg Mcelroy who looked terrific.
Although, I am very surprised the Tigers called two running plays during the one minute drill. I think the idea is to run plays that stop the clock and that actually move the chains.
The biggest loser this week aside from the ACC and Oklahoma State may have been the Big East. Pitt's loss to West Virginia takes a lot of glimmer off next week's de facto conference championship game. 
In addition, if Texas were to somehow fall to Nebraska next week, it will be increasingly difficult for Cincinnati to pass up TCU in the Final BCS standings.
Either way, I see Pitt winning next week. Dion Lewis and Pitt's explosive running game will prove to much for Cincinnati's suspect run defense.
Here is how I see the BCS Bowl playing out on selection Sunday:
National Championship Game: Texas vs. Florida.
Texas does not deserve to be in this game. I know they were victims of the system last year and this will be a killer match-up, McCoy vs. Tebow, two major powerhouses. The ratings will be through the roof. Which is probably all the BCS cares about anyway.
The BCS should really take a stand on Texas' schedule. They certainly have no problem doing it with non-BCS teams. That hypocrisy will cost them one day. Big time.
Playing for the Crystal Football, Charlie Strong exposes Texas weak running game and the Gators' disciplined secondary keeps McCoy in check. Shipley returns a punt for a touchdown but the defending champions prevail, again.
Florida 27, Texas 17
Rose Bowl: Oregon vs. Ohio State
Ohio State continues their pathetic January play by folding to Jeremiah Masoli and Chip Kelly's brilliant offense, who always seem to play better and better as the year progresses.
Oregon 28, Ohio State 20
Orange Bowl: Pitt vs. Clemson
Dude, seriously could this game get any uglier? The Orange Bowl, with the third at-large pick, selects Pitt in order to avoid a Clemson-TCU rematch.
Four-loss Clemson advances to the Orange Bowl automatically after knocking off Paul Johnson's Yellow Jackets.
Pitt knocks off Cincinnati with their stellar run game and terrific defensive line play. They do the same to Clemson despite 250 all-purpose yards from C.J. Spiller.
Pitt 13, Clemson 10
Fiesta Bowl: Penn State vs. Boise State

By losing Texas to the National Championship Game and Oklahoma State due to deficiency, the Fiesta Bowl has the honor of selecting two at-large teams. Knowing that their last pick will inherently be a less desirable non-BCS team, the Fiesta selects Penn State over the more deserving Iowa Hawkeyes, banking on the pull of Joe Pa and the strong, traveling fan base of the Nittany Lions.
While Iowa travels well too, the Fiesta views Penn State as the higher octane offense that can keep up with the Boise State Broncos.
Despite TCU's stronger resume, the Fiesta Bowl pulls from past experience and opts for the more proven commodity in Boise State. A team that has historically traveled better than TCU.
The Big Ten's woes in BCS games continue.
Boise State 42, Penn State 31
Sugar Bowl: TCU vs. Alabama
I love the Tide and suffer from Tebow-fatigue. But even a very talented, well-coached and well-balanced like this year's Alabama won't get by Urban and Tim in the national championship semi-final.
While Mcelroy and Julio Jones looked terrific against Auburn on Friday, Alabama's passing game won't be strong enough to keep up with Tim Tebow and Riley Cooper, despite Mark Ingram hobbling to 100 plus rushing yards. 
Once again, the Tide will have to "settle" for another Sugar Bowl with another inferior MWC team. Saban learns his lesson from last year and does not provide any bulletin board fodder by discounting the MWC.
But he still overlooks TCU and their capable run defense.
The Tide faithful lay claim that they would've demolished TCU had Andre Smith suited up.
TCU 31, Alabama 17
This article is
What is the duplicate article?
Why is this article offensive?
Where is this article plagiarized from?
Why is this article poorly edited?

Florida Gators Football: Like this team?