The 50 Greatest College Football Players of the Last 50 Years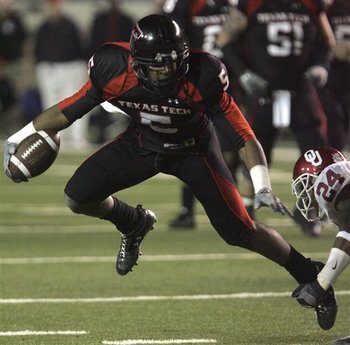 It's time to break out the "best of" list of players from the last 50 years of College Football.
A slew of contemporary players look to join the Heisman winners and All-Americans the game has collected over the past fifty years.
Yes, that means Tebow is on here.
But less surprisingly, a trio of Nebraska Cornhuskers makes the top 10. The Wolverines and the Buckeyes battle for Big Ten supremacy (unlike real life).
There are Outland trophy winners, Biletnikoff stars, All-Americans, Southwest conference champs, linebackers from small schools, small linebackers from large schools, and the obligatory six defensive lineman all described as "tough."
And there's plenty of room for debate, as usual. That's what the comments are for.
Here are the 50 greatest college football players of the past 50 years.
Nos. 50 & 49: Jerry Robinson and Richard Wood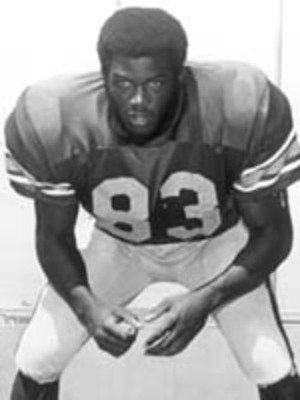 Robinson and Wood (pictured) were the first three-time All-American linebackers for their respective Pac-10 schools.
Jerry Robinson moved to middle linebacker from wide reciever before UCLA's Rose Bowl game in his freshman season, after which Robinson lead the Bruins in tackles for three consecutive years. He was named the West Coast player of the year in 1977 and was twice a consensus All-American, helping UCLA to the Fiesta Bowl in his senior season.
Richard Wood was nicknamed "Batman" for the intimidating black facepaint he applied around his nose and eyes. Though an undersized middle linebacker, Wood made up for the lack of stature in speed, agility, and reckless abandon in tackling, and was terrific in pass coverage, snatching five interceptions in his career.
Wood was a crucial part of the Trojan defense that won national championships in 1972 and '74, and played on the "greatest team" legendary announcer Keith Jackson ever saw.
No. 48: Randy White, DT, Maryland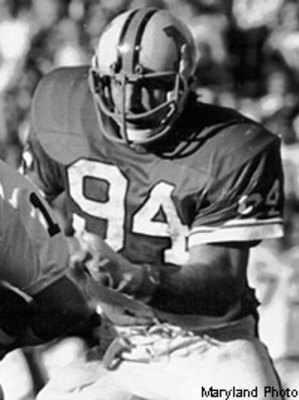 Randy White started off as a fullback for the Maryland Terrapins. But in his sophomore season, new coach Jerry Claiborne moved White to defensive end, claiming that was talented enough to be "one of the best five linemen in the U.S."
By 1974, White's senior year, he was winning numerous defensive awards, including the Outland Trophy, the Lombardi Award, and the ACC Player of the Year.
Though Maryland lost in the Liberty Bowl that season to Tennessee, Randy was named the game's Most Valuable Player, incredibly rare for a defensive lineman on a losing team.
In 2000, White was named to the ABC sports All-TIme All-America Team at his position.
No. 47: Marshall Faulk, RB, San Diego State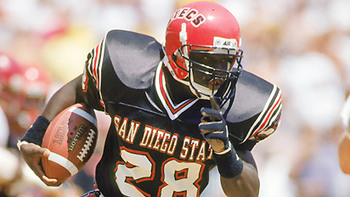 The thing to remember about Marshall Faulk, a dual-threat back out of San Diego State who was dangerous both on the ground and through the air, is that he compiled all of his accolades with little help from the offensive line or the Aztec defense.
His outstanding freshman season, in which he compiled 1,429 rushing yards and 29 overall touchdowns, won him freshman All-American honors.
In his junior and final year, he rushed for 1,000 plus yards, returned kicks, and caught 47 passes for 640 yards out of the backfield, making him third overall in all-purpose yardage that year and second in scoring. He came in second to Gino Torretta in one of the most scandalous Heisman votes in the award's tumultuous history.
The Indianapolis Colts selected him second overall in the 1994 draft.
His 62 career touchdowns rank him the eighth most productive back in NCAA history.
No. 46: Mike Singletary, LB, Baylor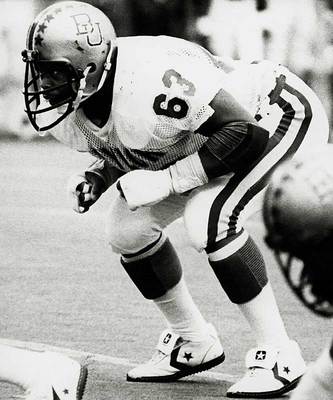 Mike Singletary earned All-America honors in both his junior (1979) and senior (1980) years at Baylor University. He averaged 15 tackles per game in his career, and set a record with 232 tackles in 1978, including 34 in a game against the University of Houston.
During Singletary's senior season of 1980, Baylor won 10 games for the only time in school history with a huge effort from the Singletary's defense.
The physical linebacker was the only college junior to be selected to the All-Southwest Conference Team in the '70s. He was a two-time recipient of the Davey O'Brien Memorial Trophy, which was awarded to the most outstanding player in the Southwest Conference.
No. 45: John Elway, QB, Stanford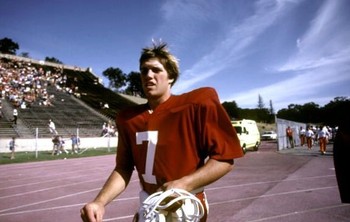 John Elway can't match the other quarterbacks on this list win-for-win—he left Stanford with a losing record, and never played with a decent defense.
But what he lacked in the W column he made up for in drive and resilience.
Between 1979 and 1982, he completed 774 passes, compiled 9,349 yards, and threw 77 touchdowns. He threw 24 touchdown passes in 1982, the most in the nation, and upon graduation, he held nearly every Stanford and Pac-10 conference record for passing and total offense.
He won Pac-10 Player of the Year in 1980 and 1982, was an All-American, and finished second in Heisman Trophy balloting as a senior, losing to Herschel Walker.
No. 44: Lawrence Taylor, DE/LB, North Carolina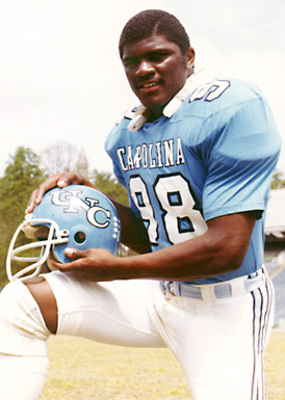 Despite an All-American and All-Conference senior year, the college version of Lawrence Taylor was not yet the defensive sensation that LT would be in the pros.
But as a Tar Heel, LT rewrote the record book on sacks and TFLs in a season by an ACC player (16 sacks, 22 TFLs, and nine forced fumbles), and showed flashes of the destructive brilliance that would define him at the next level.
He also changed the expectations for an outside linebacker/defensive end, crushing double teams and terrorizing quarterbacks on the way to leading the Tar Heels to and 11-1 record, an ACC championship and a spot in the AP top 10 at season's end.
Nos. 43 & 42: Craig James & Eric Dickerson, a.k.a the Pony Express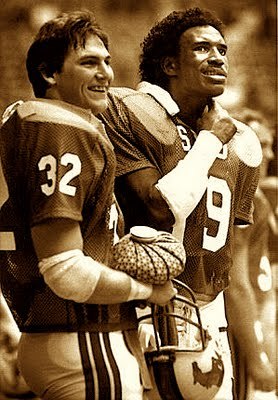 For a system that neither of them liked, the Pony Express sure was successful for Craig James and Eric Dickerson.
The two talented running backs for Southern Methodist helped the team to a 10-1 record and a close loss to Texas in 1980, then posted a No. 2 overall ranking and an undefeated 1982 season (which many voters believed unfair; national champion Penn State had one loss, while 10-0-1 SMU had tied Arkansas). The No. 2 ranking was the highest in SMU history.
James set records in rushing for the Holiday Bowl and posted a 96-yard touchdown run that was a Southwestern Conference record for years. He was drafted fourth overall in the USFL and also enjoyed a career with the New England Patriots.
But Dickerson was the better back. He posted 48 career touchdowns to tie Doak Walker's SMU record, and broke Earl Campbell's record for yards and carries with 4,450 yards on 790 carries, all this while splitting time with James and quarterback Lance McIlhenny. He posted multiple 200 yard games in wins against Texas A&M and Houston in their undefeated season.
Dickerson took third in the Heisman voting in his senior season and enjoyed a very prolific NFL career with the St. Louis Rams.
No. 41: Anthony Carter, WR, Michigan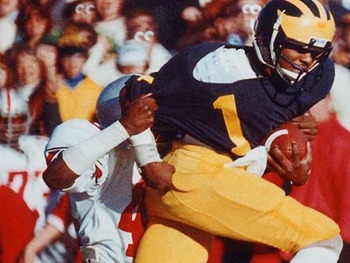 Michigan's only three-time All-American at the wide receiver position was also the most exciting player Lloyd Carr ever saw.
Anthony Carter excelled at all those things you can't quantify as a coach or a critic. He got separation and broke tackles despite being undersized, and got open despite being the only receiving threat in Bo Schembechler's grind-it-out offense.
He set countless Michigan receiving records that have since been broken by Braylon Edwards and Steve Breaston, but he did it all in a system much more hostile to receivers.
Carter's signature moment came against Lee Corso's Indiana Hoosiers. The Hoosiers had battled unbeaten Michigan to a draw and were content to go home with a tie. But for the Wolverines, tying equated to losing in a tight Big Ten race.
That's when Johnny Wangler hit Carter striding over the middle, and the freshman legend was born.
No. 40: Raghib "Rocket" Ismail, KR/PR/RB, Notre Dame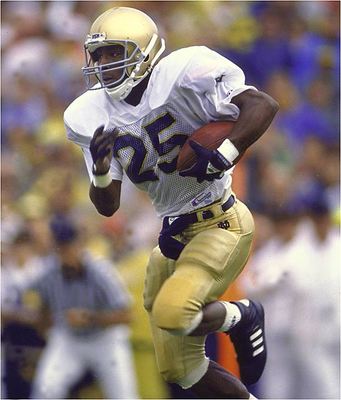 Raghib "Rocket" Ismail helped Notre Dame win their last national championship in 1988, followed by a No. 2 overall finish in 1989 (and a win in the 1990 Orange Bowl against Colorado), and another trip to the 1991 Orange Bowl, this time losing to Colorado, 10-9.
In that famous loss to Colorado, a Rocket punt-return for a touchdown was called back on a contentious clipping penalty that sealed the Irish defeat.
He was a great receiver, but posed the biggest threat in the return game, when his speed was second to none. During the 1989 rivalry game at No. 2 Michigan, Rocket returned two kickoffs for touchdowns in the No.1 Irish's 24-19 victory.
In one of the closer races in history, Ismail finished second in the Heisman in his senior year, losing out to BYU QB Ty Detmer.
No. 39: Joe Montana, QB, Notre Dame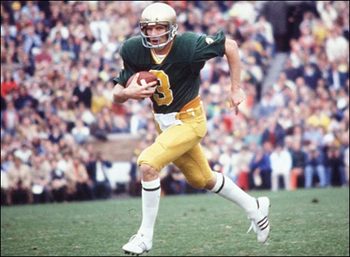 Joe Montana's legendary cool-under-pressure attitude eventually won him the starting job in late comebacks over Air Force, UNC, and Purdue, and he led the Irish to their only national championship under Dan Devine in 1977.
His reputation in taking the Irish back to victory from unthinkable deficits, including the signature win in the Cotton Bowl over Houston, may not have garnered him the individual awards or passing accolades. He never came close to winning the Heisman, and the Irish have fielded better passers from a statistical standpoint.
But he had "it," and that made him one of the best.
No. 38: Deion Sanders, DB, Florida State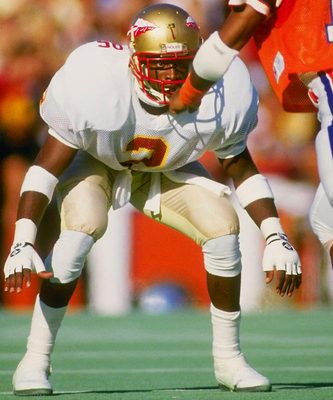 Deion Sanders was a two-time All-American defensive back for the Florida State Seminoles.
During FSU's reign as one of the most ferocious defenses in college football under defensive coordinator Mickey Andrews, Sanders won All-American accolades, took home the Jim Thorpe Award, and also broke Florida State's record for punt return yards, leading the nation in punt return average in 1988.
His prowess in big games—including Fiesta and Sugar Bowl wins over Nebraska and Auburn in his junior and senior years—earned him the nickname "Primetime"
He also excelled in baseball and track, and carried his diverse talents to the professional stage.
Florida State retired his No. 2 jersey in 1995.
No. 37: Mike Reid, DT, Penn State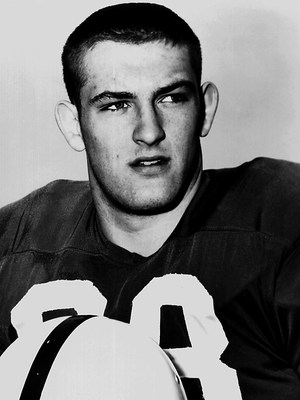 Reid was named an All-American in 1969, and helped the Nittany Lions to back-to-back undefeated seasons in 1968 and 1969.
Also in 1969, Reid won the Outland Trophy for being the best interior lineman in college football and the Maxwell Award for being the top college football player.
In his senior year, Reid lead the Penn State defense with 89 tackles and was a unanimous All-America choice and All-East selection. He also finished fifth in the Heisman Trophy balloting.
Reid made the Sports Illustrated All-Century team as a backup in the defensive tackle spot.
No. 36: Roger Staubach, QB, Navy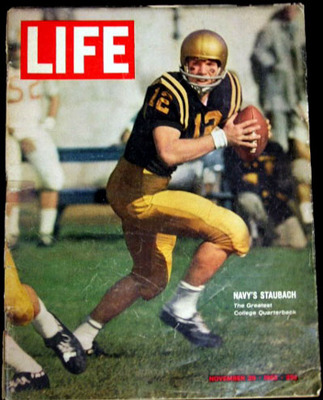 Staubach was hailed by Navy coach Wayne Hardin as "the greatest quarterback Navy ever had."
Roger Dodger led the Midshipmen to their last win over Notre Dame until 2007, two victories in the Army–Navy Game, a 9-1 season, a No. 2 overall ranking, and an appearance in the 1964 Cotton Bowl Classic.
Staubach earned All-American status, taking home the Maxwell trophy and the Heisman trophy in his final year with the Midshipmen. He also enjoyed a lengthy pro career upon graduation from the Naval Academy after his years of service were complete.
Nos. 35 & 34: Matt Leinart and Reggie Bush, QB & RB, USC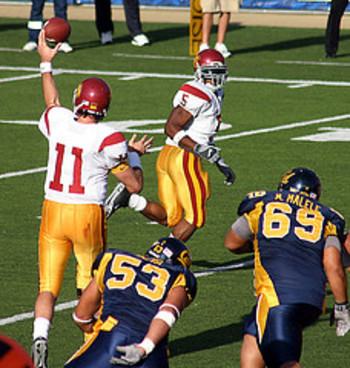 Within the inner workings of the USC offensive juggernaut—the scoring machine that averaged upwards of 40 points per game in 2004 and 2005—it was hard to tell where the one guy stopped and the other guy began.
Reggie Bush was devastating out of the backfield. Matt Leinart couldn't be rattled. Bush was electric on returns. Leinart was deadly accurate downfield.
Bush could juke, leap, dive, spin, burst. Leinart quarterbacked routs, called bold audibles, showed poise, sparked comebacks.
They shared Pac-10 Offensive player of the year honors, and split Heismans between them in back-to-back years.
They led just the second team ever to take a preseason No. 1 ranking and go wire-to-wire.
Their motto was "Leave No Doubt."
There's no doubt the USC offense was intended to do one thing—score—and these two did it all.
No. 33: "Mean" Joe Greene, DT, North Texas State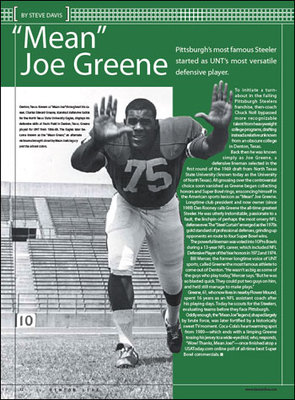 Before he was the anchor in the Steel Curtain, and a friend to young, Coke-peddling Steeler fans everywhere, "Mean Joe" Greene was an outstanding defensive tackle at North Texas State University (now the University of North Texas).
Greene led his the team to a 23-5-1 record during his three seasons as a starter. In his 29 games at defensive tackle, North Texas State's run defense held opponents to 2,507 yards gained on 1,276 rushes. That's a per carry average of less than two yards.
A 1968 consensus All-American, Greene "[had] the ability to make the big defensive play and turn the tempo of a game around...[and] the speed to be an excellent pursuit player," according to his coach.
You know you've made it when the college names its mascot after you; the Mean Greens of North Texas pay homage to Greene's dominance every Saturday on the gridiron.
No. 32: Larry Fitzgerald, WR, Pitt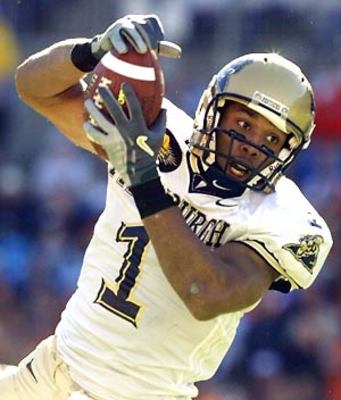 Larry Fitzgerald won the Biletnikoff award for the best wide receiver in college football in 2003.
He was a unanimous 2003 All-America selection and came in second for the prestigious Heisman Trophy, the closest a wide receiver has come since Desmond Howard won the award in 1991. Oklahoma's Jason White won the award by a closely contested margin.
Fitzgerald's numbers are stunning: in 26 games with Pitt, he hauled in 161 passes for 2,677 yards, and set a Pitt record with 34 receiving touchdowns.
Larry the Legend was the only player in Pitt's history with consecutive 1,000-yard receiving seasons, and he set a NCAA record with at least one touchdown catch in 18 straight games.
Fitz tracked the ball down through the air better than many had ever seen, and split the double coverage like he was playing against high school kids. His leaping ability is still churning out highlight-worthy catches in the pros.
No. 31: Mike Rozier, RB, Nebraska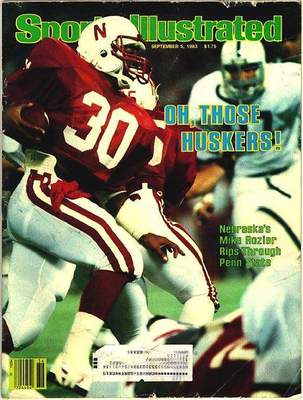 Mike Rozier beat out established back Roger Craig for the starting position as Cornhuskers tailback in his sophomore season.
In his junior year, he broke Bobby Reynolds' school record for yards in a season with 1,687, and helped the Cornhuskers to a 12-0 record, losing to Penn State in the national championship. His efforts landed him at 10th overall in the Heisman ballotting and garnered All-American honors.
Rozier capped his Cornhuskers career by rushing for 2,148 yards on 275 carries, and posting the greatest yards per carry average (7.8) of any running back with more than 110 carries in NCAA history.
His play through hip and ankle injuries in Nebraska's bowl losses to Penn State and Miami lives on in Cornhuskers lore.
All told, Rozier ran for a school-record 4,780 rushing yards in his three-year career, just enough for the Heisman committee to edge him over BYU's Steve Young for the 1983 trophy.
No. 30: Marcus Allen, RB, USC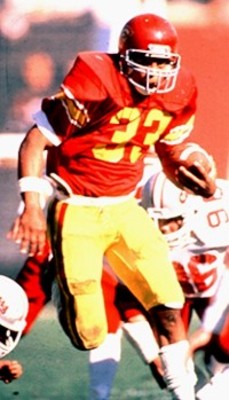 Had Ronnie Lott not switched to defensive back, Marcus Allen might never have become the Heisman trophy winning running back he became at USC.
Lott and Allen were part of the same recruiting class; head coach John Robinson originally had Allen at DB and Lott at RB, but switched the two in camp.
In 1980, as a junior, Allen became the starter for USC, rushing for 1,563 yards, the second most in the nation.
In his senior year, Allen rushed for 2,342 yards, becoming the first player in NCAA history to rush for over 2,000 yards in one season.
He led the nation in scoring, won the Heisman Trophy, the Maxwell Award, the Walter Camp Award and was also the Pac-10 player of the year.
Allen shares the NCAA record for most 200-yard rushing games at 12.
No. 29: Bubba Smith, DT, Michigan State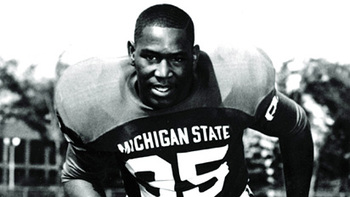 "Kill, Bubba, kill," was the (politically incorrect) chant from the Spartan faithful for the fearsome defensive lineman, who was awarded with All-America honors in 1965 and 1966.
As a junior, Smith led Duffy Daugherty's Spartans to a tie for a National Title after losing the 1966 Rose Bowl to UCLA, 14-12, on January 1, 1966.
In his senior season, the UPI Lineman of the Year helped his Spartans play No. 1 Notre Dame to a 10–10 tie at Spartan Stadium.
Michigan State finished second in the voting behind the Irish, and was voted a share of the national title in a split ballot. He went on to be an All-Pro defensive end for the Colts.
No. 28: Randy Moss, WR, Marshall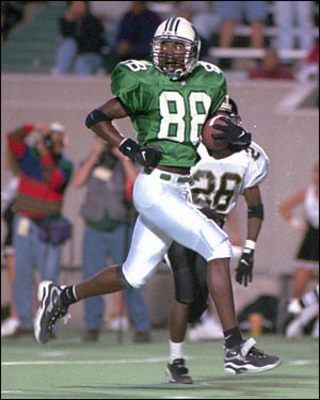 Had he had the patience to stick around, we might be talking about Randy Moss as the greatest college wide receiver of all time.
As it was, Moss played only two seasons for the Marshall Thundering Herd. After a tumultuous matriculation with Florida State in which Moss was involved in a brawl, the huge, lanky wide receiver transferred to 1-AA Marshall to avoid losing a year of eligibility.
He set the NCAA Division I-AA records for most games with a touchdown catch in a season (14), most consecutive games with a touchdown catch (13), most touchdown passes caught in a season (28, tying Jerry Rice), and most receiving yards gained by a freshman in a season (1709 on 78 catches).
Moss was also the leading kickoff returner in Division I-AA with 612 total yards and a 34.0 yard average. The Thundering Herd went undefeated and won the Division I-AA title in its last season, then moved to Division I-A.
In his sophomore year, Moss caught 25 touchdown passes—at the time a Division I-A record—and was a first-team All-American. He had 96 receptions for 1820 yards, and 26 touchdowns. He won the Fred Biletnikoff Award as the nation's leading wide receiver, and was a finalist for the 1997 Heisman Trophy, finishing fourth.
No. 27: Steve "Air" McNair, QB, Alcorn State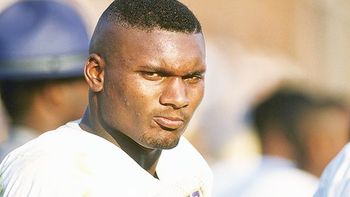 Air McNair put I-AA Alcorn State on the map.
In 1992, McNair threw for 3,541 yards and 29 touchdowns, and ran in for 10 more scores. He backed up that year with another 3,000-plus yard, 30 touchdown season, where he was named First-Team All-SWAC.
But his senior season will be what many remember. In that year, McNair gained nearly 6,000 yards rushing and passing, put up 53 touchdowns, and was named an All-American. He won the Walter Payton Award for the best I-AA player, and finished third in the Heisman Trophy voting behind Colorado's Rashaan Salaam and Penn State's Ki-Jana Carter.
McNair's career 14,496 passing yards and 16,283 total yards, remain 1-AA records, and may never be surpassed.
No. 26: Bo Jackson, RB, Auburn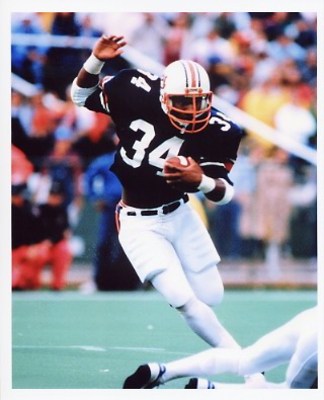 Before he was a favorite of Tecmo Bowl junkies, Bo Jackson rushed for 4,303 career yards (good for fourth-most productive back in SEC history), and finished his career with an average of 6.6 yards per carry, which set the standard in the SEC.
As a sophomore, Jackson posted 1,213 yards on 158 carries. At 7.7 yards per carry, that's the second best single-season average in SEC history.
Jackson finished his sophomore campaign by winning the Sugar Bowl, where he was named Most Valuable Player, also taking home All-American accolades.
He was held out of most of his junior year, but rushed for 1,786 yards, which was the second best single-season performance in SEC history. 1985 also brought the Heisman Trophy to Jackson's doorstep.
But what Jackson will best be remembered for is providing the winning margins in Auburn's victories over hated Alabama. Bo rushed for the game winner as a freshman, ran for 256 yards on 20 carries as a sophomore, and ran for 142 more yards and a pair of carries as a senior, despite two cracked ribs.
He was an All-American, a Walter Camp Award winner, a Chic Harley Award winner, and was named the UPI Player of the Year and the Sporting News Player of the Year.
A lot of players rush for big yards, but Jackson did it when his team needed him most.
No. 25: C.J. Spiller, RB, Clemson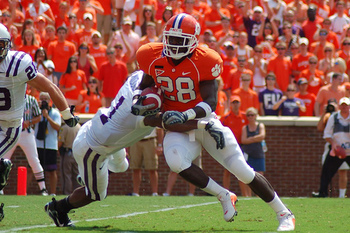 Lethal through the air, shifty on the ground, suicidal to kick to, impossible to avoid, C.J. Spiller's stellar senior season may well land him in one of the three chairs for the Heisman ceremony come December.
He is the only other player besides Reggie Bush to reach 2500 yards rushing, 1500 yards in kickoff returns, 1000 yards receiving and 5000 yards in punt returns, and has tied the national record of kickoff returns for touchdowns with six. After terrific games against Miami and Florida State, he now has 20 career touchdowns of 50 yards or more.
Despite a lackluster junior year, Spiller is on pace to equal or better his stellar freshman season, in which he rushed for 938 yards and 10 touchdowns.
If he can continue the output, he's got himself on pace to become only the fifth player in NCAA history to compile 7,000 yards of statistical production.
And after so many years of preseason regard, Spiller finally has his team in position to succeed in the ACC. The lack of a big stage has hurt Spiller, but it should cast no doubt on his tremendous production or his unquestionable character.
No. 24: Barry Sanders, RB, Oklahoma State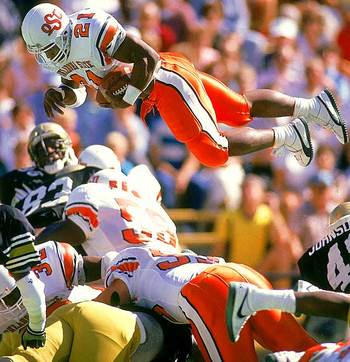 Barry Sanders backed up All-American Thurman Thomas before taking over running back duties in 1988.
In his junior season, Sanders averaged 7.6 yards per carry and over 200 yards per game, and rushed for over 300 yards four times, leading the Cowboys to a 10-2 record and a win in the Holiday Bowl.
His 2,628 rushing yards, 3,249 total yards, 234 points, 39 touchdowns (37 rushing), and five consecutive 200 yard games were all conference- and league-leading records, and still stand.
Sanders also ran for 222 yards and scored five touchdowns in his three quarters of action in the Holiday Bowl, clips of which can be seen below.
His signature carrying stance—non-carrying hand held high in the air for balance, emphasized cuts and jukes, and jaw-dropping speed—were the envy and the emulation of thousands of future running backs who would gather and watch Sanders play every Thanksgiving on national TV.
Sanders easily won the Heisman Trophy over Rodney Peete. But in what would become another signature, Sanders left Oklahoma State without completing his career to enter the NFL draft.
Another season with those kind of numbers, and he could have been the greatest college player of all time.
No. 23: Tom Brown, G/LB, Minnesota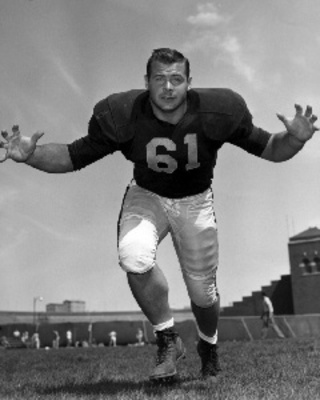 Tom Brown anchored the Golden Gophers' offensive line during their 1960 national championship winning season, including a trip to the Rose Bowl, a year after an 0-10 season.
He finished second in the Heisman Trophy voting, the highest-ever placement for an interior lineman.
He was an old-school player who also spent time at linebacker, and became known as the "Rock of Gibraltar" for his stalwart defensive skills.
On offense, coach Murray Warmath described him as a "rolling boulder," opening gaping lanes for the Minnesota rushing attack.
And he played his best ball in big games. In Minnesota's win over top-ranked Iowa, Brown stopped a Hawkeye drive deep in Minnesota territory with a five-yard tackle for loss. The Gophers then ran behind Brown to a 27-10 victory and a spot on top of the polls.
In addition to his Heisman hype, he took home the Outland Trophy as the nation's best lineman, was a unanimous All-America recogninition, and was the Big Ten's Most Valuable Player.
No. 22: Michael Crabtree, WR, Texas Tech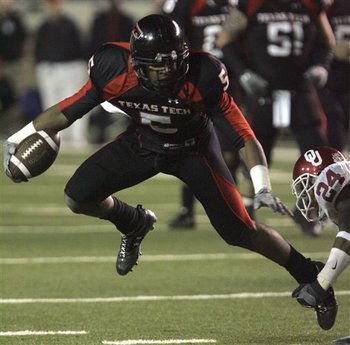 Maybe I completely lack objectivity and long-term vision. Maybe Michael Crabtree is a "system receiver" benefiting from Mike Leach's stats-friendly Airraid offense. Maybe it's just that I love Leach and want to list at least one of his players.
But I think Michael Crabtree, two-time Biletnikoff award winner, All-American, Heisman fifth-place vote-getter, and best of all, singlehanded slayer of the 2008 Texas Longhorns, deserves to be called the greatest.
Crabtree could take jailbreak screens the distance, split double teams, and dance along the sideline. He had speed, vision, intelligence, swagger. He was fun to watch, plain and simple.
I think once his NFL career is done, we'll be able to look back and say he was one of the best.
No. 21: Ricky Williams, RB, Texas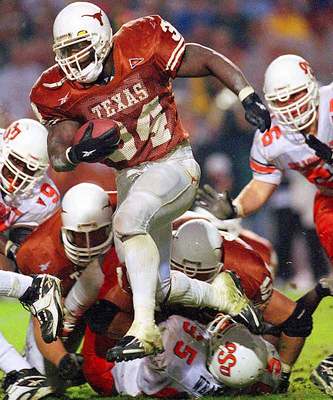 The Texas Tornado broke a variety of NCAA rushing records—most notably career yards—and was unstoppable in upsets over Texas A&M, Nebraska, and rival Oklahoma for the struggling Longhorns.
The All-American Williams' speed in the open field was unmatched, and his ability to break multiple tackles drew many comparisons to Barry Sanders.
He fit the prototypical mold of the undersized but bruising tailback, and won the Maxwell and Heisman awards in his senior year after rushing for 2,124 yards and capping a 72 touchdown career.
No. 20: Danny Wuerffel, QB, Florida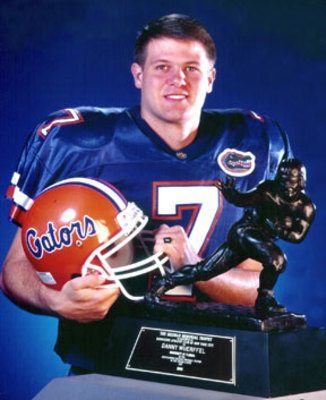 Danny Wuerffel is one of the most celebrated quarterbacks not just at Florida, but in college football history.
He won the Heisman in 1996, throwing for 3,625 yards (an SEC record) for 39 touchdowns (most in the country). His 170.6 efficiency rating made him the first college QB to post a rating of 170 or better in consecutive seasons.
He led the Florida Gators to four consecutive SEC titles in all four years at Florida, and won the national championship in his senior year, beating Florida State 52-20 in the revenge rematch (the unbeaten Seminoles were the Gators' only regular season loss).
Wuerffel was an All-American in 1995 and 1996 and a two-time recipient of the Davey O'Brien Award, as well as a Johnny Unitas Golden Arm Award award winner, given to the nation's top senior QB.
His 10,875 yards and 114 touchdown passes are the most in SEC history and second-most in 1-A division history.
No. 19: OJ Simpson, RB, USC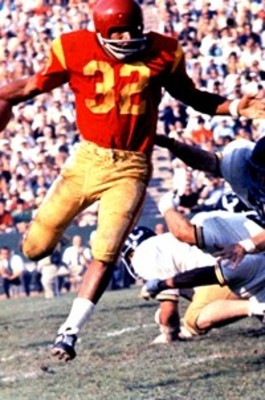 What was so shocking about O.J. Simpson's murder trial wasn't that Simpson was a former running back or All-American. It was that he was a great former running back, one of the best to ever play the game.
Politics surrounded his Heisman snub in favor of UCLA's Gary Beban in 1967; had Beban not won, Simpson likely would have been the first running back to win the award twice.
His breakaway speed propelled him to huge touchdown runs in big games, including wins over UCLA and losses to top-ranked Ohio State in 1969, during which Simpson galloped for an 80-yard touchdown against an NFL-caliber Buckeye defense.
He was still a two-time All-American, winning the Walter Camp Award and Maxwell Award and coming in second to Beban as a junior before winning the award himself as a senior.
The 1,627 points between him and Purdue's Leroy Keyes are still the largest margin of victory for any winner.
No. 18: Doug Flutie, QB, Boston College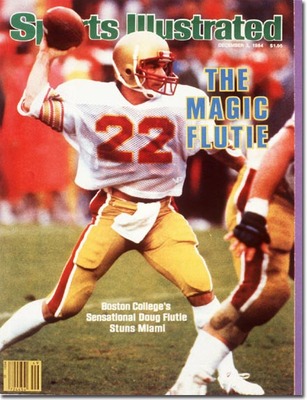 Doug Flutie won the Heisman Trophy and the Davey O'Brien National Quarterback Award in 1984, leaving Boston College as the NCAA's all-time passing yardage leader with 10,579 yards and a consensus All-American.
But the truly remarkable thing about Flutie is that, at 5'10" and under 200 pounds, he accomplished what he accomplished without any of the innate physical gifts that most prolific quarterbacks are born with.
Teddy Roosevelt once said, "Do what you can with what you have where you are," and Flutie did just that.
His hard work was evident to the Heisman trophy voters, who elected Flutie the winner the night before he threw the game-winning Hail Mary touchdown pass to Gerard Phelan to beat Miami in the closing seconds.
Flutie went on to a great NFL career, and had his number, 22, retired by the Boston College football program.
Of course, no slideshow would be complete without this:
No. 17: Earl Campbell, RB, Texas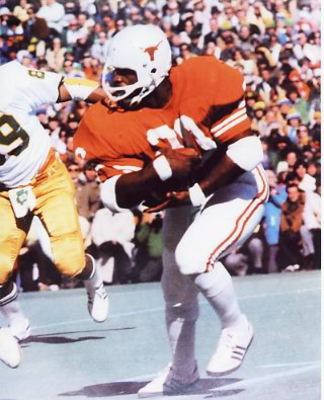 Barry Switzer once said that Earl Campbell was the only player he saw who could have gone straight to the NFL out of high school and not lost a step.
Campbell's uncanny vision for running lanes (and sometimes, his bullheaded creation of them) helped him to the nation-leading 1,744 yards and a Heisman Trophy in 1977, his senior season.
He was twice a consensus All-America choice, and was a First-team All-America selection by the AFCA in 1975.
He finished with 4,444 career rushing yards, the fifth-highest total of any player at the time of his graduation, and led his team to a 10-1 record and an undefeated SWC run in 1977.
No. 16: Tim Tebow, QB, Florida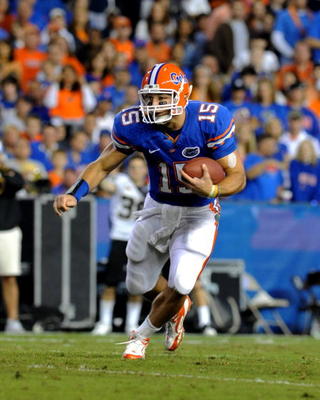 Some players represent only themselves, breaking statistical records and etching their names in the books next to a stat or a vote tally.
Some personify the changing nature of the game as a whole.
Tim Tebow has done both. He holds the SEC record for rushing touchdowns and points scored; was the first player to get 20-plus touchdowns rushing and passing in the SEC; and did it all against the toughest defenses in the nation week-in and week-out.
And he represents the mixture of intelligence and athleticism that we expect from a quarterback, and one that is both modern and timeless. The "ability to win with his arm or his legs" meme continues with Tebow, and will likely never end.
In 100 years, when people wonder what college football looked like at this time, Tebow (for good or ill) will be the player mentioned.
No. 15: Charles Woodson, WR/CB/PR, Michigan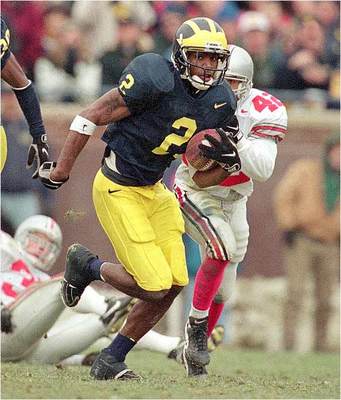 Charles Woodson started the second game of his true freshman season at Michigan, and didn't let up until he intercepted Ryan Leaf in the end zone to help the Wolverines win the Rose Bowl.
He wasn't a great punt returner, but he made it count on the national stage, taking a punt back for a touchdown in "The Game" to provide the winning margin and seal the Big Ten championship in 1997.
He wasn't the greatest defender of all time, but he anchored the best secondary the Wolverines have ever fielded.
He wasn't a legitimate receiving threat—was more often than not a decoy—but teams that didn't defend him rued the day once he streaked over the middle or juked defenders on a look pass.
His Heisman win will be embraced by some and live in infamy for others, but he was the first, and possibly the only, primarily defensive player to ever win. His play set the standard by which all future defensive candidates will be judged.
No. 14: Colt McCoy, QB, Texas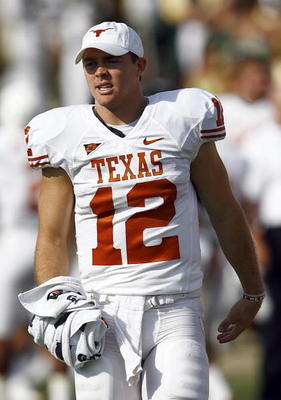 Colt McCoy is currently tied for the most wins by a quarterback with 42.
He's lived in Vince Young's shadow since taking over for "the great one" in 2006, but McCoy has quietly led the Longhorns' transformation from the zone-read to the pass-heavy spread.
He's won numerous in-game and career accolades: Big 12 Freshman of the Year; Offensive MVP honors in the Texas win over Iowa in the Alamo Bowl; Offensive MVP honors in the Fiesta Bowl win over Ohio State, to name a few.
His teams have been in Big 12 contention every year except 2007, when McCoy struggled with inconsistency. He is 3-1 against Oklahoma in the Red River Shootout, and has broken every significant statistical passing record at the University of Texas.
He was the runner up in last year's Heisman race; he might get luckier this year.
And when he does, we'll be able to better realize he's become the face of Texas Longhorns football, no mean feat considering who came before him.
No. 13: Lee Roy Selmon, DT, Oklahoma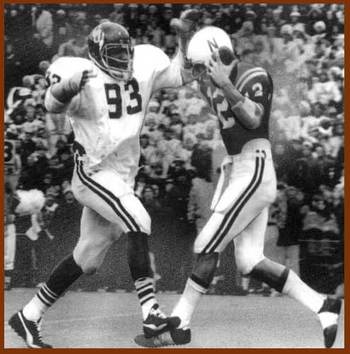 Lee Roy anchored one of the best defenses in Oklahoma history.
The Sooners were NCAA Division I-A national football champions in 1974 and 1975 courtesy of Lee Roy and his brothers, Lucious and Dewey. The Dewey brothers were All-American defensive linemen for Oklahoma, and played on the same defensive line in 1973.
In 1975, Lee Roy won the Lombardi Award and the Outland Trophy for the nation's best defenseman. Sooner Head Coach Barry Switzer called Lee Roy the best player he ever coached. College Football News put him at No. 39 in the list of best college players of all time.
Selmon was named a consensus All-American in 1975.
In 1999, Sports Illustrated named Lee Roy to their All-Century Team at the DT position.
No. 12: Hugh Green, DE, Pitt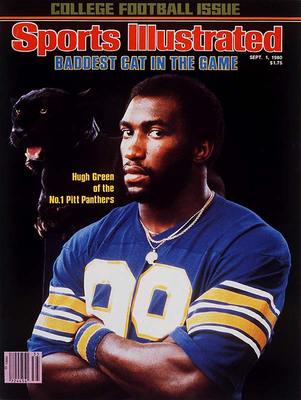 Charles Woodson has players like Hugh Green to thank for paving the way for defensive standouts in the Heisman running.
Green came in second to George Rogers of South Carolina despite Rogers' lack of a signature win, and garnered every other available honor—the Walter Camp Award, the Maxwell Award, the Lombardi Award, the Sporting News Player of the Year, and the UPI Player of the Year—for his eye-popping prowess at defensive end.
In his career, Green was a three-time All-American (making the third team as a freshman), compiling 53 sacks, four interceptions, 24 forced fumbles and 13 fumble recoveries.
He led Pitt to an 11-1 season in 1980 and a Fiesta bowl win, and was a loss to Florida State away from the national championship.
He was drafted seventh overall and made the Pro Bowl in 1982 and 1983.
No. 11: Archie Griffin, RB, Ohio State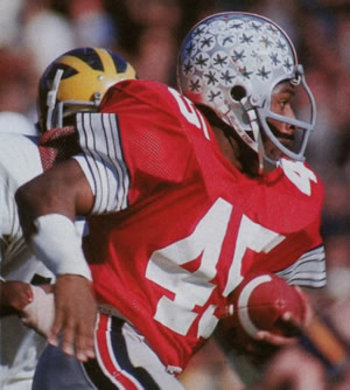 Coach Woody Hayes said of Archie Griffin, "He's a better young man than he is a football player, and he's the best football player I've ever seen."
Griffin led his team in rushing as a freshman with 867 yards. But when the Buckeyes converted to an I-formation offense, Griffin's numbers skyrocketed.
He rushed for 1,428 yards in the regular season as a sophomore, 1,620 as a junior, and 1,357 as a senior. The latter two performances garnered him the only back-to-back Heisman trophy winning performances to date.
Griffin was the only Big Ten running back to lead the conference in rushing for three straight years.
For his career, Griffin tallied 5,589 yards on 924 carries in four seasons, then an NCAA record. He had 6,559 all-purpose yards and scored 26 touchdowns.
Additionally, Griffin is one of only two players in collegiate football history to start four Rose Bowl games.
Over his four-year collegiate career, the three-time All-American and back-to-back Conference MVP rushed for at least 100 yards in an NCAA record 31 consecutive games.
No. 10: John Hannah, G/T, Alabama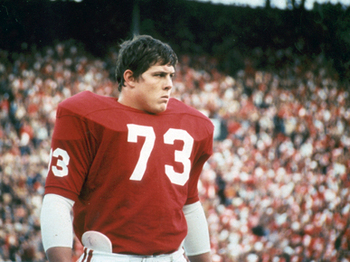 When you're the best Bear Bryant has ever seen play, that should be enough to get you on this list.
But earning All American honors in 1971 and 1972 during SEC-championship winning years will definitely help.
John Hannah was named to the University of Alabama All-Century Team and also to the Alabama 1970s All-Decade team, and was dubbed the "Greatest Offensive Lineman of All Time" by Sports Illustrated in 1981.
No. 9: Tony Dorsett, RB, Pittsburgh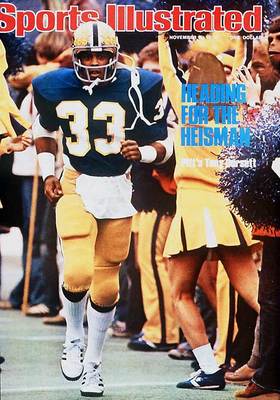 Tony Dorsett picked up the Heisman Trophy, the Maxwell Award, the Walter Camp Award, and the UPI Player of the Year in 1976, leading the nation in rushing with 1,948 yards and helping Pitt to a national championship win over Georgia.
He was a three-time All-American (1973, 1975, 1976) and a Second-team All-American in 1974. Dorsett finished his college career with 6,082 total rushing yards, an NCAA record until Ricky Williams broke it in 1998.
No. 8: Orlando Pace, OT, Ohio State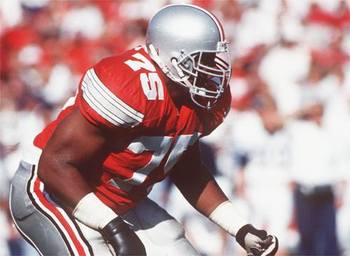 Pace is the only two-time winner of the Lombardi Award, given to the best college lineman or linebacker in the country. He is one of only 12 players to have won both the Outland Trophy and the Lombardi Award in a single year.
A four-year career (Pace started as a true freshman on opening day, only the second Buckeye in history to do so) culminated in a fourth-place finish in the 1996 Heisman Trophy voting, the highest spot for a lineman (offense or defense) since Hugh Green finished second in 1980.
He did not allow a sack in his last two years at Ohio State.
Sports Illustrated selected him as a starting tackle in their "All-Century Team".
No. 7 Dick Butkus, LB, Illinois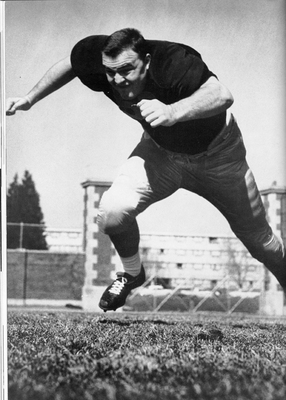 Butkus was feared by both offenses and defenses.
He was a punishing middle linebacker and a ferocious center, leading the Fighting Illini to a Big Ten Championship and a Rose Bowl berth in 1963.
He was twice named a unanimous All-American, in 1963 and '64.
He was the Big Ten's most valuable player in 1964, and finished in the Heisman trophy voting twice, coming as close as third place in the hotly contested 1964 race.
The award for best linebacker in college football is named after him.
No. 6: Tommie Frazier, QB, Nebraska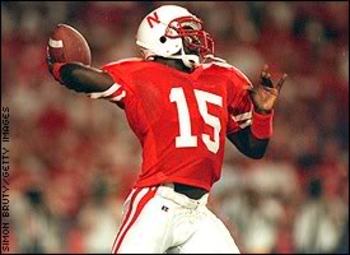 Probably the greatest option quarterback of all time, Tommy Frazier was the first player to lead his team to back-to-back consensus national championships since the 1950s.
In 1993, Frazier was named MVP of the Orange Bowl in a loss to Florida State, where he kept pace with Heisman winner Charlie Ward but lost on a field goal in the final minute.
In 1994, Frazier played through a serious blood clot in his leg that complicated his health in the second half of the season (and ultimately jeopardized his draft status), overcoming the injury to defeat an exhausted Miami defense in the Orange Bowl. He was named MVP of that game as well.
In his senior year, Frazier, Ahman Green and Lawrence Phillips shredded opposing defenses for seven yards per carry on average, leading undefeated Nebraska to the Fiesta Bowl, where the Cornhuskers dominated the Florida Gators 62-24 and took home back-to-back national championships. Frazier capped off the MVP performance with "the run" (clip below).
Frazier lost a tough Heisman race to Eddie George (who was outshined in the Michigan game by Tim Biakabutaka, but still took home the trophy), but his dominance through ground and air places him among the best.
No. 5: Rich Glover, DT, Nebraska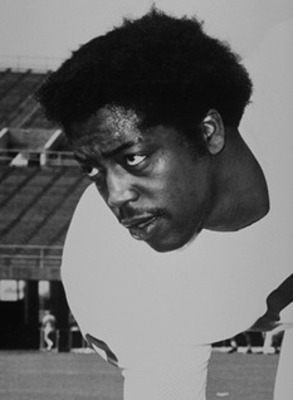 Rich Glover was an All-Century performer for the Nebraska Cornhuskers, anchoring the nose tackle spot during the years of the Blackshirt defense.
Glover won the Outland and Lombardi trophies and was a crucial member of the Nebraska D on the 1970 and 1971 undefeated Husker teams that won consecutive national championships.
Head coach Bob Devaney called Glover "the greatest defensive player I ever saw."
Glover finished third in the Heisman Trophy voting, won by teammate Johnny Rodgers, and was the only defensive player in the top 10.
He was selected to the Nebraska All-Century Football Team and is one of 16 Cornhuskers to have his jersey retired.
Sports Illustrated selected Rich Glover as their starting defensive tackle in their "All-Century Team" alongside—who else?—Bronko Nagurski.
No. 4: Tommy Nobis, LB, Texas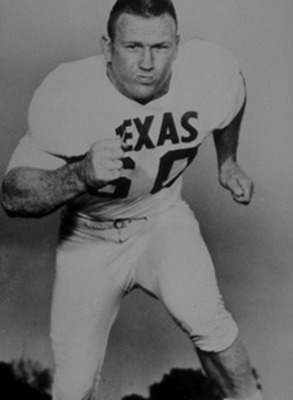 One of the original defensive contenders for the Heisman Trophy (finishing seventh), Tommy Nobis was of college football's all-time greatest linebackers.
Between 1963-65, Nobis averaged almost 20 tackles a game.
Nobis' entire career is full of highlights. He started as a sophomore, and was a crucial part of the Longhorns' 1963 national championship team that defeated Heisman winner Roger Staubach in the Cotton Bowl.
Nobis was a two-time All-American, making the All-Southwest Conference team three times. In the 1965 Orange Bowl, Nobis stuffed Joe Namath on a fourth-and-inches QB sneak, helping the Longhorns hold on to a 21-17 lead and a win.
Tommy Nobis was old-school. He started on both defense and offense, playing guard on the offensive side of the ball and acting as the primary blocker on goalline downs.
Texas coach Darrell Royal called him "the finest two-way player I have ever seen."
Nobis won numerous individual awards, including the Knute Rockne Award, best lineman, the Outland Trophy for best interior lineman, and the Maxwell Award for college football's best player.
No. 3: Dave Rimington, C, Nebraska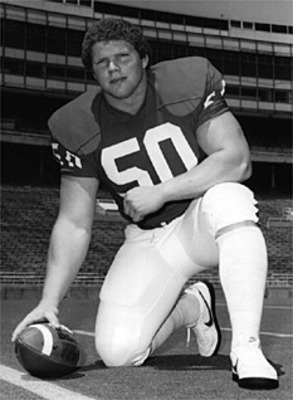 Dave Rimington was a consensus First-Team All-American in 1981 and 1982 for the Nebraska Cornhuskers.
He won the UPI Big Eight Player-of-the-Year and the Big Eight Offensive Player of the Year award, the only time in conference history that a lineman was so honored.
In his senior season, he won the Big Eight Athlete of the Year and the UPI National Lineman of the year.
Rimington is the only two-time winner of the Outland Trophy, given to the nation's top offensive lineman. He also won the Lombardi Award in 1982 and placed fifth in the balloting for the Heisman Trophy.
Rimington's No. 50 jersey was retired by the team after his graduation; he is one of only 16 Cornhuskers ever so honored.
An award given to the nation's top center in a given year is named in Rimington's honor.
No. 2: Herschel Walker, RB, Georgia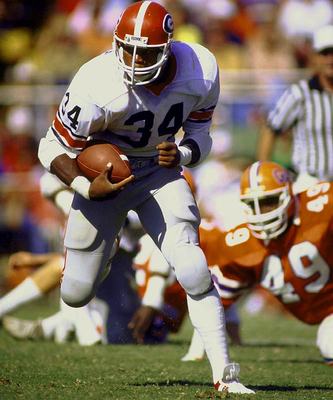 Tim Tebow groupies are always advised to keep in mind that Tebow's 56 rushing touchdowns (and counting) bested Herschel Walker's record, but Walker only needed three years.
The Georgia phenom rushed for 5,259 yards in three seasons and scored 55 touchdowns in only 33 regular season games.
In his freshman year, Walker broke out big and lead the Georgia Bulldogs to an undefeated, national championship winning season. In 1982, he won the Heisman Trophy (after finishing in third in 1980 as a freshman, and second in 1981), beating Stanford's John Elway.
His punishing style of running, blended with evasiveness and speed, gave him numerous weapons with which to find the end zone.
No. 1: Vince Young, QB, Texas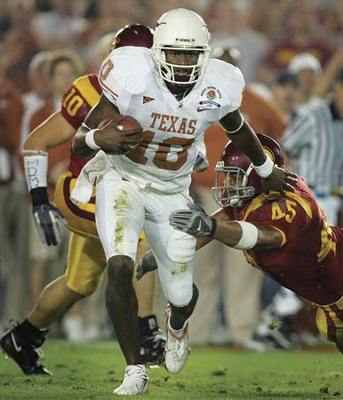 Vince Young's outstanding college career is made all the more poignant by his struggles in the pros.
Young was bigger than life and the best at his position, quarterbacking the highest profile use of the zone-read to gashing perfection.
His prowess as a passer is routinely forgotten, but it was he who changed Texas from an I-formation to a shotgun, three-back set, out of which Young passed for 1,839 yards a sophomore and 3,036 yards as a junior, finishing as the #1 overall rated QB in the nation.
His game-winning scamper to the endzone to seal the back-to-back Rose Bowl wins and the national championship is one of the greatest plays in college football history.
Texas retired his #10 jersey in 2008.
The Next Greatest...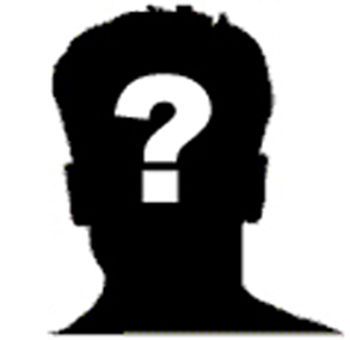 Out there is an athlete none of us have heard of yet.
He will be the greatest at his position. He will change how the game is played.
He will be reckless, destructive, intelligent, explosive, unselfish, inspiring.
He might play for USC, Florida, or Ohio State. He might play for McNeese State, Delaware, or North Texas.
But in an era of Youtube, Twitter, Rivals, Scout; when much can still travel by word of mouth; it is our obligation to find this player, to make sure he gets the recognition and resources he deserves.
Keep Reading