New Jersey Nets: Scrap Brooklyn and Rebuild in the Bronx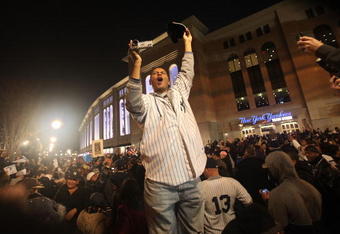 Mario Tama/Getty Images
In light of the Yankees winning the World Series, a random thought came about: the New Jersey Nets.
Yes, I know, the Nets are possibly the worst team in the NBA right now and are lottery bound (which I will touch on later). But one can't help but look at the old Yankee Stadium and realize that there is room for two stadiums in the area.
I know it sounds crazy to all Brooklyn natives, but the real drive for bringing a sports franchise to Brooklyn is built on a parallel to my thought: a baseball team.
The Brooklyn Dodgers are the reason why people want to resurrect a franchise in a borough that I must admit is remodeling by the day, but I say let the past be the past and move on to something more adventurous and innovative.
The New York Yankees are the winning-est franchise in all of sports. The mystique of the Bronx is a sense of being a champion. The New Jersey Nets are a team in rebuilding mode.
It would be an excellent business move because both the Yankees and Nets are partners through the YES network. Both entities being right across the street from one another would be breathtaking.
The Brooklyn situation is taking a bit long to finalize. They won't have a stadium ready by next year for the LeBron James sweepstakes, which indicates to me that he won't be a Net. Reason being, LeBron is too much of a star to play in the Swamp called The Meadowlands. Even if they move to Newark temporarily, it won't be the grand entrance that a player of James' caliber would need.
At the rate the Nets are going now, they are sure to have a Top Three pick in the 2010 Draft. Everyone is looking for Dwyane Wade, Chris Bosh, and James, but no one understands that there is a kid at Kentucky by the name of John Wall (if you don't know by now), that in my opinion is better than Derrick Rose and has the capacity to be a Dwyane Wade-type of player for sure.
If they happen to land the top pick, draft John Wall and you have potentially the next Dwyane Wade at an extremely reduced rate. This would be great if they temporarily moved to Newark because he will develop and be a star by the time the new arena is built in the Bronx.
This will give you flexibility now because you have a star already as a rookie (check out Brandon Jennings) and now you still have Devin Harris locked up through the 2012-2013 season. A backcourt of Wall and Harris would be hard to stop. Now enter July 1, 2010.
Chris Bosh would be a great pairing with Brook Lopez on the block. He should be the No. 1 target, unless the miraculous does happen (signing LeBron James).
If Amare or Dirk opt out of their respective contracts, then they should be the next line of targets. Honestly, I think it would be an easier sell to a Dirk Nowitzki, to tell him he would be playing across the street from the prestige that is the New York Yankees. In fact, LeBron is a noted Yankee fan, and I believe this would be an excellent sell for him and a great excuse for him to leave Cleveland.
If a deal can be struck to build a new arena in place of where the old Yankee Stadium stands, it will be a great marketing ploy to great players such as James, Wade, Dirk, or anyone for that matter. They will somehow think that the great luck will be left behind on those hallowed grounds.
Brooklyn Nets has a nice ring to it, but under my logic to Nets fans everywhere, they should prefer the New York Nets as was in the ABA days of Julius Erving. The potential is limitless in this situation. There will be lots of ping pong balls in the machine for the Nets this year, and looking at the television seeing A-Rod and Derek Jeter hoisting that World Series Trophy this year made me feel like a basketball team should be in the Bronx.
This article is
What is the duplicate article?
Why is this article offensive?
Where is this article plagiarized from?
Why is this article poorly edited?

Brooklyn Nets: Like this team?