Many of college basketball's top players are focused on the upcoming NCAA tournament, but interest in June's 2016 NBA draft is beginning to pick up as well.
Several NBA teams are already well aware of the fact the playoffs aren't a realistic possibility, which means draft preparations have likely begun in earnest, especially for organizations such as the Philadelphia 76ers and the Los Angeles Lakers.
ESPN.com NBA draft guru Chad Ford released his fourth mock draft of the season Tuesday, and while much of the order remains unsettled due to trades and the potential for the standings to change significantly between now and the end of the campaign, a multitude of intriguing scenarios were laid out.
With the stretch run for both college basketball and the NBA very much on the horizon, here is a full rundown of Ford's latest first-round mock, along with a closer look at some of the most newsworthy selections.
Chad Ford's 4th 2016 NBA Mock Draft: Round 1

| | | |
| --- | --- | --- |
| Pick | Team | Player |
| 1 | Philadelphia 76ers | Ben Simmons, F, LSU |
| 2 | Los Angeles Lakers | Brandon Ingram, F, Duke |
| 3 | Phoenix Suns | Dragan Bender, F, Croatia |
| 4 | Boston Celtics (via Nets) | Jamal Murray, G, Kentucky |
| 5 | Minnesota Timberwolves | Henry Ellenson, F, Marquette |
| 6 | Denver Nuggets (via Knicks) | Jaylen Brown, F, California |
| 7 | New Orleans Pelicans | Buddy Hield, G, Oklahoma |
| 8 | Milwaukee Bucks | Kris Dunn, G, Providence |
| 9 | Toronto Raptors (via Nuggets thru Knicks) | Jakob Poeltl, C, Utah |
| 10 | Sacramento Kings | Furkan Korkmaz, F, Turkey |
| 11 | Orlando Magic | Marquese Chriss, F, Washington |
| 12 | Phoenix Suns (via Wizards) | Deyonta Davis, F, Michigan State |
| 13 | Houston Rockets | Diamond Stone, C, Maryland |
| 14 | Detroit Pistons | Ivan Rabb, F, California |
| 15 | Utah Jazz | Denzel Valentine, F, Michigan State |
| 16 | Boston Celtics (via Mavericks) | Skal Labissiere, C, Kentucky |
| 17 | Portland Trail Blazers | Timothe Luwawu, F, France |
| 18 | Chicago Bulls | Wade Baldwin IV, G, Vanderbilt |
| 19 | Charlotte Hornets | Caris LeVert, F, Michigan |
| 20 | Indiana Pacers | Demetrius Jackson, G, Notre Dame |
| 21 | Atlanta Hawks | Jonathan Jeanne, C, France |
| 22 | Memphis Grizzlies | Thomas Bryant, C, Indiana |
| 23 | Philadelphia 76ers (via Heat) | Dejounte Murray, G, Washington |
| 24 | Boston Celtics | Ante Zizic, C, Croatia |
| 25 | Los Angeles Clippers | Grayson Allen, G, Duke |
| 26 | Toronto Raptors | Domantas Sabonis, F, Gonzaga |
| 27 | Philadelphia 76ers (via Thunder) | Isaia Cordinier, G, France |
| 28 | Phoenix Suns (via Cavaliers) | Damian Jones, F, Vanderbilt |
| 29 | San Antonio Spurs | Stephen Zimmerman, C, UNLV |
| 30 | Golden State Warriors | Jarrod Uthoff, F, Iowa |
ESPN.com
No. 1 Philadelphia 76ers: Ben Simmons
While LSU hasn't enjoyed the type of season many expected, that is through no fault of Ben Simmons, who has proven to be one of the best and most versatile players in the nation as a freshman.
The 6'10" Aussie has been as good as advertised with per-game averages of 19.7 points, 11.9 rebounds and 5.1 assists to go along with a shooting percentage of 56.6 percent.
His do-everything style would be a great fit for any NBA team, but especially the struggling Sixers. Philly has a great deal of frontcourt talent, including Jahlil Okafor, Nerlens Noel and the oft-injured Joel Embiid, but Simmons brings something entirely different to the table.
As evidenced by this stat, courtesy of ESPN College Basketball, Simmons excels in essentially all facets of the game:
Ben Simmons is the 1st major conference player to record 20-10-5 for the 4th time in 1 season since Draymond Green. pic.twitter.com/WCzghDnaBg

— ESPN College BBall (@ESPNCBB) February 24, 2016
His combination of scoring and rebounding has also consistently been the best in major college basketball all season, per SportsCenter:
Ben Simmons posts his 21st double-double of the season leading all major conference players in that category. pic.twitter.com/b19Z6YgBa7

— SportsCenter (@SportsCenter) March 2, 2016
Philadelphia is currently lacking a true scorer aside from Okafor, and it has no great facilitators. In spite of Simmons' height, though, he is an excellent passer capable of running the offense.
The Sixers are still a few pieces away from making the playoffs, but if they are lucky enough to land the No. 1 overall pick, then their rebuilding efforts should finally pay dividends.
Simmons is a special talent, and even though the Tigers have had their ups and downs in 2015-16, his draft stock seemingly hasn't changed from where it was entering the campaign.
No. 2 Los Angeles Lakers: Brandon Ingram
There were plenty of question marks surrounding Duke entering the 2015-16 season, but thanks largely to the play of Brandon Ingram, the Blue Devils remain players in the ACC and the national title picture.
The freshman wing has been among the most dominant first-year players in the country this season with 16.9 points, 6.8 rebounds, 1.9 assists, 1.4 blocks and 1.1 steals per contest. He produces in essentially all categories, and he has shown an inside-out game that should translate well to the next level.
According to ESPN College Basketball, Ingram also joined an exclusive club in the long and storied history of Duke basketball:
Brandon Ingram and Shane Battier are the only Duke players to record 50+ 3 pointers & 40+ blocks in a single season. pic.twitter.com/zLAwkxR4lR

— ESPN College BBall (@ESPNCBB) February 26, 2016
The odds currently favor the Lakers to end up with the No. 2 overall pick in the draft, and the player they select will likely be looked upon as one of the guys who must take the reins in the post-Kobe Bryant era.
Ingram and Kobe are extremely different players, but Ingram is a great shooter like the Black Mamba, even with a 6'9" frame, as he is connecting on 40.6 percent of his three-point attempts this season.
When combined with guard D'Angelo Russell and forward Julius Randle, Ingram would give L.A. a fantastic nucleus that could help the organization return to prominence in the near future.
No. 4 Boston Celtics: Jamal Murray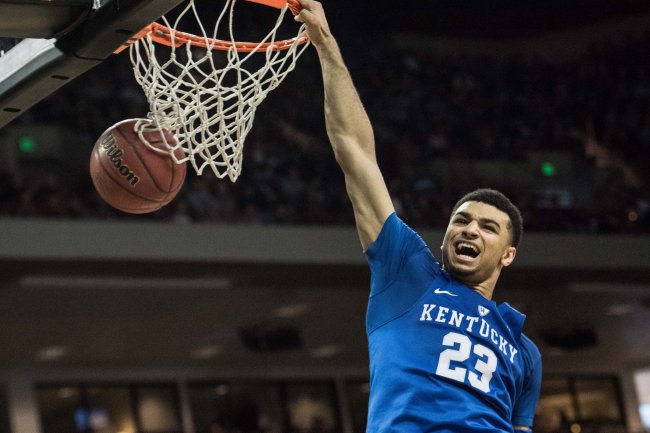 Sean Rayford/Associated Press
Standing out as an individual hasn't been easy at Kentucky under head coach John Calipari due to the remarkable teams he has put together, but Jamal Murray is bucking that trend this year.
The freshman guard from Canada is on an absolute tear currently, and he is putting up 19.9 points, 5.0 rebounds and 2.1 assists per game to go along with a spectacular three-point shooting percentage of 41.9 percent.
Murray has a penchant for heating up and taking over games, which is something he has done more often than any other freshman during Calipari's tenure, according to ESPN Stats & Info:
A Kentucky freshman has scored 33+ points in a game 4 times in school history. 3 of those were by Jamal Murray (other was Terrence Jones)

— ESPN Stats & Info (@ESPNStatsInfo) February 27, 2016
It took Murray a bit of time to acclimate himself to the college game, as he got off to a sluggish start, but he has proven nearly impossible to stop in recent weeks.
Per Kentucky Basketball on Twitter, Murray is on the best scoring streak the Wildcats have seen in seven years:
Jamal Murray now has nine straight games of 20 points or more. That's the longest streak since Jodie Meeks did it nine straight in 2008-09.

— Kentucky Basketball (@KentuckyMBB) March 2, 2016
The Celtics are well ahead of the curve in terms of their development, as they are currently 36-25, which is good for third in the Eastern Conference.
They have a strong core, but a lights-out shooter would certainly help the cause since they are just 26th in the NBA with a three-point shooting percentage of 33.4 percent.
Murray would help significantly in that regard, and he could form a potentially great tandem with All-Star Isaiah Thomas, who excels at breaking down defenses with his dribbling.
The C's are fortunate to have the Brooklyn Nets' first-round pick this year, which gives them a chance to land an elite prospect. Murray is among them, and he would provide Boston with a major missing element.
No. 7 New Orleans Pelicans: Buddy Hield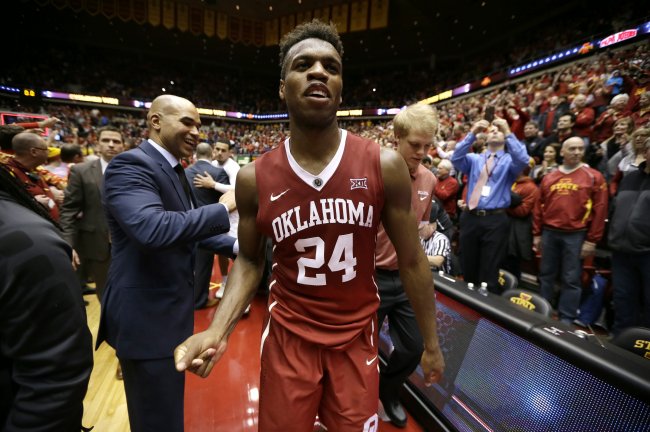 Charlie Neibergall/Associated Press
Buddy Hield surprised many when he decided to return to Oklahoma for his senior season, but with national player of the year honors potentially in his future, he has seemingly boosted his draft stock in a big way.
The sharpshooting superstar is averaging 25.3 points per game, which is a number that is made even more impressive by the fact that he converts 49.3 percent of his shots despite firing up nearly 17 attempts per game, and 47.6 percent of his three-point tries.
Hield is also making 89 percent of his free throws, which is an area of his game that has improved significantly during his time at Oklahoma.
The native of the Bahamas has been excellent throughout his collegiate career, but he has taken things to another level in 2015-16 and established himself as one of the greatest scorers in Big 12 history, according to ESPNU:
Buddy Hield scores 23 points in his final home game as Sooners def. Baylor 73-71. pic.twitter.com/BWWjGkYXKY

— ESPNU (@ESPNU) March 2, 2016
While Hield's on-court play has been fantastic this season, an anonymous scout told Bleacher Report's C.J. Moore his character may be just as appealing to NBA teams: "There's more and more teams that are focused on their cultures in the locker room. He's a guy that you're never going to have to make an exception for as far as that's concerned."
One team that could use some positivity as it struggles through a disappointing year is the New Orleans Pelicans. The Pels were expected to make progress in the Western Conference after reaching the playoffs last season, but they are just 23-35.
Anthony Davis is a stud; however, he could use some outside support, which is something Hield is capable of providing in spades.
With shooters like Eric Gordon and Ryan Anderson set to hit free agency, New Orleans may need help in that area, and Hield is an ideal option in that regard.
No. 16 Boston Celtics: Skal Labissiere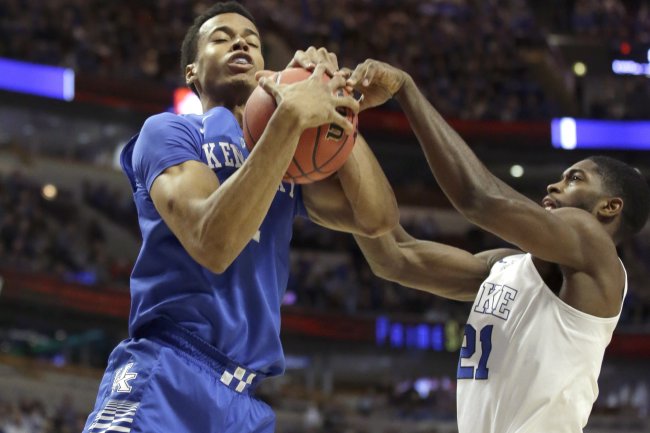 Nam Y. Huh/Associated Press
Aside from Simmons, Skal Labissiere may have been the most highly touted freshman in the nation entering 2015-16, but his struggles have been evident.
The 6'11" Haitian hasn't yet developed into a dominant force for the Wildcats, and his averages of 6.4 points and just 3.0 rebounds per game in 15.8 minutes per contest reflect that.
According to Kyle Tucker of the Courier-Journal, Calipari believes Labissiere is finally coming to the realization that thriving at the collegiate level is a totally different animal than high school:
I'm gonna say this: He can do it; it's very hard, though. What he's finding out, kind of like Jamal (Murray) found out ... and most of these guys: What got you here to Kentucky isn't going to get you where you want to go. You gotta start doing things, you gotta work harder, you gotta be more focused.
Things may be finally starting to click for Labissiere, as he produced 11 points and eight boards in a start against Florida on Tuesday.
There is no question Labissiere is a project, but his potential is through the roof, which is why a team will likely gamble on him in the first round should he declare.
Since the Celtics have a trio of first-round picks, Ford sees them taking a chance on Labissiere at No. 16.
It would be a seemingly good fit since Boston needs frontcourt depth, but it can afford to let Labissiere develop behind Kelly Olynyk as well as Jared Sullinger should he be retained.
Also, former Butler and current Celtics head coach Brad Stevens is regarded as one of the best in the game, and he may be precisely the type of mentor Labissiere needs to reach his high ceiling.
Follow @MikeChiari on Twitter.