Zenit St. Petersburg-Rubin Kazan: Wasted Opportunities
July 25, 2009
It was a short week for Zenit St. Petersburg, but a busy one to say the least. After trudging out of Chechnya on Sunday with a 3-2 defeat to Terek Grozny at the last minute, the team headed back home.
But they would soon be joined by a new face. Only a day after the loss, Zenit signed Belarusian striker Sergei Kornilenko from Tom Tomsk. The 26-year-old was inked to a 5-year contract. Kornilenko, who has been an effective goal scorer in any league he's played in, is expected to be ready by August 1.
That's no help for the upcoming match against Russian leaders Rubin Kazan, however.
Portuguese central defender Fernando Meira would not be available, after receiving another yellow card in stoppage time against Terek, but starting goalkeeper Vyacheslav Malafeev would be returning to action after an injury during a friendly in Austria.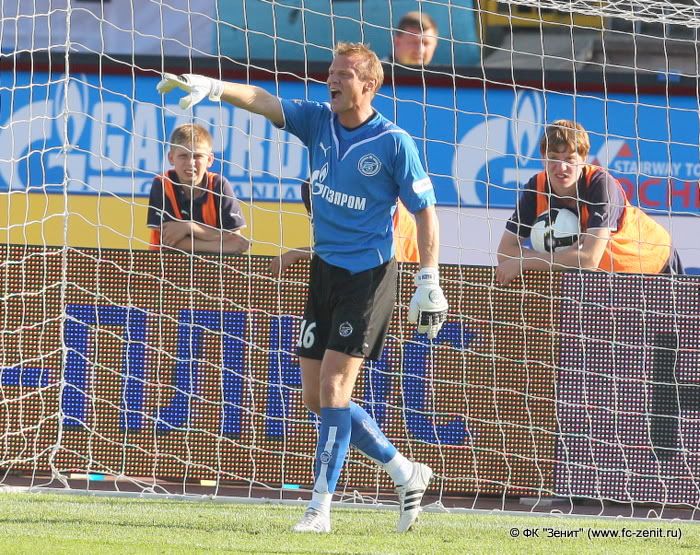 Welcome back, Captain Malafeev!
Zenit would need to have an extra step against the top team, but coming home to the Petrovsky Stadium would be a huge advantage. The team had played to a mark of 5-1-0 on the 2009 campaign.
Rubin Kazan is also coming off a loss. After gaining an early second half lead at home against CSKA Moscow, they gave up two late goals.
Both teams will be starting a 4-5-1, and the match day weather couldn't have been much nicer. Aleksei Nikolayev is the referee facing over 21,000 strong, all wearing sky blue.
Zenit begins the match with an absolutely jaw-dropping chance, as Roman Shirokov forces Rubin keeper Sergei Ryzhikov to make a save. He gives up a juicy rebound as he falls to the ground, but Pavel Pogrebnyak fires a shot about ten feet over the cage from three feet out.
Rubin tries to replicate Zenit's early opportunity, but Zenit defenders are having none of it. The men in scarlet gain a free-kick and a corner to follow, but can't do much with either as both attempts are cleared without Malafeev needing to make a save.
Early yellow cards are awarded to Zenit, Szabolcs Huszti and Aleksandr Anyukov are both in the book for too aggressive challenges.
Both sides are committed to playing staunch defense, so the offensive chances are very limited and poor when they come. A pair of corners are given to both teams in the first 20 minutes, but none have the slightest bit of hope.
Shirokov creates another scoring chance in the 27th minute, as he unleashes a rocket on net, forcing Ryzhikov to make a spectacular save. Groans from the crowd. They feel that Zenit should be leading 2-0 now.
Rubin defender Cesar picks up a card after a forceful challenge on Pogrebnyak. Zenit has now moved ahead of Rubin in the corners category. Huszti has done a very nice job so far delivering balls inside, only nobody has been able to capitalize.
A few minutes before halftime, Zenit again is getting forward and earns a corner kick. Huszti flicks it in and Shirokov manages to get open again, but his header misses and he collapses in pain. It isn't clear what exactly happened. Shirokov quickly walks off the pitch, both hands on his face, and he is now bleeding at the eye.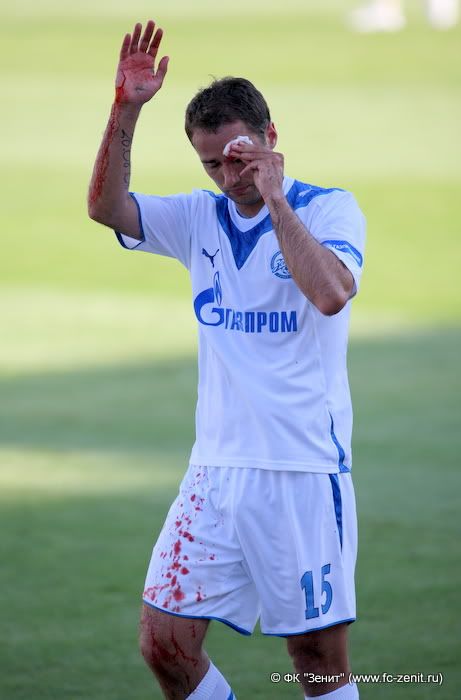 Shirokov waves to the Petrovsky faithful as he leaves the pitch.
Team medics deem that he is not able to return, and young midfielder Victor Fayzulin will take his place.
Zenit keeps the pressure on, as Rubin is finding very few opportunities to get forward. Pogrebnyak makes a mess of another chance inside before halftime. The half officially ends as Pascha and Rubin defender Lasha Salukvadze collide in mid-air. No score.
Halftime Notes
Pavel Pogrebnyak possibly played his worst half of football the entire season. He should have scored easily on two seperate occasions.
Szabolcs Huszti has proved he belongs in the starting line. If he made a mistake so far, not many people could find it.
Vyacheslav Malafeev has not been seriously tested at all. He hasn't even faced a shot on net yet.
The referees clearly want to keep the physical play out of the game, as three yellows have already been given.
If Rubin are supposed to be the better side, they haven't shown anything like it so far. Zenit has out-chanced them and out-worked them.
Zenit begins the second half, once more controlling the play. A corner is immediately earned by Konstantin Zyryanov, who has had a quiet match so far. The attempt is feebly cleared away.
Two yellow cards go to Rubin in the first 15 minutes of the half. Zenit's corner attempts are rocketing, as they have already tripled Rubin in that statistic. After the card on Georgian defender Dato Kvirkvelia, Igor Semshov barely misses a short-range shot, just wide of the right post.
Zenit are all over Rubin in their own half, moving the ball sharply with one-touch passes galore. But unfortunately, Kvirkvelia decides he's seen enough of the passing clinic and fouls Semshov very hard.
That's his second yellow card in three minutes, and he trots off the pitch leaving Rubin with ten men.
Two substitutes are made in the 76th minute, as Zenit striker Fatih Tekke returns for the first time in several months, replacing Huszti. Rubin brings on Russian international Roman Adamov, and it is immediately obvious that he should have started the match in the first place.
Szabolcs Huszti, the Pride of Hungary.
Adamov launches a one-man attack in stoppage time right after Zenit had a free kick attempt blocked. The 6'3" striker forces his way to the side of the cage and then tries to set up a teammate instead, who hit the post.
Zenit tries one more time to get upfield and score, but it all dissolves quickly and the match ends in a 0-0 draw. The home crowd begins to file out, unhappy with the result, as they know full well that they should have had a victory.
But points are better than no points, and the need for a striker who can finish his chances becomes even more blaring for Zenit. The debut of Kornilenko next week will be a welcome sight for many. Hopefully though, he is not the only new member by that time.
Final Time Notes
Zenit finished with 12 corner kicks, to two for Rubin Kazan. The possession time was 58 percent in favor of Zenit, but it seemed like far more than that. Zenit finished with 13 shots, seven on goal. Rubin had three shots, none on net.
Zenit will now travel to face suddenly impressive Saturn Moscow. The Planets have scored six times in their past two matches, wins over Kryliya Sovetov and Rostov.
Match Ratings
GK Malafeev: 6. He was hardly tested today but made the necessary plays.
D Krizanac: 6.5. More comfortable handling the ball than most central defenders. Even managed to get upfield a few times.
D Lombaerts: 7. Did very little wrong in his first full game back. Said after the match "we had our opportunities but just couldn't score".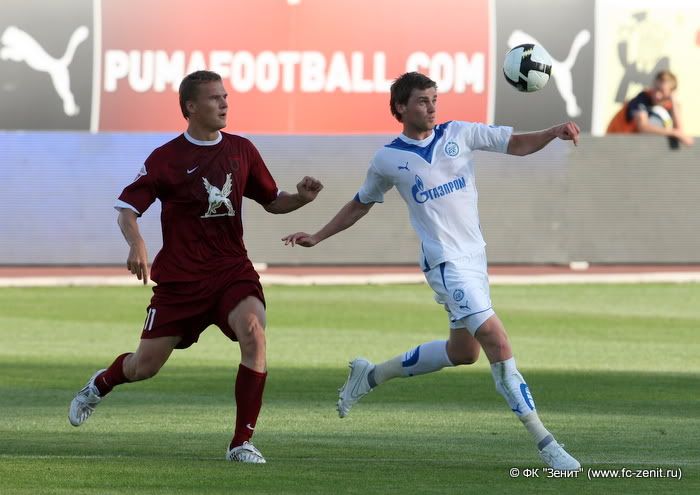 Rock solid Belgian defense.
D Kim: 6.5. Did his part to get forward.
D Anyukov: 8. The Russian international wing-back was the best player on the field.
M Denisov: 7.5. Did a terrific job shutting down Rubin in the midfield.
M Zyryanov: 6. Never hurt the team performance but didn't help it. Said "we were very unlucky today".
M Huszti: 7. Terrific balls off corner kicks.
M Shirokov: 7. Had his fair share of scoring chances before departing.
F Pogrebnyak: 3. Dismal performance. Did nothing of value and badly missed his chances.
F Tekke: 5. Touched the ball once when he came in.
M Fayzulin: 5. Not effective in replacing Shirokov whatsoever.