Arsene Wenger refused to confirm or rule out additional signings before the transfer window closes on Monday, igniting reports Arsenal will try to land Radamel Falcao and Adrien Rabiot in the next three days.
The Gunners boss spoke cryptically during his pre-match press conference ahead of his side's tie with Leicester on Sunday, amid reports that Roma have stolen a march on Arsenal for Rabiot.
Arsenal are, however, said to be in the clear for an attempt at signing Falcao after Real Madrid allegedly ditched their interest, reported by Spanish radio Cadena COPE, per Tom Conn of Inside Spanish Football.
Gianluca Di Marzio of Sky Sport Italia believes the Spanish club remain front-runners, but confirms "Arsenal are in the race too."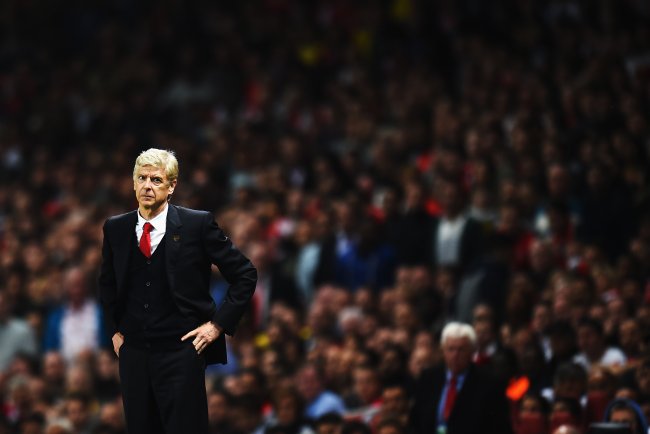 Shaun Botterill/Getty Images
Wenger was quizzed over his intentions to bring in a new striker but responded in guarded fashion, per Arsenal's official Twitter account:
Wenger: "We have @Yayasanogoal22, we have @Alexis_Sanchez, we have @theowalcott, we have @Podolski10" http://t.co/Kg4sqi68NR #LCFCvAFC

— Arsenal FC (@Arsenal) August 29, 2014
With Olivier Giroud's long-term injury confirmed, per Simon Rice of The Independent, Wenger would be wise to add a powerful striker to his ranks. He addressed the difficulty of landing a player like Falcao, tweeted by Kevin Palmer of the Sunday World:
Wenger on Falcao: "It is very difficult to go into all that because once again all the negotiations need to be as secret as possible" #AFC

— Kevin Palmer (@kpsundayworld) August 29, 2014
Midfield is also an area of concern. Arsenal possess an array of creative, ball-playing individuals but lack physicality in the centre.
A defensive midfield type is desperately needed—with Sami Khedira and William Carvalho reportedly targeted, per Matt Law of The Telegraph—and it seems Rabiot is a genuine target.
Jonathan Johnson of ESPN FC suggests Arsenal are ready to snatch the 19-year-old away from Paris Saint-Germain, but later highlighted a report from L'Equipe claiming Roma have agreed a deal for the PSG youngster:
L'Equipe: Arsenal have officially made contact with PSG for Adrien Rabiot. Wenger does not want to antagonise PSG who want between €10m-12m.

— Jonathan Johnson (@Jon_LeGossip) August 29, 2014
L'Equipe report with the news of Roma & PSG's agreement for Arsenal target Adrien Rabiot - http://t.co/OumYKgRCey - €15m fee. #PSG #ASR #AFC

— Jonathan Johnson (@Jon_LeGossip) August 29, 2014
Roma must now agree personal terms with Adrien Rabiot, so it is not done & dusted yet. But looks like Garcia might have beaten Wenger to it.

— Jonathan Johnson (@Jon_LeGossip) August 29, 2014
The press took advantage of the chance to speak to Wenger about Rabiot, although James Olley of the London Evening Standard highlighted the Frenchman's unwillingness to disclose information:
Q I'll put one name to you: Adrien Rabiot. Wenger: "I'll put one answer. I'm not telling you."

— James Olley (@JamesOlley) August 29, 2014
John Cross of the Mirror believes the manager's inability to rule out a move hints at a genuine interest in the player:
Wenger transfer bingo. Didn't deny Rabiot. Didn't confirm either. On the Wenger transfer gauge, seems like it has a chance... #afc

— John Cross (@johncrossmirror) August 29, 2014
Wenger was keen to highlight Arsenal's increased transfer activity over the past two seasons, per Arsenal's tweet:
Wenger: "We have shown in the last two seasons that if there are [players to buy], we will do it" http://t.co/Kg4sqi68NR #LCFCvAFC

— Arsenal FC (@Arsenal) August 29, 2014
Major purchases such as Mesut Ozil and Alexis Sanchez have arrived after the Emirates Stadium bill was paid off, returning the financial focus to star players. Wenger isn't afraid to invest heavily in youth, as we saw with his acquisition of Calum Chambers in July, and appears ready to act when the right players become available.
He will keep an eye on the market until the very last opportunity, per the club's Twitter account:
Wenger: "I will actively be involved on deadline day. I will be on alert until the last minute" http://t.co/Kg4sqi68NR #LCFCvAFC

— Arsenal FC (@Arsenal) August 29, 2014
Such a revelation ensures Arsenal fans will need to brace themselves until the midnight deadline passes on Monday. Wenger signed Ozil during deadline day last year, a transfer that initially provided the team with a real boost of confidence.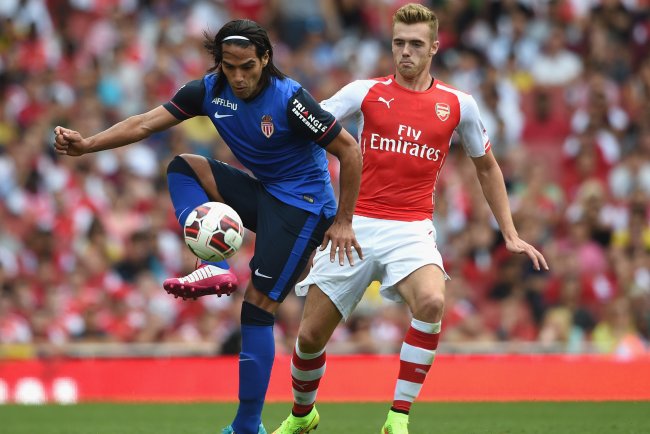 Michael Regan/Getty Images
While Rabiot would need to work extremely hard to maintain a place in the first team, Falcao is exactly the type of signing who could galvanise Arsenal's chances of success. He is a world-class finisher and would make a real difference around the opposition's box.
Wenger indicates he is ready to pull out a last-second coup once more, even if he wishes to skirt around the issue for as long as possible.