Chelsea will not sign Roma centre-forward Mattia Destro, which will benefit Blues young gun Stipe Perica.
"It's true that Chelsea are interested in Mattia," Destro's agent Renzo Contratto said, per The Telegraph. "[But] Roma don't want to sell Mattia and Mattia prefers to remain at Roma."
Bad news for Chelsea as Mattia Destro's agent pours cold water on rumours linking him with a move to Stamford Bridge. pic.twitter.com/Fr9RTBIPeV

— bwin (@bwin) August 21, 2014
Embarking on a second loan spell at NAC Breda, here is a scouting report on Perica, a 19-year-old, 6'4", 168-pound Croatian youth international.
Today's loan news: @JMcEachran20 to @MijnVitesse Stipe Perica to NAC Breda & @MM_MarkoMarin to @ACF_Fiorentina all season long #CFC

— Gigi Salmon (@gigi_salmon) August 18, 2014
Perica Positives
Arriving from NK Zadar in 2013, Chelsea have unearthed a gem in Perica.
In a select comparison with four other promising teenage No. 9s who played 15 league games or more last season, Perica was statistically the most dominant.
Perica was No. 1 in goals scored, total shots and shots inside the area per 90 minutes, according to Squawka.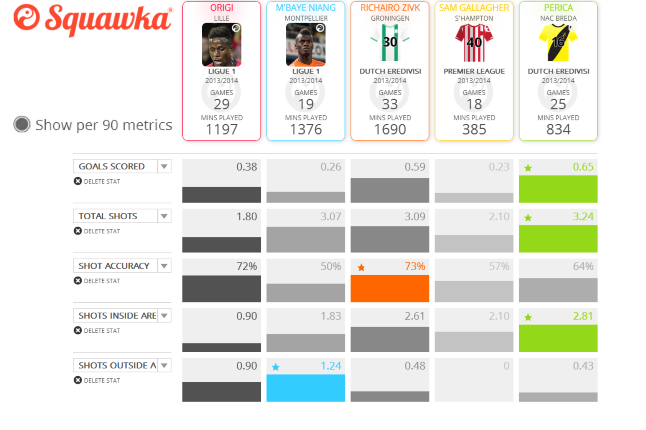 Credit: Squawka.com
Perica is passionate and resilient.
"I do not feel any pressure. I'm ready," Perica said, per BN DeStem (h/t Himanshu Dhingra at Football Oranje). "I like it when people expect something from me."
Perica was a man among boys in one play against Groningen, winning the ball with his chest, and then sliding the ball into the net.
Using his length to his advantage against Roda, Perica chested the ball and effortlessly finished.
Forcefully challenging then-Roda (now Dordrecht) goalkeeper Filip Kurto, Perica demonstrated his willingness to put in the hard yards.
There were three takeaways when Perica latched on to then-NAC Breda (now Heerenveen) centre-back/central midfielder Jordy Buijs' free-kick against Heracles Almelo.
Perica's awareness to complete a crafty run.
Determination to shrug off a challenge.
Athleticism to head home.
Sneaking in behind Groningen centre-back Johan Kappelhof, Perica was ruthlessly opportunistic when the ball deflected into his path.
Breaking Go Ahead Eagles' offside trap, Perica raced through on goal and confidently clipped the ball over Vitesse's Eagles loanee Eloy Room.
NAC manager Nebojsa Gudelj rates Perica highly.
"I really believe in Stipe," Gudelj said, per Voetbal International (h/t Sky Sports). "He is one year older than last year, has more experience and can be of great value for us."
Last season, Perica backed up ADO Den Haag loanee Rydell Poepon and found a niche as a super-sub.
5 - Chelsea loanee Stipe Perica (NAC) has scored all his 5 goals as a sub, more than any other player in the Eredivisie this season. Impact.

— OptaJohan (@OptaJohan) February 8, 2014
Poepon returned to ADO and transferred to Valenciennes.
OFFICIEL : Sekou Baradji et Rydell Poepon au #VAFC ! http://t.co/geczRrxEIw pic.twitter.com/XdK2jYYd3V

— Valenciennes FC (@VAFCofficiel) August 8, 2014
50 - After Rydell Poepon's departure, no current Eredivisie player has scored more than 50 Eredivisie goals. Renewal.

— OptaJohan (@OptaJohan) August 6, 2014
NAC's current centre-forward is 20-year-old Kingsley Boateng, who is a rough diamond.
This increases the chances of Perica transitioning from impact sub to a regular starter under Gudelj.
Photo: Kingsley Boateng signs a 3-year contract with NAC Breda: #InBoccaAlLupo @Boateng59 pic.twitter.com/eEQGlcoi4N

— AC Milan News (@Milanello) July 3, 2014
Perica Negatives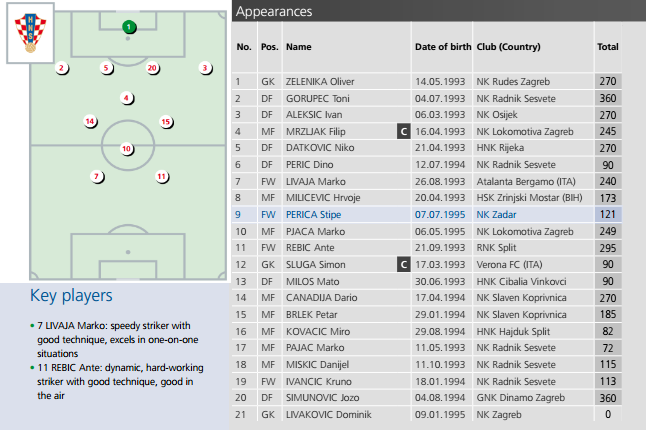 Credit: FIFA.com
While Perica was a 17-year-old at the 2013 FIFA U-20 World Cup, he was not selected as a key player by the technical study group, per FIFA.
His youthfulness is not a valid excuse since Iraq's Humam Tariq, who is seven months younger, was highlighted as a key player by the TSG, per FIFA: "Dynamic, hard-working and competitive midfielder with good vision and technique."
There are holes in his game, which the TSG probably scrutinised thus leading to Perica's omission from the key players list.
Last season for NAC, Perica gave away possession 44.8 percent of the time he passed.
This is a significant problem since he is not an effective operator in NAC's build-up play.
In addition, Perica turned over the ball 73 percent of the time he dribbled, per Squawka.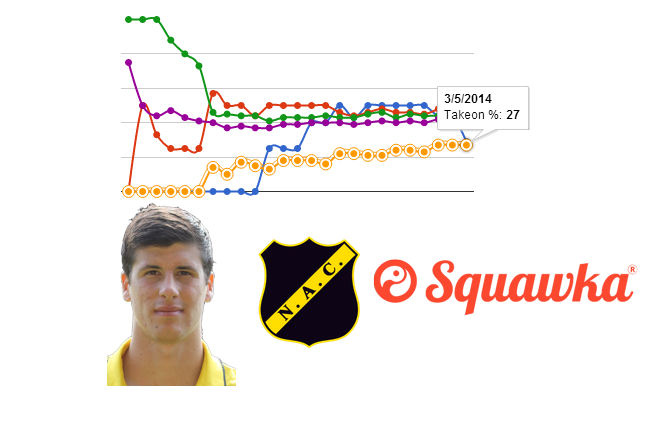 Credit: Squawka.com
In comparison, Destro is one of the best young centre-forwards in the game.
His goals per 90 minutes is 0.13 higher than Chelsea centre-forward Diego Costa, per Squawka.
That gives you an idea why Chelsea tried to sign Destro.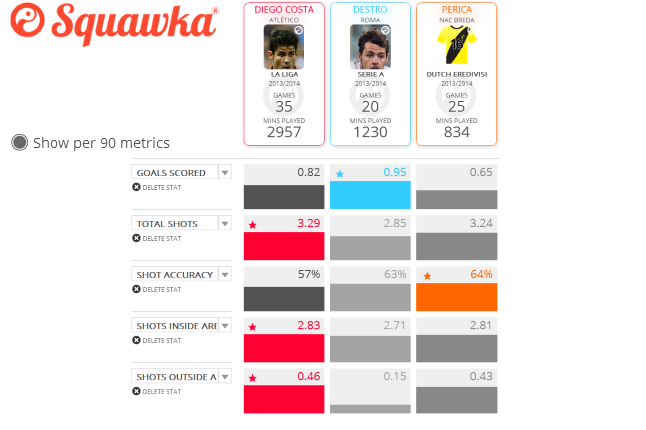 Credit: Squawka.com
Bottom Line
Perica has the characteristics of a prototypical Jose Mourinho centre-forward: aggressive, tall, mobile and a scorer.
When Perica joins the Chelsea first-team, he will bolster the Blues' status as the joint-tallest team in the Premier League, per Rohan Banerjee (h/t Richard Arrowsmith at the Daily Mail).
Perica has proven he can score goals in limited minutes, a role Romelu Lukaku refused.
"He [Lukaku] wanted to play for Chelsea but clearly only as the first choice striker," Mourinho said, per Martin Lipton at the Daily Mirror. "He was not highly motivated to come to a competitive situation."
Perica is highly motivated, ambitious and constantly works hard.
Of course it is a blow to miss out on a budding star like Destro.
Though, it might be a blessing in disguise.
Vandaag in @BNDeStemSport een interview van @yadranblanco met Stipe Perica. "NAC is mijn tweede huis." #NACpraat pic.twitter.com/7cRKjRNy4l

— NAC Breda Official (@NACnl) August 19, 2014
Stipe Perica siert vandaag de cover van De Klok. Pik er een op bij binnenkomst van het stadion! #NACpraat #NACutr pic.twitter.com/3vnTi4kuXz

— NAC Breda Official (@NACnl) March 28, 2014
Perica has begun his second-straight loan spell at NAC.
He has built up a strong rapport with his team-mates and has the backing of management, per Voetbal International (h/t Gerrit van Leeuwen at Sky Sports).
With the No. 9 position up for grabs at NAC, Perica is poised for a breakout season.
Think long-term: Perica has the upside to develop into a better centre-forward than Destro.
Statistics via WhoScored