On the cusp of the 2014 PGA Championship, the WGC-Bridgestone Invitational gives the best golfers in the world a chance to prove themselves ahead of the big event.
The tournament in Akron, Ohio is much more than a simple warm-up, though. With players such as Rory McIlroy, Tiger Woods and Adam Scott all in the field, this weekend is a true test for the game's shining stars.
After McIlroy blistered his way through the British Open to win his third major, he's beaming with confidence. But if he plans on making good on his goal of winning two majors when the season started, a fine showing heading into the final round at Firestone Country Club will be crucial.
Bridgestone promises to feature more than a few surprises on Day 4. With the charge for Sunday already underway, here's a look at the daily leaderboard throughout the tournament.
WGC-Bridgestone Invitational Leaderboard

| | | | | | | |
| --- | --- | --- | --- | --- | --- | --- |
| Pos. | Name | Score | R1 | R2 | R3 | R4 |
| 1 | Rory McIlroy | -15 | 69 | 64 | 66 | 66 |
| 2 | Sergio Garcia | -13 | 68 | 61 | 67 | 71 |
| 3 | Marc Leishman | -12 | 64 | 69 | 68 | 67 |
| T4 | Charl Schwartzel | -9 | 65 | 69 | 73 | 64 |
| T4 | Patrick Reed | -9 | 68 | 67 | 67 | 69 |
| T4 | Keegan Bradley | -9 | 68 | 67 | 67 | 69 |
| T4 | Justin Rose | -9 | 65 | 67 | 70 | 69 |
| T8 | Graeme McDowell | -7 | 71 | 70 | 66 | 66 |
| T8 | Rickie Fowler | -7 | 67 | 67 | 72 | 67 |
| T8 | Ryan Moore | -7 | 65 | 73 | 68 | 67 |
| T8 | Adam Scott | -7 | 69 | 68 | 65 | 71 |
PGA.com
Day 4 Recap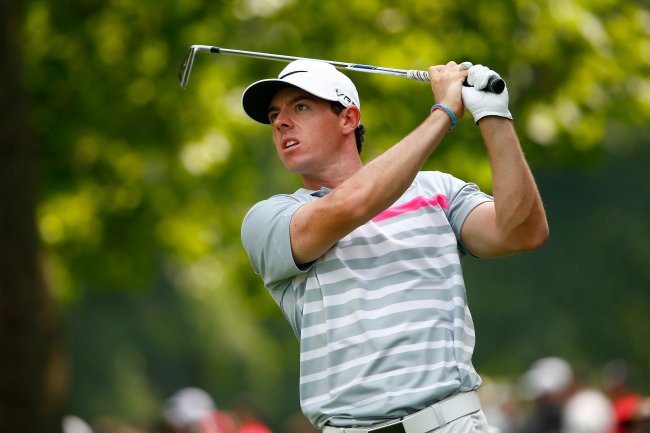 Sam Greenwood/Getty Images
For the second straight tournament, Rory McIlroy's name was firmly atop the leaderboard after the final round at the WGC-Bridgestone Invitational.
After capturing his third major at The Open, McIlroy overtook Sergio Garcia on Sunday to win the prestigious tournament. McIlroy's victory earns him the No. 1 ranking in the world, as PGA Tour notes:
Rory McIlroy just won his 8th TOUR title... And became World No. 1... And won his second straight event. #PGATOUR pic.twitter.com/pZqsbQCabM

— PGA TOUR (@PGATOUR) August 3, 2014
A rough start to the season has clearly turned around for McIlroy. Heading into the final major of the season, this was the surge he needed to retain the same confidence he had at Royal Liverpool.
One of the biggest reason for the victory for the Northern Irish player was his driving game. Prior to the start of the round, McIlroy spoke about that part of his game, per Steve DiMeglio of USA Today:
I've never driven the ball better. I'm excited. I really am. I feel really comfortable with that part of my game, and that part of my game is the foundation of my game. If I can drive the ball well, everything else seems to sort of float on from there, and you can see I'm pretty confident throughout my game.
While his initial shot has been nearly perfect over the last few weeks, McIlroy also bolstered that with great putting. He wasn't left with many difficult shots on the day for par or birdies, but the 25-year-old secured nearly every one.
The British Open winner has been on a tear as of late and looks like the best player on the tour. Heading into the PGA Championship, McIlroy is once again the player to watch in search of his second major of the season.
As for Garcia, he played second fiddle yet again to McIlroy on Sunday. Holding onto the lead coming into the day, Garcia was unable to close the door and secured another second-place finish behind McIlroy.
Garcia came away with several shots that helped him remain in contention, but one was memorable for a completely different reason. After missing the fairway completely, Garcia hit a woman and knocked off her diamond ring in the process.
While there was plenty of good news for players near the top of the leaderboard, the most famous name in golf was once again forced to withdraw.
Tiger Woods, just three tournaments after returning from back surgery at Congressional, was forced to retire yet again due to a back injury. The PGA Tour's official Twitter account reported the news:
BREAKING: After grimacing in pain after his tee shot on No. 9, Tiger Woods has withdrawn from the @WGC_Bridgestone. pic.twitter.com/BkaouUhMwo

— PGA TOUR (@PGATOUR) August 3, 2014
Woods was the fourth player to withdraw from the tournament, including Jason Day and Ben Crane. He has not issued news on whether or not he'll participate in the PGA Championship or Ryder Cup if he's chosen.
If Woods is forced to withdraw from the PGA Championship, it would be his third major missed this season. But no word has been issued on this time about the severity of the injury and if he'll be sidelined.
As for another popular face in the golf world, Phil Mickelson surged up the leaderboard in the final round. Lefty finished with 10 birdies to earn an eight-under 62 and secure a good finish at five-under on the weekend.
Jason Sobel of the Golf Channel provides some analysis from the huge change for Mickelson on Sunday:
One day after admitting, "I'm not making many birdies," Phil Mickelson makes 10 of 'em and shoots 62. Golf, man.

— Jason Sobel (@JasonSobelGC) August 3, 2014
Following a huge run to get back inside the top 20 on Sunday, Mickelson should have confidence heading into the PGA Championship. And with another strong finish from both McIlroy and Garcia, both players could be in the final grouping again at Valhalla Golf Club.
Day 3 Recap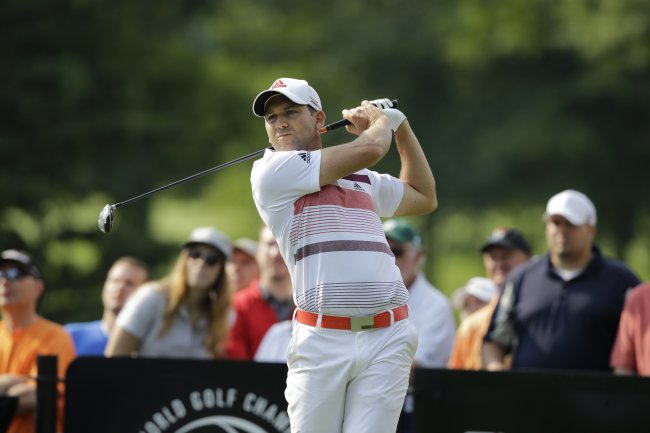 Mark Duncan/Associated Press
Although Sergio Garcia did not keep up his incredible pace from the second round, he was still able to keep his lead thanks to a 67 on Saturday.
The top players had to deal with an extended break due to inclement weather:
Third-round play at @WGC_Bridgestone has been suspended due to weather at 12:43 p.m. ET.

— PGA TOUR (@PGATOUR) August 2, 2014
It was more than three hours before the final groups were able to get back onto the course:
Range is open. Players will resume at 4:00 p.m. ET #WGCBI

— WGC_Bridgestone (@WGC_Bridgestone) August 2, 2014
Fortunately, the rain did not seem to affect Garcia too much, as he was able to tally pars on his final three holes.
Throughout the day, he continued his excellent approaches, like this shot on No. 11:
McIlroy—who made up a lot of ground with a second round of 64—was almost as good Saturday, finishing with a 66. He finished with back-to-back birdies to move into sole possession of second place.
Based on his recent success, the young golfer should be able to put plenty of pressure on Garcia in the final group on Sunday. Marc Leishman kept pace as well throughout the day, but a bogey on the final hole will make it tough to catch up to the leader.
Keegan Bradley remained in contention thanks to one of the best shots of the tournament. On the second hole, he came astonishingly close to an albatross but had to settle for a tap-in eagle:
Meanwhile, fellow major champions Justin Rose and Adam Scott also had strong outings and have an opportunity to catch Garcia heading into the final day.
Rickie Fowler and Charl Schwartzel lost some traction after mediocre performances, although they each had a better showing than Woods. The superstar got off to a good start in the tournament with a 68, but he carded a 71 and 72 in the past two rounds.
Despite falling out of contention, Woods said he is still happy with his play, via Brian Wacker of PGATour.com:
I just need more reps. I'm actually getting better the more rounds I'm playing. I'm actually getting my feel back.

I'm hitting more shots pin high right on the numbers. I just need to convert. If I putt normal the last two days, I shoot 2, 3 under par, no problem.
While he is clearly too far behind to catch up to the leaders in this tournament, it's only a matter of time until he is once again a favorite at all the big events. Still, Jason Sobel of Golf Channel joked about how much the tables have turned for Woods and an old adversary:
How much have things changed in the last few years? Tiger can't get it in play off the tee and Sergio can't miss a putt.

— Jason Sobel (@JasonSobelGC) August 2, 2014
This event has become something of a one-man race with Garcia putting himself in great position to bring home his first PGA title of the year. However, a leaderboard filled with big names guarantees that it will not be easy on the final day at Firestone Country Club.
Day 2 Recap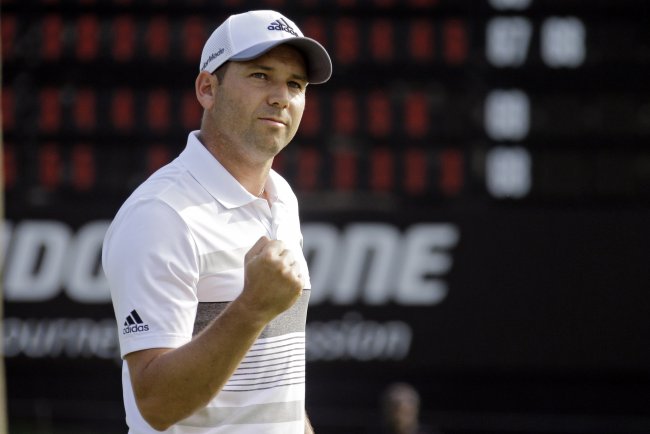 Mark Duncan/Associated Press
After a solid first day and a half in Akron, Sergio Garcia woke up with an incredible back nine to take control of the lead at the WGC-Bridgestone Invitational.
Garcia birdied his last seven holes and finished with a 27 on the back nine to help him get a new personal best:
18-hole score of 61, also a career best for @TheSergioGarcia - leads by 3 @WGC_Bridgestone

— PGA TOUR Media (@PGATOURmedia) August 1, 2014
The European Tour points out how well the Spanish star was performing in the short game:
Make that 11 consecutive 1 putts as @TheSergioGarcia pours in another at 18 to finish -11, shoot a 61 and birdie 8 of his final 9 #DrClaw

— The European Tour (@EuropeanTour) August 1, 2014
Avoiding three-putts is usually a good way to succeed, but going this long without a two-putt is simply incredible.
Shane Bacon of Yahoo Sports thinks this will lead to plenty of success for the veteran player:
Sergio Garcia has now one-putted his last nine holes. This dude might win this week. And next week.

— Shane Bacon (@shanebacon) August 1, 2014
When he is hitting shots like this, Garcia will be extremely difficult to beat:
Of course, this tournament is far from over. Justin Rose remains in contention as well after his solid 67 that featured four birdies and a par. Through two rounds, the English golfer is still not sure about his strategy, via Tim Warsinskey of The Cleveland Plain Dealer:
The course offers up a lot of birdies, too, right now with it being soft. So you can look at it both ways. Do you stay aggressive to make birdies, or do you try and keep it really solid?

I'm kind of doing right in the middle. I feel like I've certainly made some mistakes and my short game's got me out of trouble at times, but I think you have to stay aggressive right now and look at the birdies rather than try to play mistake free golf. That's my mentality, I think, at the moment.
Based on the talent on the leaderboard, he might need to stay very aggressive in order to not fall down the list.
Marc Leishman and Charl Schwartzel have had success in the past, but the young guns might represent the biggest threats for Garcia as Rickie Fowler, Rory McIlroy and Patrick Reed are all in striking distance.
Fowler had one of the best shots of the day on No. 2, earning himself an eagle after this incredible approach:
Meanwhile, McIlroy was crushing his driver and was able to consistently get to the green in regulation. After his success at the Open Championship, the superstar has kept his momentum as he looks to win more titles.
Keegan Bradley, Adam Scott, Jim Furyk and other big names are also close to the top of the leaderboard and have the ability to post low scores at any times. Even Bubba Watson and Tiger Woods are within range of a comeback, and we know how well Woods has done at this type of events in the past:
Tiger Woods has won 18 World Golf Championships, the most all-time. Geoff Ogilvy is next with 3 such wins

— ESPN Stats & Info (@ESPNStatsInfo) July 31, 2014
Even with a solid three-stroke lead heading into the weekend, Garcia is a long way from clinching this tournament.
Day 1 Recap
From the start of the tournament, it was clear that low scores were possible at Firestone Country Club.
Patrick Reed, a player who boasted about being a top-five golfer earlier this season, finally returned to form on Thursday. After his strong round, Reed was close to the top of the leaderboard with a three-under 67.
Alluding to the comments from March, Jason Sobel of the Golf Channel pointed out what the start means for Reed:
Patrick Reed leads at Firestone. Results since declaring himself a "top-five player": T-52, MC, T-48, MC, MC, MC, T-35, MC, T-11, T-26, MC.

— Jason Sobel (@JasonSobelGC) July 31, 2014
As for the implications moving forward, Reed could be solidifying a spot on the Ryder Cup team.
Shane Bacon of Yahoo notes exactly what he'll need to put his name in the running:
It's early, early, early, but Patrick Reed is leading, and a win jumps him over Zach Johnson for the last auto spot for Team USA.

— Shane Bacon (@shanebacon) July 31, 2014
With the PGA Championship beginning next week, Reed will need a good showing to have a chance at making the Ryder Cup team.
Matt Kuchar also registered a low score on the morning to put his name near the top of the leaderboard. One of the best shots of the morning came from Kuchar, as the PGA Tour passes along:
Matt Kuchar is one back at the @WGC_Bridgestone. Here he gets up and down for birdie from 174 at No. 14: http://t.co/a99YxzNNG2 #PGATOUR

— PGA TOUR (@PGATOUR) July 31, 2014
Along with Reed, another high-riser at the start of the tournament was Ryan Moore. The American finished with just one birdie through the back nine early, but torched his way through the front nine with an additional four birdies.
While some like Reed and Kuchar experienced hiccups along the way, Moore never had a bogey on the afternoon. Moore was also one of the early leaders on the day, as Golf Channel notes:
After getting hot on the front (his 2nd) nine, Ryan Moore takes clubhouse lead with 65. #WGCBridgestone Scores: http://t.co/RkGfQx9r4A

— Golf Channel (@GolfChannel) July 31, 2014
Several early low scores were no contest for what Marc Leishman would do on the course.
The 30-year-old finished with a six-under 64 to lead all players at the end of the first round. Though Leishman experienced issues on the seventh and 18th holes, he leveled those off with eight birdies to blow past the field.
Leishman spoke about his opening round, per Tim Warsinskey of The Plain Dealer:
I drove the ball well. It makes this course a lot easier when you're on the fairway. It's pretty tough when you're playing from the rough.

Then I hit my irons really well and was rolling the ball awesome. So it's a pretty good combination for a tough golf course like this. Something I can hopefully keep going.
They weren't at the top of the leaderboard, but Woods, Rickie Fowler and McIlroy all put together consistent opening rounds.
For Fowler, the 25-year-old continued his solid play this season by finishing inside the top five with a round of three-under par. After finishing second twice at the U.S. Open and British Open, he's once again in contention.
Woods, on the other hand, had a wild opening round. Though he finished at two-under on the day, Tim Sullivan of The Courier Journal breaks down the round:
Tiger Woods shoots an eventful 68 (-2) at Bridgestone Invitational. Missed six of 14 fairways; had 6 birdies, 2 bogeys and a double bogey.

— Tim Sullivan (@TimSullivan714) July 31, 2014
Following his British Open title, McIlroy looked like a prizefighter at Firestone with a one-under round to stay within the top 15 on Thursday afternoon. McIlroy is well on his way to another solid tournament if he can put together another strong second round.
With Leishman taking the early lead on Thursday, he'll have to hold off several notable names looking to make a charge. There will be no cuts at the Bridgestone Invitational, so each of the players will remain on the course through the weekend.
As the multitude of players look for a win ahead of the Ryder Cup and PGA Championship, the action is sure to heat up in Akron.
Follow @RCorySmith on Twitter.