Take a moment and ready yourself, because DuJuan Harris brought the cuteness something fierce this weekend.
The Green Bay Packers running back participated in the team's annual ride-a-neighborhood-kid's-bike-to-camp tradition Saturday.
The Associated Press took some achingly precious pictures of Harris and a little girl who offered her bike to the team.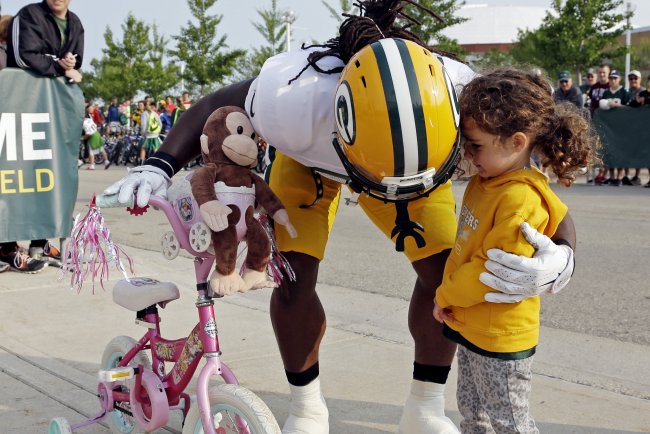 Morry Gash/Associated Press
In lieu of crushing it into a pink pretzel under his body weight, the 5'8", 203-pound running back decided to carry the bicycle and hold its owner's hand. Sources confirm it was adorable.
@Ol_sLy_Foxx was too big for the bike, but he made it work #Packers #TrainingCamp #G #GoPackGo #ItsaGthang pic.twitter.com/yD3a6Avqby

— Arrick Upton (@ArrickUpton) July 28, 2014
Harris' picture is just one of many Taster's Choice moments we've seen from the Packers' bike tradition. Eddie Lacy rode into practice with a girl on his pegs.
#Packers' Eddie Lacy makes this girls day by riding her bicycle to training camp practice. #tradition #NFL pic.twitter.com/ule3ldnJm7

— Evan Siegle (@PGevansiegle) July 26, 2014
Here's a child's bicycle crying for mercy beneath B.J. Raji.
Rise and shine, #PackersCamp starts today! Here's everything you need to know: http://t.co/IytyXzhhpi pic.twitter.com/8C46CI9u9e

— Green Bay Packers (@packers) July 26, 2014
Of course, I can't show you Packers riding bikes without including a picture of Reggie White riding dirty before it was cool.
Can't wait for training camp? Here's a photo of Reggie White on his way to practice in 1993: pic.twitter.com/OQD9xsR8mJ

— Packerpedia (@Packerpedia) June 1, 2013
If I ever get tired of looking at big men riding small bikes, just sweep me off the earth. It's a gift even the most cynical Vikings fan can appreciate.
Follow me on Twitter for more sports and pop culture news.