Gennady Golovkin is no longer a mystery to mainstream boxing fans. His vicious third-round technical-knockout victory over Daniel Geale in New York's Madison Square Garden immediately thrusts him into boxing's admittedly dimming limelight.
Golovkin (aka GGG) has to be considered one of the top boxers in the world after defending his WBA and IBO middleweight titles for the eighth straight fight, and the 32-year-old fighter wasted no time in dropping a big name for his next potential opponent.
According to BoxingScene.com, Golovkin (30-0, 27 KOs) is ready to take on Miguel Cotto (39-4, 32 KOs) in his next bout:
Golovkin calls out Cotto after the fight. After that win, not very likely.

— BoxingScene.com (@boxingscene) July 27, 2014
This could prove to be a huge draw for the sport of boxing. Golovkin hasn't faced too many quality opponents outside of Geale (30-3, 16 KOs), and Saturday's bout was only his fifth on American soil. He's seemingly come out of nowhere, which likely has casual fans wondering how they could have missed out on such a promising fighter for so long.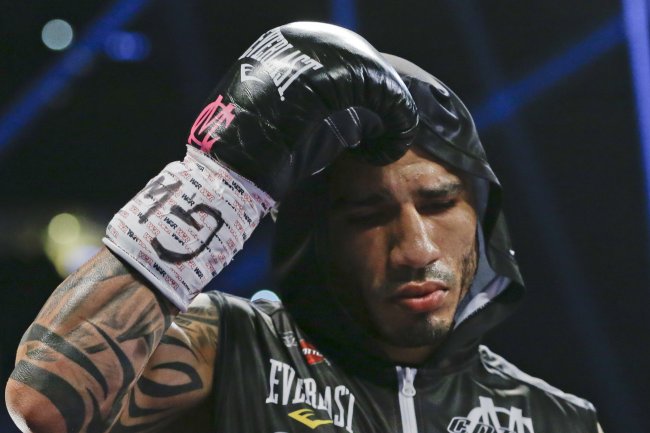 Frank Franklin II/Associated Press
This isn't the first time Golovkin has mentioned Cotto. He's been eager to take on some of the biggest names in the sport for some time.
"Right now my focus is on Daniel Geale. In the future, of course, I'd like to fight [middleweight champion] Miguel Cotto or Canelo Alvarez. Cotto at Madison Square Garden would be perfect," he said prior to Saturday's fight, via ESPN's Dan Rafael.
It should also be noted that Golden Boy Promotions' Oscar De La Hoya touted the man from Kazakhstan as a potential opponent for Canelo Alvarez earlier in July, per Sports Illustrated's Chris Mannix:
Oscar De La Hoya drops a fascinating name for Canelo's next: Gennady Golovkin. "GGG is a dangerous fighter. That's what Canelo is about."

— Chris Mannix (@ChrisMannixSI) July 13, 2014
The name dropping isn't just posturing from Golovkin. He thrashed his Australian opponent over three rounds, proving to the raucous Madison Square Garden crowd and viewers at home that he is truly a destructive force of nature between the ropes.
Before the fight, Golovkin's detractors noted he had yet to face any fighter of widespread regard in his (so far) undefeated career. This rapidly diminishing contingent of boxing observers should all but disappear after his dominant display in New York. If anyone deserves to keep drawing the biggest fights in the division, it's Triple G.
Gary Shaw, Geale's promoter, gave GGG the highest praise possible after witnessing his barrage of stinging counterpunches, via Mannix:
Gary Shaw, Geale's promoter: "In all my years of boxing, Golovkin is the best 160-pounder I have ever seen."

— Chris Mannix (@ChrisMannixSI) July 27, 2014
Which boxer would you like to see Golovkin fight next?
Of course, facing someone like Golovkin is a huge risk to more established fighters such as Cotto and Alvarez. It's clear that he's a man of considerable talents, and his absurd knockout ratio (90 percent) proves that whomever is thrown in front of GGG doesn't fare well at all.
Cotto is an established boxer with titles in four different weight classes and has very little left to prove as a pugilist. However, now that his name has been linked to Golovkin multiple times, it stands to reason that avoiding this fight could be a sour note in the latter stages of his excellent career.