Updates from Monday, July 28
Aaron Wilson of the Baltimore Sun reported the terms of Danny Woodhead's extension in San Diego:
Danny Woodhead two-year extension worth $7.25 million, including $3 million signing bonus, salaries of $750,000, $1.5 million, $2 million

— Aaron Wilson (@RavensInsider) July 28, 2014
Original Text
The San Diego Chargers have re-signed Danny Woodhead to a two-year extension, keeping the dynamic playmaker in town for the next few seasons.
Adam Schefter of ESPN reported the news Tuesday:
Chargers announced new two-year extension for RB Danny Woodhead.

— Adam Schefter (@AdamSchefter) July 22, 2014
The 29-year-old running back tweeted out his excitement about the deal:
So excited to be a part of the SD Chargers for the next 3 yrs! #excited #blessed

— danny woodhead (@danny__woodhead) July 22, 2014
"Danny is an integral part of our offense," said Chargers general manager Tom Telesco, via Chargers.com's Ricky Henne. "His work ethic and on-field production were key elements last year. We look forward to having him be a part of the Chargers organization into the future."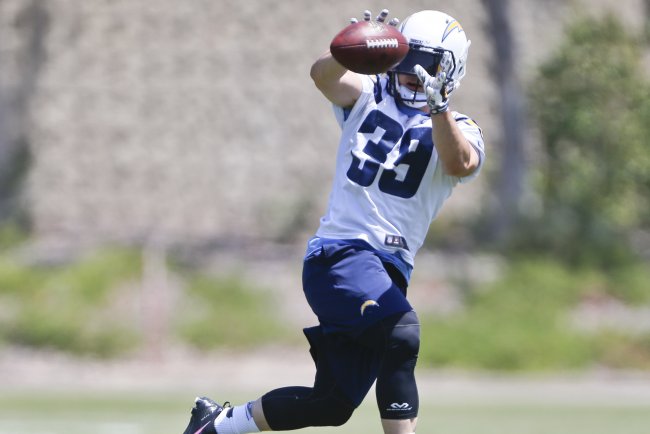 Lenny Ignelzi/Associated Press
Tom Pelissero of USA Today reported that Woodhead's agent and San Diego had discussed the idea of an extension a while ago, but things only started getting serious within the last week or so:
Woodhead deal came together quickly. His agent approached #Chargers earlier this yr but negotiations didn't start until last week. Good fit.

— Tom Pelissero (@TomPelissero) July 22, 2014
According to Spotrac, Woodhead's contract would have expired after the 2014-15 season, meaning he'll now be a Charger through the 2016 campaign.
Between Woodhead, Ryan Mathews and Donald Brown, the Chargers will be set at running back. Mathews is coming off the second 1,000-yard rushing season of his career, while Brown ran for 537 yards with the Indianapolis Colts last year.
Woodhead has played one year with the Chargers after spending three years with the New England Patriots and parts of two years with the New York Jets.
The 2013 season was his best in the NFL, as he set career highs in nearly every category. Woodhead appeared in all 16 of San Diego's games last year, running for 429 yards and two touchdowns.
His value is much greater in the passing game, though, with his 76 receptions finishing second and six touchdowns ranking first among running backs, per NFL: Around the League:
Woodhead was 2nd among all RBs in catches last year. First in touchdown receptions.

— NFL: AroundTheLeague (@NFL_ATL) July 22, 2014
Considering Woodhead is showing no signs of slowing down, an extension at this time was arguably the right move for the Chargers. Although he's nearing 30, taking fewer carries in the backfield should prolong his career a little further than a typical every-down back.
Many were surprised with San Diego's playoff run in 2013. By keeping the same core of players from that team, the Chargers look destined to be a postseason threat again.
Note: All stats are courtesy of Pro-Football-Reference.com unless otherwise noted.