Rory McIlroy didn't save his best for last, but it didn't matter. He held off a slew of threats and posted a wire-to-wire victory in the 2014 British Open at Royal Liverpool Golf Club for his third major championship.
Rounds of 66 on Thursday and Friday blew open a huge lead for the Northern Irish star, but a furious run in Sunday's final round by Sergio Garcia made things interesting. McIlroy's lead dwindled to just two strokes down the stretch, but timely birdies spurred him to a one-under 71.
Garcia's Sunday 66 put him at 15 under and tied with Rickie Fowler, but neither did enough to catch McIlroy's 17-under final score:
Ideal Day 4 conditions allowed Garcia, Jim Furyk, Adam Scott, Marc Leishman and more to post scores of 66 or lower. But only Garcia and Fowler seriously threatened the leader, and they were both waiting for the signature McIlroy collapse that never came.
Early domination in the opening three rounds allowed McIlroy to nearly make history, per ESPN Stats & Info:
Rory McIlroy finished at 17-under par 271, 2 shots off the record for most strokes under par at major (Tiger Woods-2000 Open Championship).

— ESPN Stats & Info (@ESPNStatsInfo) July 20, 2014
At the ripe age of 25, McIlroy joins more elite company in the history books with every win. Sunday's win was no different; he became the fourth golfer ever to win three-fourths of the career Grand Slam before the age of 27.
Even more impressive is the company he joined by doing so at such a young age, per PGA Tour:
Youngest players to win 3+ majors: Jack Nicklaus, 23 Tiger Woods, 24 Rory McIlroy, 25 #TheOpen pic.twitter.com/1dH1YyrlZA

— PGA TOUR (@PGATOUR) July 20, 2014
His 2011 U.S. Open and 2012 PGA Championship were never in doubt, as he won both at nearly record paces, but Sunday truly tested him. Memories of late-round disasters that have spelled doom in so many instances early in McIlroy's career started to resurface.
But with some of golf's biggest names at his heels, he didn't panic when a six-stroke lead dwindled to just two. Instead, he canned birdies on the ninth and 10th holes and added another on 16 to seal the deal.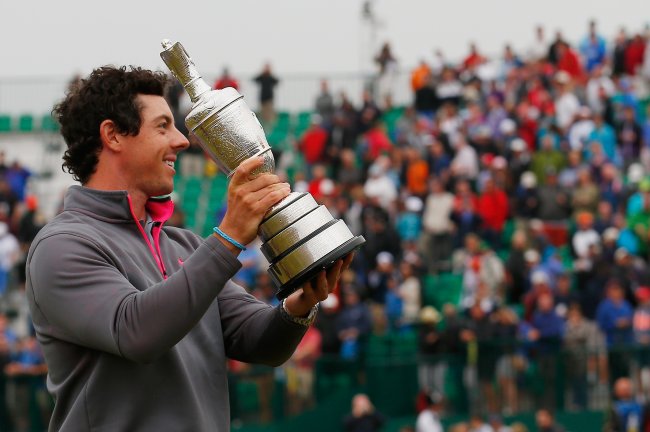 Tom Pennington/Getty Images
Nothing beats being a proud dad to a major championship winner, but McIlroy's father also won some cash after betting on McIlroy in 2004, per SportsCenter:
Rory McIlroy's father & 3 friends bet 400 British pounds at 500-1 that he'd win #TheOpen by 26. They collect 200K pounds (roughly $341,730).

— SportsCenter (@SportsCenter) July 20, 2014
The action behind McIlroy's was fierce and resulted in some fantastic scores. Garcia and Fowler were ahead of the rest at 15 under, but 11 players shot 10 under or better, proving that the quality of play was sky-high.
Save for Garcia's late surge, Fowler might have been the story of the tournament—behind McIlroy, of course. He was the only golfer at Royal Liverpool to shoot below 70 every round, finishing with a 67 for his best round of the weekend.
Top-five major finishes are nothing new for Fowler, and his third straight top-five major finish put him in some elite company, per Golf Digest:
Rickie Fowler is the first player to finish in the top five of the season's first three majors since Tiger in 2005. #TheOpen2014

— Golf Digest (@GolfDigestMag) July 20, 2014
On the other side of things, some notable names struggled to make their marks in England. Bubba Watson, Lee Westwood and Ian Poulter all failed to make the cut, while Phil Mickelson's five-under score barely kept him in the top 25.
No one will be more dissected and analyzed than Tiger Woods. He closed out his weekend with a three-over round of 75 that put him six strokes over par for the tournament.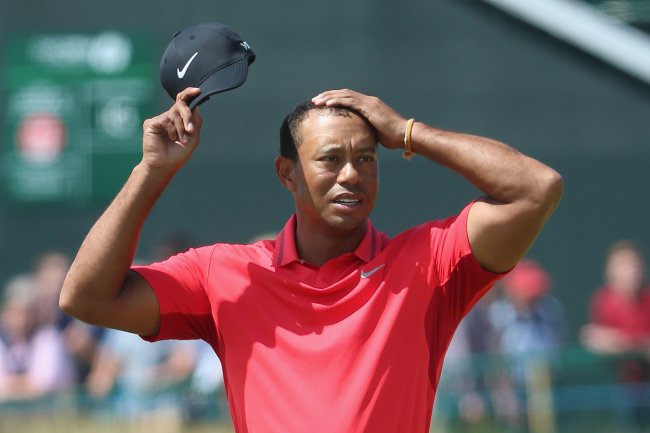 Andrew Redington/Getty Images
In his first major appearance since back surgery that kept him out of the year's first two majors, Woods failed to get back to his top form. The questions surrounding his ability to win another major after a six-year drought are bound to increase.
Woods' struggles were fitting in that they coincided with one of McIlroy's best moments. A golfer so many have pegged as the torchbearer for the sport's next generation, McIlroy made Sunday the most clear indication yet that he might follow in Woods' footsteps and start rattling off major wins. After all, he's only 25.
Many people think he's on the cusp of more greatness, including Mickelson, per ESPN.com's Bob Harig:
Phil on idea of Rory getting third leg of career Grand Slam: Masters would be left "and that definitely will happen and probably soon.''

— Bob Harig (@BobHarig) July 20, 2014
After becoming one of the best young golfers we've ever seen and then seeing his consistency plummet in the past few years, McIlroy needed this Open victory.
Once again, he proved that his best is more than enough—even when so many elite golfers are completely on their games. If he can continue to put it together on big weekends, don't be surprised if the 25-year-old tears through the next couple of majors.