After spending the last 43 years at Candlestick Park, the San Francisco 49ers have officially moved into the brand-new Levi's Stadium in Santa Clara, California.
The team hosted a ribbon-cutting ceremony to showcase the $1.3 billion venue, which Mike Rosenberg of the San Jose Mercury News described as "showstopping":
The beers were flowing, the stadium-themed merchandise was flying off the shelves, the massive HD video-boards were lit up with highlight reels and the surround-sound speakers were humming with pop music at the invite-only event.

Team luminaries from coach Jim Harbaugh to star defender Patrick Willis were schmoozing with guests such as NFL Commissioner Roger Goodell, tech executives and local politicians.
When the high-profile attendees left, what remained was one of the most impressive stadiums in the sporting world. While fans will love watching the 49ers play on Sundays, there are a number of other stadium highlights that go beyond just the field and the 70,000 seats.
These features help separate Levi's Stadium from others across the league.
Technology to Improve the Fan Experience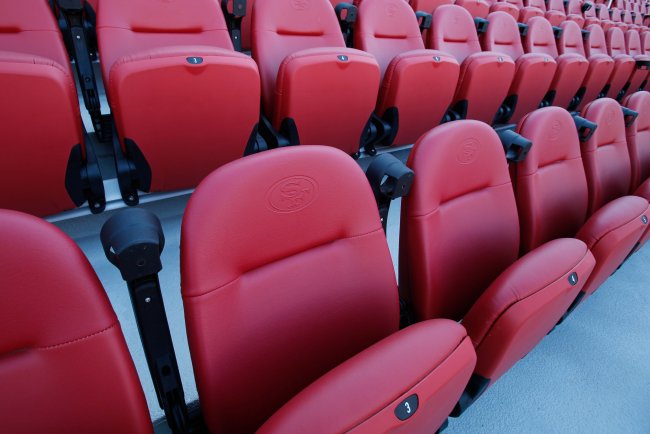 USA TODAY Sports
Jed York was not shy about his thoughts on the stadium:
York: #LevisStadium represents the best stadium in the world with the best fans #RibbonCutting #49ers

— Levi's® Stadium (@LevisStadium) July 17, 2014
While the 49ers' CEO is obviously biased in his opinion, there are a number of technological advances that will really help out those fans.
Chief Technology Officer Kunal Malik provided his thoughts on the stadium in saying, "This is like taking a blank piece of paper and redefining the fan experience," via Lauren Hepler of BizJournals.com.
Hepler explains that the new stadium will utilize phones to provide fans with a "mobile video streaming feature" to watch games when away from the seat, as well as "unique ticket scanners that recognize different frequencies" in order to cut down on wait time to get into the stadium.
Rand Getlin of Yahoo Sports also provides a look at a few more features that fans are certain to love:
Technology in the 49ers new stadium is amazing. Will have an app that allows you to find the shortest beer lines. Mind blown.

— Rand Getlin (@Rand_Getlin) July 27, 2013
App will work for food & bathroom lines. Will play replays, your choice of angle. Stadium WiFi lets you stream NFL Redzone from your seat.

— Rand Getlin (@Rand_Getlin) July 27, 2013
This type of technology has not been seen until now, but you should not expect anything different from Silicon Valley.
Interesting Food Options
No matter what type of food you enjoy, there is something for everyone at Levi's Stadium.
Robert Haugh of The Santa Clara Weekly provides a look at the diversity that will be available:
While approximately 75 percent of food devoured at the stadium will consist of "core foods" - approximately 5,000 burgers. 13,000 pizza slices, 12,000 orders of garlic fries and 7,000 franks on average game days, modern palettes will savor tastes of the world, with local twists on international cuisine including Indian curry dishes, Asian-inspired steamed buns, Mexican tortas, and a plethora of diversified concoctions.
Another interesting note comes from Centerplate manager Zach Hensely, who explained, "We are going to be the most vegan-friendly stadium in the entire sports industry," via Paolo Lucchesi of Inside Scoop SF.
Meanwhile, Kiet Do of CBS 5 News provides a look at the gourmet-food area:
Levi's Stadium gourmet kitchen area. More pizza ovens than most any other stadium. Food quality is priority. pic.twitter.com/ZYVUVcn3x9

— Kiet Do (@kietdo) July 17, 2014
The majority of fans will simply be happy with hot dogs and beer, but this variety will help expand the fanbase and make the user experience better for everyone.
Environmentally Friendly
One other way the 49ers' home has separated itself from its competition is the ability to remain environmentally friendly. The stadium's official website breaks down the advances provided:
In an effort to be one of the world's premier sustainable outdoor venues, the 49ers are taking many environmental measures to use and produce energy efficiently.

The 20,000-square-foot green roof, which is above the suite tower that now features glass windows, will be waterproofed and filled with plants over the next few months. The new stadium will also use recycled water and feature a high-efficiency geothermal water system.
Sal Pizzaro of the San Jose Mercury News provides a look at the green roof:
Levi's Stadium green roof is a key part of its LEED Gold rating. 16 native plant species - plus patio "sky suites." pic.twitter.com/sQf7rpRS6y

— Sal Pizarro (@spizarro) July 17, 2014
This solar-powered technology will reduce energy costs, while providing no negatives for the fans or the team on the field. As long as the 49ers do not have to deal with another blackout in a big game, everyone will be happy.
Follow Rob Goldberg on Twitter for the latest breaking news and analysis.