So much for the days of everything falling in the Los Angeles Lakers' lap.
The Purple and Gold missed out on the likes of Carmelo Anthony, Chris Bosh and Dirk Nowitzki, among others, and LeBron James never really even considered taking his talents to Hollywood. What's more, the Lakers don't even have a coach in place.
Where does Los Angeles turn next?
With that question in mind, let's dig into some of the latest rumors.
Lakers Snubbed by Lance Stephenson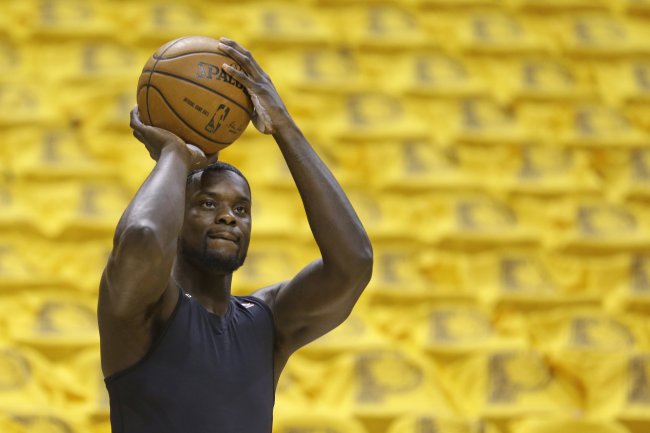 Michael Conroy/Associated Press
Prior to Lance Stephenson agreeing to terms with the Charlotte Hornets, courtesy of Rick Bonnell of the Charlotte Observer, Zachary Stieber of the Epoch Times previously reported on possibility of Stephenson wearing a Lakers jersey next season:
The Lakers are another team mentioned in the possible pursuit of Stephenson, along with the Celtics and Bulls. These teams "have not been serious in their pursuit," though, according to a source. But with the Carmelo Anthony signing not an option anymore after he decided against coming to the Lakers, Stephenson might be the best consolation.
Had he signed with the Lakers, he likely would have been the best player next to Kobe Bryant on the roster. Stephenson is a triple-double threat every time he takes the floor and an excellent perimeter defender, so this is actually a major missed opportunity for the Lakers and its fans. He would have taken some of the ball-handling and offense-initiating responsibilities off Bryant's shoulders and given a team that struggled mightily last year a much-needed spark.
The Lakers are now left searching the free-agency market for a player capable of taking major pressure off Bryant.
It was entertaining to imagine how Bryant would have dealt with Stephenson blowing in his ear during a practice, but it'll be even more entertaining now to see how the Lakers rebound after adding Stephenson to their loss pile this offseason.
Los Angeles Still Looking for a Coach
The NBA on ESPN provided an update on the Lakers' search for a new head coach:
Sources: Lakers aim to hire coach within next week or two (via @mcten) -- http://t.co/IuzoancimK

— NBA on ESPN (@ESPNNBA) July 15, 2014
Interestingly enough, Dave McMenamin of ESPN Los Angeles reported that Byron Scott is considered the leading candidate and has been for quite some time, but the interview process is not complete. That means Scott may need to interview again, even though he has Bryant's endorsement.
Mark Duncan/Associated Press
General manager Mitch Kupchak joked about how long this process is taking and then outlined some of the plans, via McMenamin:
Maybe we can wait until September. Obviously that's one of the next things that we're going to address, and with putting the roster together and getting through the draft and getting through this last period, a week or two, the next thing we're going to work on is the coach, and I think we're going to have somebody in the next couple weeks.
Scott coached for the New Jersey Nets, New Orleans Hornets (now Pelicans) and Cleveland Cavaliers earlier in his career and actually led the Nets to the NBA Finals two years in a row. If he could do the same with this Lakers roster, he would have to be considered a coaching genius.
Carlos Boozer Coming to the Lakers?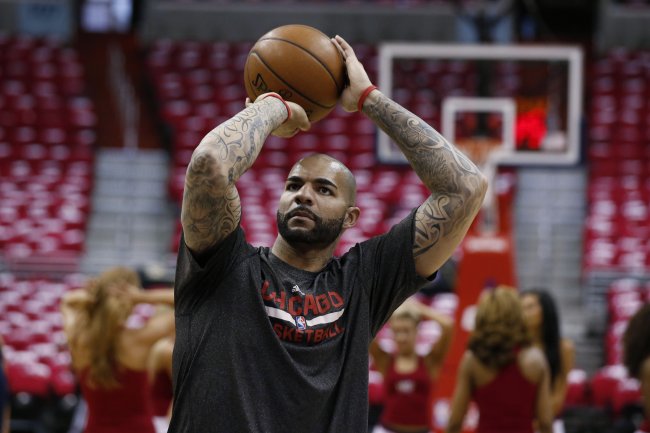 Alex Brandon/Associated Press
Eric Pincus of Basketball Insiders brought up the possibility of Carlos Boozer heading to Los Angeles:
Boozer amnesty - was waiting for that - strong chance Lakers put in a bid on waivers - blind bidding

— Eric Pincus (@EricPincus) July 15, 2014
The Lakers - if they re-sign Kelly - have bigs Hill/Sacre/Kelly/Randle - 3 young guys - a Boozer would help

— Eric Pincus (@EricPincus) July 15, 2014
Who would be a better fit for the Lakers?
The Chicago Bulls recently used the amnesty clause on the veteran forward, and while his prime is clearly behind him, he would give the Lakers' thin frontcourt a much-needed boost. If nothing else, he could mentor the younger guys for a season or two before stepping aside.
Boozer is an absolute liability on defense, but he did average 13.7 points and 8.3 rebounds per game last season in the Windy City. He is still a double-double threat anytime he steps on the floor and would at least give the Lakers another proven scorer at the NBA level.
Follow me on Twitter: