There was a fairly realistic chance Cleveland Browns wide receiver Josh Gordon was never going to see the football field during the 2014 season with an NFL appeal for a failed drug test hanging over his head, but he may have removed all doubt Saturday with his latest transgression.
Grant deBruin of WKYC in Cleveland broke the news and provided the star's mugshot, while Albert Breer of NFL Network supplied details:
BREAKING: @Browns #JoshGordon arrested in Raleigh, NC early this morning on #DWI charges. Details to follow on @WKYC pic.twitter.com/kAOiVb6SH4

— Grant deBruin (@GrantdeBruin82) July 5, 2014
Raliegh PD confirms Browns WR Josh Gordon was arrested for DWI. Gordon has an NFL appeal hearing for a failed drug test in late July.

— Albert Breer (@AlbertBreer) July 5, 2014
Adam Schefter of ESPN added some context to the DWI arrest, and Michael Fabiano of the NFL Network pointed out what may ultimately be the consequence:
DWI in Raleigh is driving subject to an impairing substance. Police captain Tommy Klein added, "appreciably impaired."

— Adam Schefter (@AdamSchefter) July 5, 2014
Maybe it's just me, but I'd say it's safe to assume that Josh Gordon won't be playing football in 2014.

— Michael Fabiano (@Michael_Fabiano) July 5, 2014
Matt Miller of Bleacher Report added his own two cents to the story, and it is certainly difficult to disagree with any of his assertions:
All the red flags surrounding Josh Gordon pre-draft are proving true. Really unfortunate, too.

— Matt Miller (@nfldraftscout) July 5, 2014
It doesn't matter if weed should or shouldn't be illegal. It's against NFL rules and that's all that matters if you want to play.

— Matt Miller (@nfldraftscout) July 5, 2014
Above all else, this can be framed as a truly sad story because someone in the prime of his athletic life is clearly struggling off the field. Fellow football player D'Qwell Jackson reached out to those in Gordon's life with that in mind, and Jay Glazer of Fox Sports put the onus of individual responsibility on the receiver:
If you're close to Josh Gordon please help this kid, it's not about football anymore it's about picking up the pieces of his life.

— D'Qwell Jackson (@DQ52) July 5, 2014
Josh Gordon what are you thinking?!? Honestly hope he gets help bc he can't help himself

— Jay Glazer (@JayGlazer) July 5, 2014
Fellow wide receiver Brandon Marshall, who has been an impressive advocate for mental-health awareness during his career, was understandably upset by the news:
Man Josh Gordon news ruined my afternoon.

— Machine Marshall (@BMarshall) July 5, 2014
Breer reached out for a comment from Gordon's agent to no avail but also pointed out just how unfortunate this situation now is for the Cleveland superstar:
When asked for comment, Josh Gordon's agent Drew Rosenhaus texted, "Nothing at this time".

— Albert Breer (@AlbertBreer) July 5, 2014
Realistically, Josh Gordon had to keep himself clean for about 14-18 months after last season to get a life-changing contract.

— Albert Breer (@AlbertBreer) July 5, 2014
This latest news brings an old but telling quote from an AFC personnel executive back when the Cleveland Browns picked Gordon up into a new light, via Breer of NFL.com:
It's very hard to find a comparable player. The off-field issues, you try and draw on those players like that who have turned into huge successes, and having those examples tends to give executives some peace of mind. I struggled to come up with a high volume of players that have had his amount of issues and done a 180. We'll see. The rest of it is up to the kid.
Gordon certainly hasn't made the best of his situation in Cleveland in response to those concerns.
Mike Freeman of Bleacher Report took things a step further and brought up a very interesting comparison:
I continue to find interesting the missive amount of sympathy Irsay received versus Josh Gordon. Really, really interesting.

— mike freeman (@mikefreemanNFL) July 5, 2014
Of course, this being Twitter, there were sure to be some responses tinged with sarcasm. Rob Kunz of 10TV in Columbus provided some of that:
Josh Gordon's future teammates. pic.twitter.com/Ar30fjaPSP

— Rob Kunz (@Rob10TVSports) July 5, 2014
On the field, this is a devastating blow for the Cleveland Browns in the immediate future. They just selected Johnny Manziel in the first round of the 2014 NFL draft (this story really puts the quarterback's partying in Las Vegas into perspective, doesn't it?), and the rookie is certainly going to need some elite receivers if he hopes to be the savior of the franchise for despondent Cleveland fans everywhere.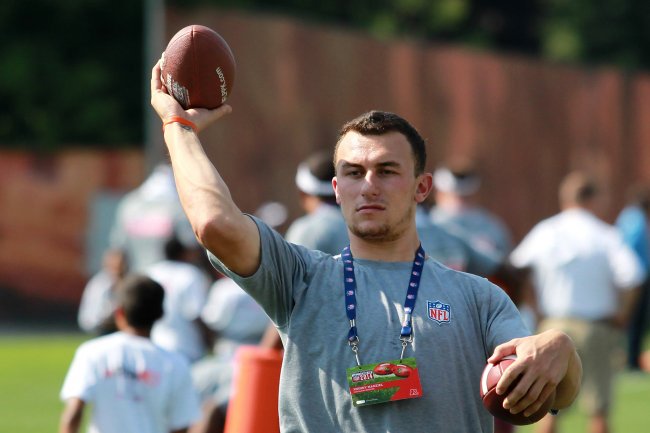 AARON JOSEFCZYK/Associated Press
ESPN Stats & Info pointed out just what kind of player Cleveland will be missing, assuming Gordon isn't on the field anytime soon:
Last season, Josh Gordon became 1st Browns player to lead NFL in receiving yards (set franchise record with 1,646 yards)

— ESPN Stats & Info (@ESPNStatsInfo) July 5, 2014
Josh Gordon: only player in NFL history with 200+ receiving yards in back-to-back games

— ESPN Stats & Info (@ESPNStatsInfo) July 5, 2014
The assumption that the wide receiver won't be on the team appears to be a safe one, if this tweet from former NFL scout John Middlekauff is any indication:
Be shocked if the #Browns don't waive Gordon Monday

— John Middlekauff (@JohnMiddlekauff) July 5, 2014
There has been some positive momentum and buzz around the Cleveland Browns this offseason, especially after the draft, so it will be interesting to see if they can still succeed on the field without Gordon.
For now, though, the talented wide receiver's personal life and struggles are simply more important than any missing production on the field.