Scouting Report: Is Sokratis the Answer to Barcelona's Defensive Troubles?
June 14, 2014

Martin Meissner/Associated Press
Could Borussia Dortmund's Greek international Sokratis Papastathopoulos, a 26-year-old, 6'1", 187-pound centre-back, be a summer transfer window target for Barcelona? 
To cover that scenario, this article grades Sokratis' display against Colombia at the 2014 FIFA World Cup and provides a scouting report on his season for Dortmund.
Sokratis vs. Colombia Grade: B

Source: FIFA.com.
Colombia comprehensively beat Greece 3-0, forcing Sokratis and Kostas Manolas to work overtime. 
The pair had strong individual games, but with no potency going forward, Greece were constantly under pressure. 
Sokratis surged forward four times, per Squawka.com, and attempted to spark some life into Greece's toothless attack. 
He made three of his five tackles, two of which were on Colombian central attacking midfielder James Rodriguez, per Squawka.com.

Source: Squawka.com.
With three tackles, three interceptions and six clearances, Sokratis did his job for Greece.

How did he perform for Dortmund?
Borussia Dortmund Positives
Dortmund manager Jurgen Klopp signed Sokratis from Werder Bremen for €8/£6.4 million last summer as part of a contingency plan. 

Sokratis was called into action when Dortmund's two-time Bundesliga-winning centre-back Neven Subotic tore his cruciate knee ligaments.
Deputising in Dortmund's fragmented defence, Sokratis was world class, and the German media rated him highly. 
Sokratis' Critically Acclaimed Campaign
Publication
Defenders Only Ranking
Bild
4th
Kicker
5th
Bild.de and Kicker.de.

Source: Kicker.de.

Source: Bild.de.
Compared to Barcelona's centre-backs, Sokratis is a stronger tackler than Gerard Pique, substantially better in the air than Javier Mascherano and more experienced than Marc Bartra.
| | | | | |
| --- | --- | --- | --- | --- |
| League Only | Sokratis | Pique | Mascherano | Bartra |
|   |   |   |   |   |
| Tackles Per Game | 2.6 | 2.1 | 2.9 | 2.8 |
| Fouls Per Game | 1.6 | 1.0 | 1.2 | 0.9 |
| Tackles Per Foul | 1.7 | 2.0 | 2.4 | 3.1 |
| Interceptions Per Game | 1.3 | 2.0 | 2.9 | 2.9 |
| Headers Won | 161 | 98 | 34 | 44 |
| Headers Contested | 241 | 142 | 65 | 65 |
| Headers Won % | 66.9 | 69.0 | 52.3 | 67.7 |
|   |   |   |   |   |
Sokratis possesses a win-at-all-costs mentality as demonstrated when he man-handled Bayern Munich centre-forward Mario Mandzukic and Schalke centre-forward Klaas-Jan Huntelaar.
Source: Bundesliga.com.
Source: Bundesliga.com.
A feisty, gritty and sturdily built defender, Sokratis is an upgrade over Pique from a defensive point of view.

Source: Squawka.com.
Another plus in Sokratis' game is him being a constant goal threat from set pieces. 
He overpowered Stuttgart right-back Gotoku Sakai to head home Borussia Dortmund defensive midfielder Nuri Sahin's corner. 
Source: Bundesliga.com
Sokratis got in front of Hannover 96 right-back Hiroki Sakai to head the ball toward Dortmund centre-back Mats Hummels, who poked the ball past Hannover goalkeeper Ron-Robert Zieler.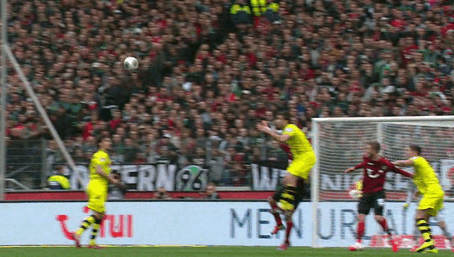 Source: Bundesliga.com.
Borussia Dortmund Negatives
Sokratis plays on the edge, and his brute strength can be neutralised by strict referees.
He was cheaply sent off after accumulating a second yellow card for barging into Bayer Leverkusen centre-forward Stefan Kiessling.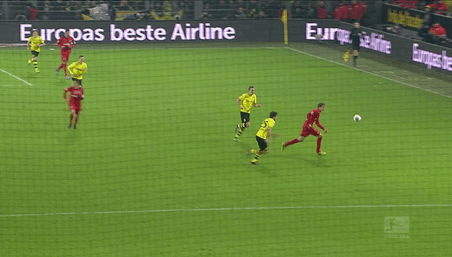 Source: Bundesliga.com.
League Only

Sokratis

Pique

Mascherano

Bartra

 
 
 
 
 
Passes Per Game
53.4
60.5
54.4
51
Pass Completion %
81.9
90.2
88.9
89.9
Long Passes Per Game
6.2
5.7
8.3
3.8
Long Passes Completion %
60.8
75.6
78.9
70.8
 
 
 
 
Sokratis' pass-completion percentage (81.9) is below the Barcelona average (88.4).
He is not as proficient of a passer as Pique, Mascherano and Bartra.
That said, Sokratis is a passing outlet from the back for Dortmund and has flashed vision, such as a deep pass to Dortmund right attacking midfielder Jonas Hofmann against Bayern.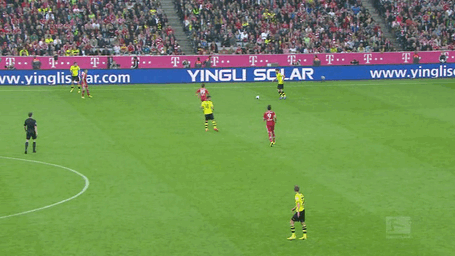 Source: Bundesliga.com.
Bottom Line
Barcelona's Achilles' heel is their defence. 
Sokratis was good against Colombia, and his world-class season for Dortmund means he would shore up Barcelona's back line. 
He is taller, stronger and more prolific in the air than Mascherano. 
With more experience than Bartra, Sokratis can also push Pique to perform, as the Spanish international has been resting on his laurels. 
Statistics via WhoScored.com