As of Tuesday, July 8, Miroslav Klose is officially in a class of his own when it comes to the best goalscorers in World Cup history.
After the striker tied the record with a goal against Ghana, he came through with a score in the semi-final against Brazil, giving him 16 goals in his World Cup career. This puts him past Brazil legend Ronaldo as the top scorer in the history of the finals.
GOOOOAALLLL!!! Klose scores to make it 2-0 to #GER and in the process becomes the top scorer in World Cup history! (16 goals, Ronaldo on 15)

— ITV Football (@itvfootball) July 8, 2014
Klose has been a key contributor for Germany's national team since 2001. He set the country's new record for international goals in a friendly against Armenia shortly before the start of the 2014 World Cup, via Paul Carr of ESPN:
Miroslav Klose scored his 69th international goal yesterday, breaking Gerd Müller's Germany scoring record.

— Paul Carr (@PCarrESPN) June 7, 2014
The 36-year-old forward saved his truly impressive performances for the World Cup finals, however. He scored five goals at the 2002 World Cup—including a hat-trick against Saudi Arabia—won the Golden Boot with five more at the 2006 event and banged home an additional four in 2010.
While there was some debate as to whether manager Joachim Low would add Klose to the 2014 squad, he earned his ticket as the only true striker on the team. With his opening goal, he clearly showed that he was worth the spot.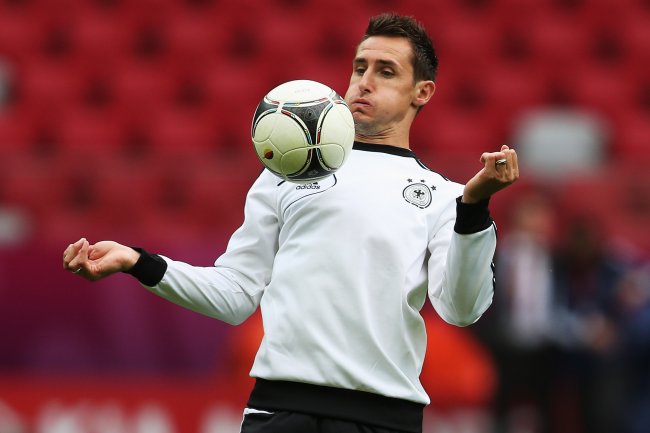 Joern Pollex/Getty Images
Klose came in as a substitute in Germany's second match of the tournament against Ghana and needed only two minutes to contribute. He scored an equalising goal in the 71st minute, helping his side end with a much-needed draw.
That first goal put him in a group of just him and Ronaldo for the most ever at the World Cup. Interestingly, the Brazilian star was hoping to see his mark go down.
"I am very proud of that record but records are there to be broken," he told Adam Shergold of the Daily Mail. "It would be nice to keep it for a while longer but I am cheering for someone to break the record. It will be good for the sport."
Ronaldo even tweeted this after Klose's 15th goal:
Welcome to the club #Klose

— Claro Ronaldo (@ClaroRonaldo) June 21, 2014
Of course, Klose then ended up in his own club after his second score of the tournament and the 16th of his career at this level. In the 23rd minute of Germany's semi-final match against the host country, he drilled a shot into the bottom-right corner of the net, giving his side a 2-0 lead. (They'd proceed to score another three goals within the next six minutes.)
James Tyler of ESPN weighed in on the record-setting goal:
Happy for Klose but good heavens, this is like watching a baby have its candy stolen.

— James Tyler (@JamesTylerESPN) July 8, 2014
While this was something the German was looking forward to, it was not his primary objective, via Axel Ruppert of UEFA.com:
Anyone who knows me knows the World Cup goal record is a target of mine. But to be completely honest, it only plays a back-seat role for me as the team is the most important thing. When the team gets going, we play good football and when we do I will get scoring opportunities. Once that happens, it's just a logical conclusion that I might convert one or two.
After being a part of two third-place finishes and a runner-up at the World Cup, it is clear that he and the rest of Germany will do their best to improve upon that result this time around. Despite various injuries, the squad certainly has the talent to get it done.
After dispatching Brazil 7-1 in a remarkable semi-final, Germany will face the winner of Argentina and the Netherlands in Sunday's final.
With a few more goals from Klose and others on the roster, the dream of bringing home the World Cup will become a serious possibility.
Follow Rob Goldberg on Twitter for the latest breaking news and analysis.