South Africa dominated the second half to easily dispatch of the World XV 47-13 in Cape Town on Saturday, in preparation of their all-important Test against Wales.
All Rugby had the final score:
June International score FT: South Africa 47 - 13 World XV #Springboks #SSRugby

— All Rugby (@all_rugby) June 7, 2014
The Springboks looked rusty for much of the first half but quickly took control after the break. A couple of late scores were perhaps a bit harsh on the World XV team who clearly lacked chemistry, having only practiced together twice.
The visitors had the brighter start, as their star power was evident right from the first whistle. Alistair Hargreaves opened the scoring within the first five minutes, the World XV working the ball around well and powering through the Springboks defence for their first try of the match.
James O'Connor didn't miss the conversion, giving the visitors a 7-0 lead.
Morne Steyn hit back with a penalty three minutes later, taking advantage of one of many miscues suffered by the World XV, who for all of their might clearly were not used to playing together.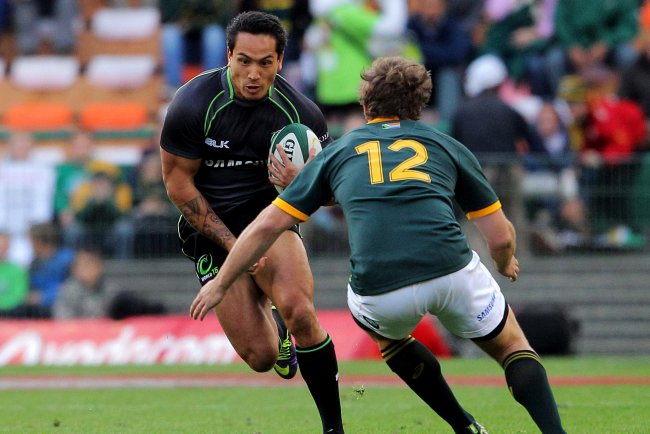 Gallo Images/Getty Images
World XV dominated possession, overpowering a South African team that looked rusty. But when the Springboks worked the ball into World XV's, they were deadly efficient.
Bryan Habana was the recipient of some beautiful passing play, working the ball into open space and catching the World XV out of position. O'Connor gave the lead back to the visitors back with a penalty kick following illegal scrummaging, but Steyn put the hosts back in front with three points of his own.
Bakkies Botha then scored another try beautifully set up by his teammates, and momentum had fully turned toward the South Africans. A late penalty from O'Connor from a very difficult angle made it a one-score game, Springboks going into the dressing room with a 18-13 lead.
Gilbert Rugby thought Heyneke Meyer wouldn't be happy after such a first half:
HT score: Boks 18-13 World XV. Boks looking decidedly rusty so far and some hard words wiĺl be heard in the changeroom I reckon.

— Gilbert Rugby (@Gilbertsa) June 7, 2014
Whatever he said seemed to work, the Springboks looking much sharper early in the second half. World XV were suddenly committing penalties left and right, and Steyn made it 21-13 after just four minutes.
Where most of the action before half-time had taken place in South Africa's half, they now dominated possession early, looking to take advantage of a World XV squad seemingly struggling with the pitch.
A yellow card for Mamuka Gorgodze didn't help, and within a minute, South Africa used a powerful lineup to score their third try of the match, Bismarck du Plessis touching down, as shared by ByTheMin RugbyU:
49' TRY to the Boks. They setup the maul from the lineup and Bismarck du Plessis crashes over. Unconverted. 26 - 13.

— ByTheMin RugbyU (@ByTheMinRugbyU) June 7, 2014
Both teams now started making substitutions, this match counting as a preparation for South Africa's Tests against Wales and Scotland after all. Du Plessis scored his second try of the match midway through the second half, the Springboks now holding a commanding 33-13 lead following a successful conversion.
The match started to lose some of its fizzle toward the end, perhaps due to the multitude of substitutions. The South Africans seemed content just to let the clock run down, while World XV could no longer dominate the scrum like they did before half-time.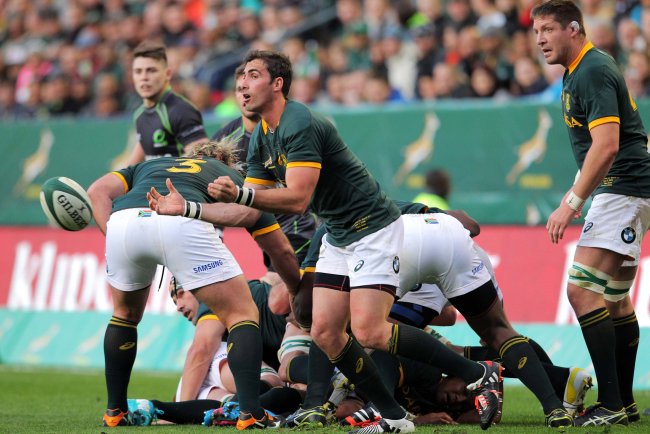 Gallo Images/Getty Images
Jimmy Cowan was yellow carded with seven minutes left to play, for repeatedly kicking down toward a hand on the ground and then slapping a Springbok. Taking advantage, Johan Goosen scored a late try and converted himself before Willie le Roux put the final score at 47-13.
South Africa's biggest advantage was clearly their synergy, something their opponents visibly lacked. Meyer told Superxv.com continuity could only help his squad before the match:
Even though we'll be starting with a new midfield combination, Frans and JP have both played more than 50 Tests for the Boks and with Bryan Habana also in the backline, Cornal will start with a lot of experience around him.

We're expecting a stern test on Saturday against the World XV and our mindset is to make our nation proud - it should never be anything else when the Springboks play. It will also be a good way to start the season before our first Test next week against Wales, but for now we're only focused on the World XV and playing well.
Hargreaves didn't sound like the loss bothered him all that much, as he posted this on his personal Twitter account:
Making new friends, connecting with old ones + making memories.That's what this game is about. fantastic week & season... now for some 🍻!

— Alistair Hargreaves (@Al_Hargreaves) June 7, 2014
As shared by EWN Sport, Nick Mallett was happy with the way his team started the match, even if they couldn't keep up the pace for the full 80 minutes:
Coach Nick Mallett says he was pleasantly surprised by the World XV's start to the game - AG pic.twitter.com/13Kr8MYBOG

— EWN Sport (@EWNsport) June 7, 2014
Mallett gave his take on the Springboks' chances against Wales, telling the team's official Twitter account he felt like the South African veterans held up well against his side:
NIck Mallett - Age no issue, Bakkies just won two finals, Victor playing well, young locks are injured. My 2 SA locks showed very good work.

— South African Rugby (@bokrugby) June 7, 2014
Meyer kept his comments short, saying he was happy by the team's multitude of tries and the lack of injuries ahead of the Test double-header:
No injuries at this stage, this is good news. Happy about scoring the tries. Heyneke Meyer

— South African Rugby (@bokrugby) June 7, 2014
He also agreed his team didn't look sharp at all during the first half, and they will not have enjoyed what they heard from the coach during half-time:
Harsh words at halftime, because of the penalties we conceded. We were not getting quick ball. Heyneke Meyer

— South African Rugby (@bokrugby) June 7, 2014
Lock Victor Matfield expressed his delight in playing for the Boks once again, his team already looking excellent this early in their campaign:
"Great to be back with the boys singing the anthem with the crowd..Great honour to play for the Springboks. - Victor Matfield

— South African Rugby (@bokrugby) June 7, 2014
The Springboks looked rusty early and struggled to keep possession against a powerful World XV, but their passing game worked to perfection and their tremendous speed out wide was evident. The Test against Wales will be a very stiff challenge for the world's second-ranked team, but as far as preparations go, South Africa did little wrong in the second half of this match.