Will Bayer Leverkusen left-forward Heung-Min Son elevate to the next level if he joined Liverpool? To cover that hypothetical, here is a scouting report on the 21-year-old South Korean international.
Positives
Son is a 6'0", 168-pound footballer who started as a left-forward in a 4-3-3 and a left attacking midfielder in a 4-2-3-1.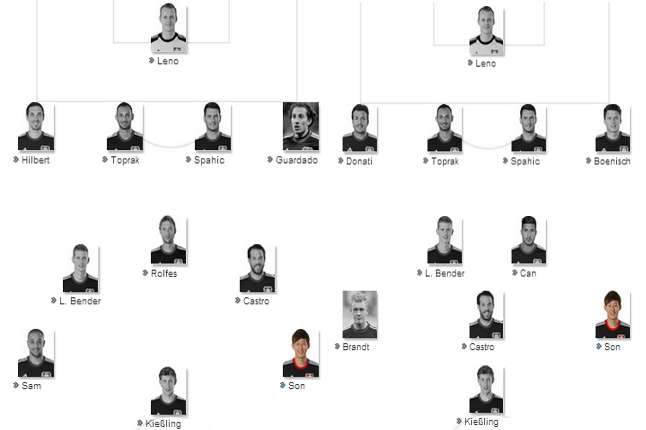 Source: Kicker.de.
He has great balance, runs very fluidly with the ball and is secure in possession.
Son rivals Borussia Dortmund right attacking midfielder Pierre-Emerick Aubameyang and Augsburg (will join Borussia Monchengladbach) right attacking midfielder Andre Hahn in terms of explosiveness.
When Son changes pace and has a direct running lane, opposing players need to professionally foul him, otherwise he is like the road runner as he will keep on running.
In a matter of seconds against Nurnberg, Son took the ball inside his defensive half, bolted forward and set up Leverkusen centre-back Emir Spahic for a tap-in.
Aside from the natural speed, what you notice is Son's awareness of his surroundings.
Then combine his footballing smarts with being able to finish with either foot, you get one of the most dangerous attacking players in Europe's elite leagues.
Gladbach (now Barcelona) goalkeeper Marc-Andre ter Stegen was left flat-footed by an inswinging right-footed long-range shot from Son.
Hamburg right-back Heiko Westermann and centre-back Jonathan Tah were cut right through the centre by Son's pace.
He veered to the left, evaded goalkeeper Rene Adler and emphatically finished with his left-foot despite attempted last-ditched goal-line clearances from Westermann and Tah.
While Son is a volume-shooter, he gives himself a chance as he generally tests the keeper.
He gets his shots on target 60 percent of the time, per Squawka.com, which is 22 percent better than Liverpool central attacking midfielder/left-forward Philippe Coutinho, per Squawka.com.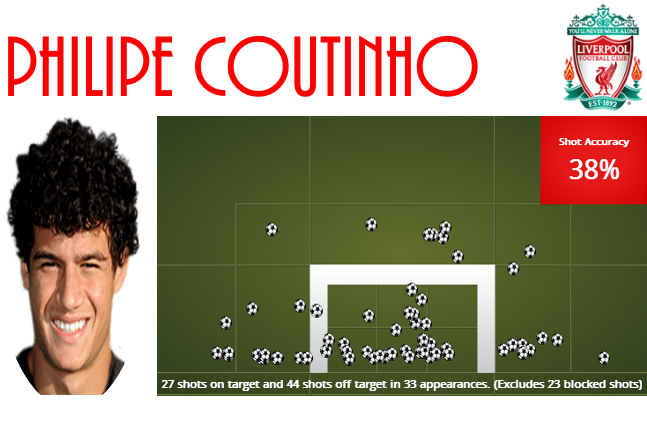 Source: Squawka.com.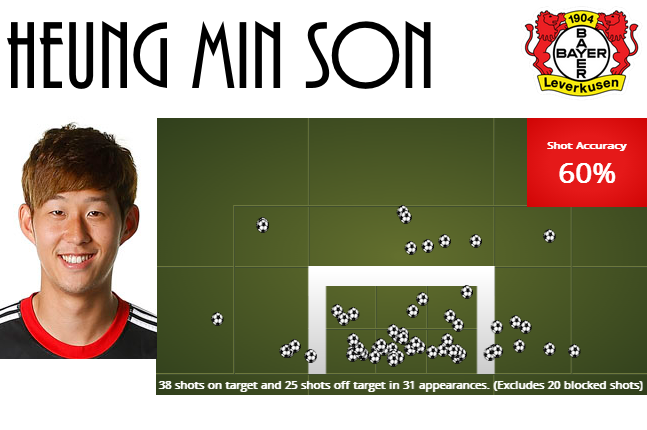 Source: Squawka.com.
Negatives
Son has always struggled with consistency and despite being on a better team than his former club, Hamburg, it is still a theme.
During the season, he went through a stretch where he only scored one goal in a 15-game run in combined Bundesliga/UEFA Champions League play.
He was quiet in a 5-0 defeat to Manchester United and did not dominate Paris Saint-Germain when Leverkusen were beaten 4-0.
In the Champions League, Son went 0-for-14 in goals-shots taken.
Another talking point is how will Son cope with competition at Liverpool?
Robbie Kruse, who torched Mainz right-back Zdenek Pospech, tore his anterior cruciate ligament.
#Socceroo Robbie Kruse now accepts he won't make it to Brazil because of his grim ACL injury. http://t.co/AY4HVYOh6t pic.twitter.com/N6CGt5rmQx

— FourFourTwo Oz (@FourFourTwoOz) February 27, 2014
Jens Hegeler is a good squad player, but he is not starting material.
Emre Can started as a left-forward against Bayern Munich, but was essentially a quasi-left-back, to provide left-back Sebastian Boenisch additional support against Bayern right winger Xherdan Shaqiri.
Son was not threatened with losing his starting spot, since Kruse was in rehab, Hegeler is content being at a big club in Leverkusen, while Can was fulfilling his utility role.
Iago Aspas, who was the Luis Suarez of Celta Vigo, did not cope well with being a substitute at Liverpool, let alone a squad player.
Imagine if Everton & Liverpool had put £12m into local youth football instead of spending it on Kone & Aspas.

— Tony Barrett (@TonyBarretTimes) May 9, 2014
Bottom Line
Goals
Shots Per Goal
Shooting Accuracy %
Assists
Key Passes Per Game
Dribbles Per Game
Daniel

Sturridge

21
4.7
49
7
1.0
1.3

Heung-

Min Son
10
8.3
60
4
1.1
2.8

Luis Suarez

31
5.8
53
12
2.6
2.8
Philippe

Coutinho

5
18.8
38
7
2.0
1.8

Raheem

Sterling
9
5
67
5
1.6
2.8
If Liverpool want to mount another serious run at the Premier League and be competitive in the Champions League, it is imperative that manager Brendan Rodgers signs elite players.
Kicker reports that Liverpool remain interested in Heung-Min Son, Rodgers watched him during Leverkusen's match in Hamburg.

— Sandra Goldschmidt (@SanBorussia) May 18, 2014
Son is a deep-threat, he is a one-man counter-attack, can finish with either feet and has a track-record having played four seasons of Bundesliga football.
Statistics via WhoScored.com