Florida State's 2014 schedule is without question tougher than the 2013 version. But will the result be the same?
FSU has bulked up its nonconference schedule, trading in the likes of Nevada, Idaho and Bethune-Cookman for Oklahoma State, The Citadel and Notre Dame (Florida remains a constant non-conference opponent).
A 12-0 record, a berth in the ACC championship game and a spot in the new College Football Playoff are the expectations of FSU fans. Are there roadblocks? Of course. But can the Seminoles go perfect in the regular season, especially with how the schedule is set up? Absolutely.
Oklahoma State, Aug. 30 (at Arlington, Texas)
This looked like a nice matchup to kick off the season, but FSU is a two-touchdown favorite against an Oklahoma State team that returns just nine starters and lost 29 seniors. The two-deep looks like Swiss cheese, and that's what FSU's offense will make of Oklahoma State's defense.
The Citadel, Sept. 6
This much we know: FSU will win, and The Citadel will receive a check for $440,000. This will be a good game for fans to enjoy watching FSU's backups, as No. 2 QB Sean Maguire will (likely) lead the offense in the second half and will have the chance to work with a deep corps of running backs and some young receivers.
Clemson, Sept. 20
FSU catches a few breaks with this game. The Seminoles not only get a bye week to prepare for Clemson, but they also face the Tigers without quarterback Tajh Boyd and wide receiver Sammy Watkins, both of whom are gone to the NFL. Note to ACC: realize that this is a better matchup later in the year, like mid-October or November. But a mid-September date really gives Clemson offensive coordinator Chad Morris very little time to get anything rolling, and FSU should grab its first ACC win.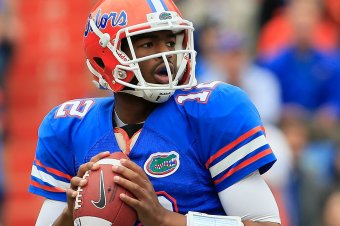 Sam Greenwood/Getty Images
at N.C. State, Sept. 27
FSU returns to the scene of its stunning 17-16 loss to N.C. State on Oct. 6, 2012. This game should be far different. While many of the FSU starters in that game have moved on, the reserves either played or were on the sidelines. They haven't forgotten. Jacoby Brissett has had a year to learn the offense, but he doesn't have much of a supporting cast—or a chance to upset the Seminoles.
Wake Forest, Oct. 4
Wake is starting over with a new coach, Dave Clawson, who will have to break in a new quarterback (Tanner Price has graduated) and will need to find him a No. 1 receiver after Michael Campanaro went off to the NFL. FSU won the last two games against Wake by a combined 111-3. This one could get ugly, too.
at Syracuse, Oct. 11
If there is a "sleeper" team to watch in 2014, give Syracuse the early nod, Athlon Sports says. The Orange return QB Terrel Hunt (10 passing TDs, seven rushing TDs), veterans on the offensive line and what should be an improved defense. FSU shredded Syracuse 59-3 last season at home, but this feels like a game where FSU could struggle early if it is looking ahead to the following week's showdown with Notre Dame.
Who is the toughest opponent on FSU's 2014 schedule
Notre Dame, Oct. 18
This game is a wild card. In May, it's an intriguing matchup because Notre Dame returns dual-threat QB Everett Golson and plenty of talent at receiver and running back. But with just nine returning starters, the Irish could struggle, too. FSU will catch Notre Dame at the tail end of a very challenging four-game stretch (at Syracuse, vs. Stanford, vs. North Carolina, at FSU). Will Notre Dame be a top-10 team or a two-loss team when the Irish face FSU? It's just too hard to predict, but the Seminoles should win en route to a 7-0 start.
at Louisville, Oct. 30
Even without QB Teddy Bridgewater, new coach Bobby Petrino returns to Louisville and could put up a ton of points again. Petrino won 41 games at Louisville from 2003-06, and his Western Kentucky team aired it out for 5,502 yards in 2013. FSU shouldn't get too overconfident if, as expected, the Seminoles defeat Notre Dame. But a week off is again significant as FSU prepares for a Thursday night road game. The Seminoles have historically been sluggish on Thursday nights, but the Seminoles won 28-22 at Virginia Tech in Nov. 2012 and 38-7 at Boston College in Nov. 2011. Look for FSU's recent Thursday success to continue.
Virginia, Nov. 8
Is this the year that all of Mike London's recruiting success comes to fruition? It had better, or he could be on a scorching hot seat (or gone) by the time the teams face off. Virginia is just 6-18 the past two seasons. London has chosen sophomore QB Greyson Lambert to lead the offense after he threw for 220 yards and two TDs (along with two INTs) in the spring game. The Cavaliers need sophomore RB Taquan Mizzell to break out, but Virginia is overmatched against FSU.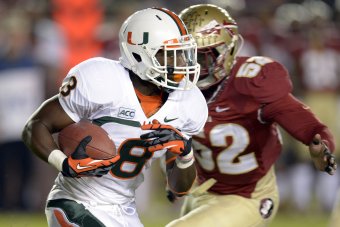 USA TODAY Sports
at Miami, Nov. 15
Duke Johnson is in the backfield, and that's a concern for any defense. After hurting his ankle in a loss at FSU in November 2013, Johnson is expected to be back at 100 percent in August. But Miami has so many question marks. Will QB Ryan Williams make it back from a knee injury? Can Stacy Coley develop into an elite receiver? Is the defense, which returns LB Denzel Perryman, going to be better? FSU fans would probably prefer to be facing Miami earlier in the year. If Williams returns and is effective, Miami could have some balance on offense to give the Seminoles a run for it.
Boston College, Nov. 22
FSU coach Jimbo Fisher wanted a nonconference cupcake in 2013 before Florida, and he was able to schedule Idaho. But the way the schedule worked out, FSU is facing what appears to be a weaker Boston College team before the Gators. BC loses RB Heisman Trophy finalist Andre Williams as well as QB Chase Rettig and WR Alex Amidon, who accounted for 1,032 of Rettig's 2,012 passing yards. But coach Steve Addazio landed a quality replacement for Rettig in Tyler Murphy, who graduated from Florida and is able to play for BC immediately. Murphy should do well, but BC needs to surround him with some pieces to make him successful. Still, look for the Seminoles to win this one comfortably.
Florida, Nov. 29
It simply can't get any worse than how 2013 finished for the Gators—a 4-8 season that concluded with eight straight losses, including a home defeat to FCS foe Georgia Southern and a 30-point blowout to FSU. Florida will surely be better in 2014 as new offensive coordinator Kurt Roper arrives from Duke. He has installed a spread offense that could play to QB Jeff Driskel's strengths. Florida has talented RBs in Kelvin Taylor and Mack Brown, but the Gators need a young group of receivers featuring Demarcus Robinson, Ahmad Fulwood and Chris Thompson to emerge. The Gators should put up more than the seven points they managed last year against the Seminoles, but Florida will struggle to stop FSU's dynamic offense.
Bob Ferrante is the Florida State Lead Writer for Bleacher Report. All quotes obtained firsthand unless otherwise noted. Follow Bob on Twitter.