For the first time in 12 years, Landon Donovan won't be headed to the World Cup.
The United States Soccer Federation tweeted out the final 23-man roster that coach Jurgen Klinsmann will take to the 2014 World Cup. Absent is the player who holds the record for most goals and sits second behind Cobi Jones for most national team caps:
The #USMNT 2014 FIFA World Cup Roster: @j_klinsmann Names His 23. #OneNationOneTeam pic.twitter.com/UFM7YCa4Tx

— U.S. Soccer (@ussoccer) May 22, 2014
Donovan released a statement via MLS social media's Sarah Lerner:
Class: pic.twitter.com/gV4Hqptz8e

— Sarah Lerner (@SarahLerner) May 23, 2014
On Friday, Ray Hudson gave his not so subtle feelings on the decision:
With his exclusion from the team, Donovan's international career appears over, meaning he will fall eight caps short of overtaking Jones' record of 164. Donovan has also been denied the opportunity to appear in four different World Cups, which would've been an astounding achievement.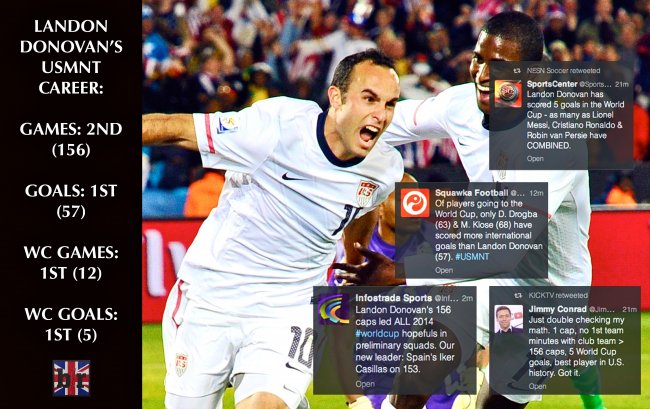 B/R UK
According to Infostrada Sports, Donovan would've been the most capped player at Brazil, but that designation now falls to Spain goalkeeper Iker Casillas:
Landon Donovan's 156 caps led ALL 2014 #worldcup hopefuls in preliminary squads. Our new leader: Spain's Iker Casillas on 153.

— Infostrada Sports (@InfostradaLive) May 22, 2014
Naturally, with such an earth-shattering announcement from U.S. Soccer, fans and experts alike have been sounding off on social media.
Soccer writer Jeff Bradley tweeted out that Klinsmann's decision led to an awkward conversation with his son:
I just spent five minutes telling my 15-year old son he didn't know what he was talking about. Sorry, dude. #ThanksForEverythingLD

— Jeff Bradley (@JerseyJBradley) May 22, 2014
The Orlando Sentinel's Paul Tenorio wonders if there will be some similarly awkward moments in the U.S. locker room:
I dont know that you can keep the locker room totally behind you with Donovan decision, or the American fans. Distraction through tourney

— Paul Tenorio (@PaulTenorio) May 22, 2014
Klinsmann did seem to find a kindred spirit: his son, per Steven Goff of The Washington Post:
Klinsmann's son wrote this then deleted: RT @jonklinsmann HHAHAHAHAHAHAH DONAVAN HAHAHAHAA I DIDNT EVEN NOTICE UNTIL PHONE NOTIFIED ME HAHA

— Steven Goff (@SoccerInsider) May 22, 2014
Kick TV's Jimmy Conrad was among many wondering if taking 18-year-old Julian Green at the expense of a player like Donovan was a sound decision from Klinsmann:
Just double checking my math. 1 cap, no 1st team minutes with club team > 156 caps, 5 World Cup goals, best player in U.S. history. Got it.

— Jimmy Conrad (@JimmyConrad) May 22, 2014
F.C. Dallas employee Daniel Robertson also questioned whether Green would be more valuable to the U.S. in the crucial moments:
There's 15 minutes left in a tied World Cup match and you'd rather have Julian Green/Brad Davis sub in over Landon Donovan? No..no....

— Daniel Robertson (@DRobertsonFCD) May 22, 2014
ESPN's Marc Stein noted that this heaps even more pressure upon Green to live up to his hype. Expectations were already high to begin with, but this ups the ante even more:
It doesn't have to be this World Cup. But Julian Green better be a FORCE in future World Cups if you give him LANDON DONOVAN's roster spot

— Marc Stein (@ESPNSteinLine) May 22, 2014
As ESPN the Magazine's Doug McIntyre and former national team player and current NBC Sports analyst Kyle Martino both pointed out, this is a big gamble for Klinsmann in terms of his status with the supporters:
If the #usmnt plays well in Brazil this summer, Jurgen will look like a genius. If they don't...

— Doug McIntyre (@DougMacESPN) May 22, 2014
You have to give Jurgen credit. Whether you agree or not he is doing it his way. When dust settles either a genius or a cautionary tale.

— Kyle Martino (@kylemartino) May 22, 2014
Jason Davis of the North American Soccer Network countered that no matter what happens in Brazil, the coach's future is assured:
We've never had better evidence that Klinsmann is bulletproof. "Failure" can be spun. He's not getting fired, no matter how bad it goes.

— Jason Davis (@davisjsn) May 22, 2014
Klinsmann is already under contract with U.S. Soccer through the 2018 World Cup. This is how he approached his time with the German national team, and it proved a rousing success over the long term, per German soccer writer Christian Nyari:
Incredibly bold by Klinsmann to leave Donovan off the World Cup roster but he's thinking ahead. Did same for Germany, laid foundation.

— Cristian Nyari (@Cnyari) May 22, 2014
Leave it to former national team star and current ESPN analyst Alexi Lalas to provide the most reasonable take on the situation:
Again, life isn't fair and soccer isn't fair. A WC roster isn't about form, merit or history. It's simply a coach's preference.

— Alexi Lalas (@AlexiLalas) May 22, 2014
The case could be made that even with Donovan, the United States would've had a hard time qualifying out of Group G. But that still doesn't lessen the shock of envisioning a U.S. squad at the World Cup without its talisman of the last decade.