The Matrix had its sequels, and now The Matrix on the basketball court—otherwise known as Shawn Marion—will look to add another chapter to his own legacy with the Cleveland Cavaliers.

David Pick of Eurobasket.com talked to Cavaliers head coach David Blatt about Marion's arrival in Cleveland:
David Blatt, via text, confirms @ESPNSteinLine on Shawn Marion to Cleveland. "David Griffin just called and told me. Griff rocks!!"

— David Pick (@IAmDPick) August 17, 2014
"It's great news," Blatt tells me Re: Shawn Marion securing deal with CLE. "Thrilled to hear he'll become a Cavalier."

— David Pick (@IAmDPick) August 17, 2014
On Sunday morning, ESPN's Marc Stein was the first to report the 36-year-old Marion had committed to signing with the Cavaliers:
ESPN sources say Shawn Marion has committed this weekend to sign with the Cavaliers

— Marc Stein (@ESPNSteinLine) August 17, 2014
Cavs can only offer minimum deal to Shawn Marion but sources say chance to play with LeBron and play for a title trumped all other offers

— Marc Stein (@ESPNSteinLine) August 17, 2014
Sam Amick of USA Today weighed in on Marion's arrival in Cleveland:
It's not quite a LeBron-to-Cleveland level reunion,but Marion reconnecting with former Suns exec/Cavs GM Dave Griffin here. Quality pick-up.

— Sam Amick (@sam_amick) August 17, 2014
Marion's decision to join LeBron James, Kyrie Irving and Kevin Love (eventually) in Cleveland is a clear indicator that he is looking for another ring in the twilight stages of his career. He previously won a title with the Dallas Mavericks in 2011, topping LeBron's Miami Heat.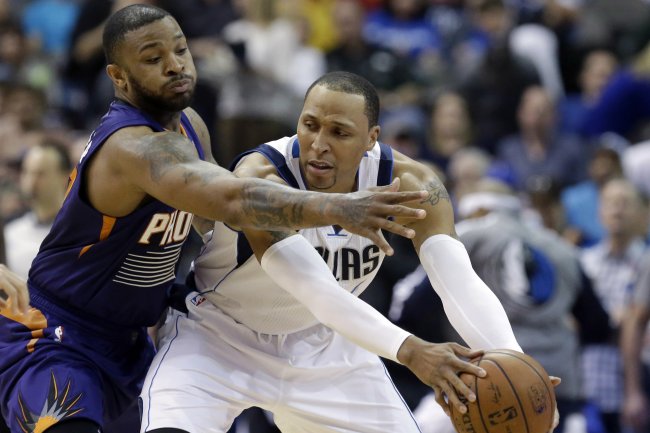 LM Otero/Associated Press
Even at the age of 36, Marion can still stay in front of most small forwards in the league with his length and lateral quickness. He can help take the defensive pressure off James throughout the 82-game schedule, which could lead to a fresher player come playoff time.
Marion is more than just a reliable defender, though.
He averaged 10.4 points and 6.5 rebounds per game behind 48.2 percent shooting from the field and 35.8 percent shooting from behind the three-point line for the Mavericks during the 2013-14 season.
Those numbers, especially his respectable rebounding totals and solid percentage from the field, prove he can still contribute at the NBA level. He will be given the chance to prove himself once again with this new contract.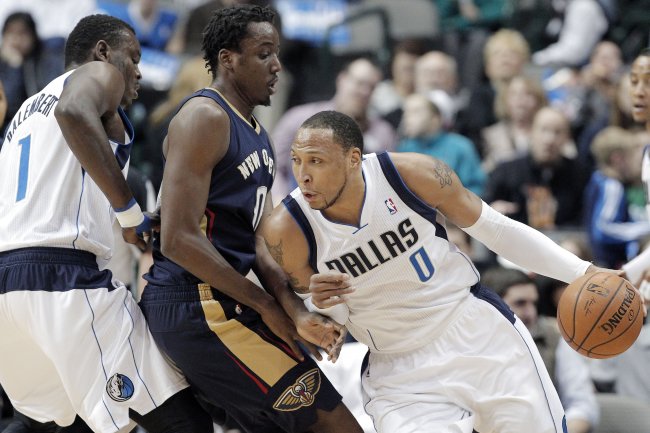 Brandon Wade/Associated Press
Marion discussed his free agency after Dallas' seven-game playoff loss to the eventual-champion San Antonio Spurs last season, via Earl K. Sneed of Mavs.com:
You know, it's not about money right now. I've made a lot of money in my career and I've been truly blessed. You know, I take none of this for granted, and I think I've just got to weigh my options. I think when it's all said and done, of course, I think we're close here and not too far. But I think we've got a lot of guys here that are free agents again, so it's going to be interesting. We're going to see what's out there and what's available, and I've just got to weigh it out. I'm going to put it in God's hands.
Interestingly enough, Dwain Price of the Star-Telegram noted this was a career first for Marion:
#Mavs F Shawn Marion turned 36 years old today. He also becomes a free agent for the 1st time in his 15-year career on July 1. #props

— Dwain Price (@DwainPrice) May 7, 2014
In his earlier years with the Phoenix Suns (1999-2008) alongside Amar'e Stoudemire and Steve Nash, and with Mike D'Antoni at the helm, Marion was a double-double threat every time he stepped on the floor. He's not the same player entering his 16th season, but he still offers a unique skill set.
Will the Cavs win the 2014-15 NBA title?
The Cavaliers will benefit from his defense and overall length, which helps him contest shots and contribute on the boards.
He is also a capable spot-up shooter and will see open looks playing alongside James, Love and Irving.
Marion's all-time NBA rankings are impressive: He's 36th in offensive rebounds, 20th in defensive rebounds, 17th in steals, 51st in blocks and 75th in points, per Basketball-Reference. He is the basketball version of a five-tool player.
There will always be room for his type of production in today's NBA.